Guizhou has always been considered to be a popular summer resort in China. Some people may think that there's no fun to travel to Guizhou in winter, then they are absolutely wrong. If you read this article about "10 Reasons to Visit Guizhou in Winter", you will be surprised to find that traveling to Guizhou in winter is so exciting and wonderful.
Reason 1
Join Joyous Miao New Year
Miao village is the most representative landscape of Guizhou. Each year during the eleventh month of the lunar calendar, the Miao people will embrace their biggest and the liveliest festival – Miao New Year. It will last a few days. During these big days, the locals usually kill chickens, slaughtered sheep, buy meat, make wine, pound sticky rice and make other delicious food to celebrate. After enjoying the feast, they will stay-up late or all night on New Year's Eve, and set off firecrackers. At this time, no matter which Miao village you want to visit, you will be warmly welcomed by watching the beautiful Miao girls dancing the graceful Lusheng dance. Usually, they will bring out their fine wine to greet the guests from afar. All in all, travel to Guizhou in winter for a unique Miao New Year will be very interesting. I bet that the lovely local people and varies of New Year activities can make you linger.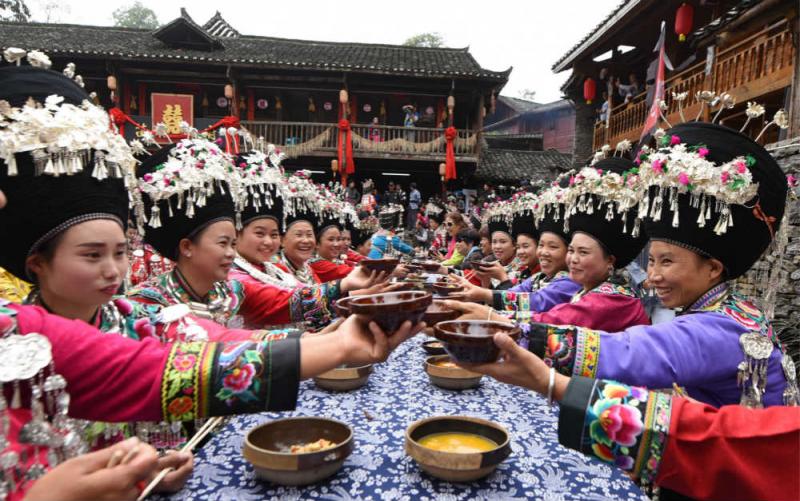 Reason 2
Lost in Admiration of the Spectacular Huangguoshu Waterfalls
The Huangguoshu Waterfalls in winter are still abundant and magnificent. As one of the most beautiful places in China, it has been named as the largest waterfall group in the world by the Guinness Book of Records. The spectacular waterfalls, natural caves, dense forests, diverse strange vegetation, stone forests, valleys and other amazing sceneries can be seen here and there. I'm sure that the classical Karst landscape here, with the roaring sound of water, will leave you a great winter memories in Huangguoshu Waterfalls.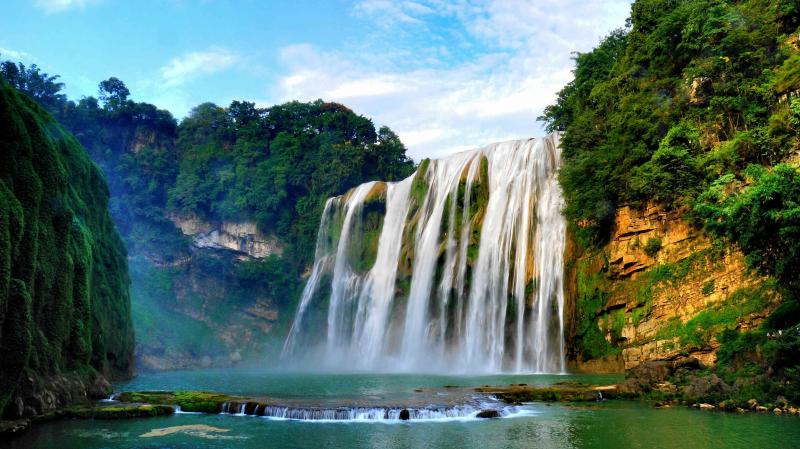 Reason 3
Appreciate Plum Blossom Forests in Libo
Libo is an ethnic minority region of Shui, Yao, Miao, Han, Yao and Buyi. It will be great fun to experience minority ethic customs. What's more, in the late January to March every year, the locals will hold a grand Plum Blossom Festival. During these months, you can enjoy spectacular area of wild plum trees blossom in cold winter. Besides, the greengage wine is worth tasting, which is made from local mill, and then you may be intoxicated in the mellow wine and the beauty of the Libo.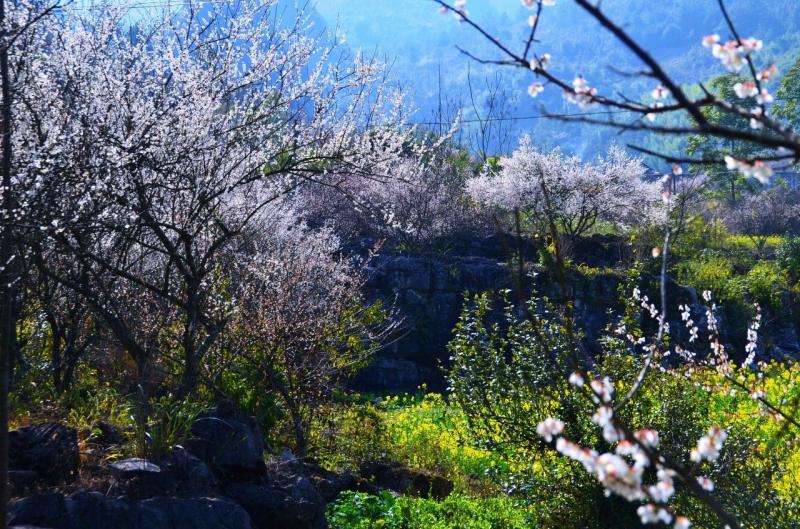 Reason 4
Take a Hot Spring Bath and Embrace the Nature
Guizhou, such a beautiful province, has not only colorful landscape, but also a large amount of hot springs. And each hot spring has its own characteristics, such as the famous Xifeng hot spring. You can take a hot spring bath in the mountains, relax, and appreciate the ancient primeval forests, stalagmites and extraordinary waterfall scenery around you.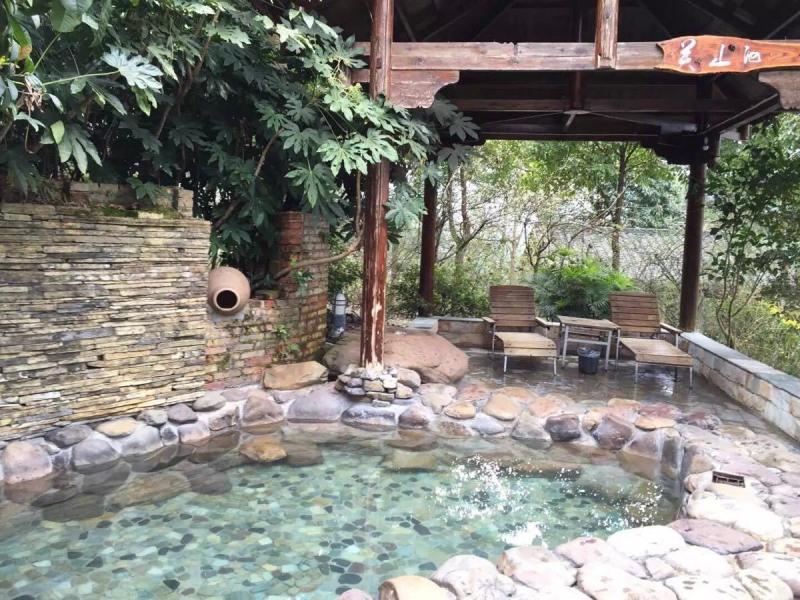 Reason 5
Stroll in Ancient Towns
Guizhou has many ancient towns. The most well-known ancient towns are Zhenyuan Ancient Town and Qingyan Ancient Town. The sloping roofs, widely overhanging eaves and light grey walls make the Zhenyuan Ancient Town look like a painting. While Qingyan Ancient Town is a land of Chinese and western religious culture fusion, and leaving a number of ancient Ming and Qing dynasties ancient buildings. While you walk on the stone road, appreciate the elegant architectures, understand the customs and feel the ancient life here, and you will figure out that it is a return to nature, far away from the crowd, which is a quiet and unspeakable pleasure.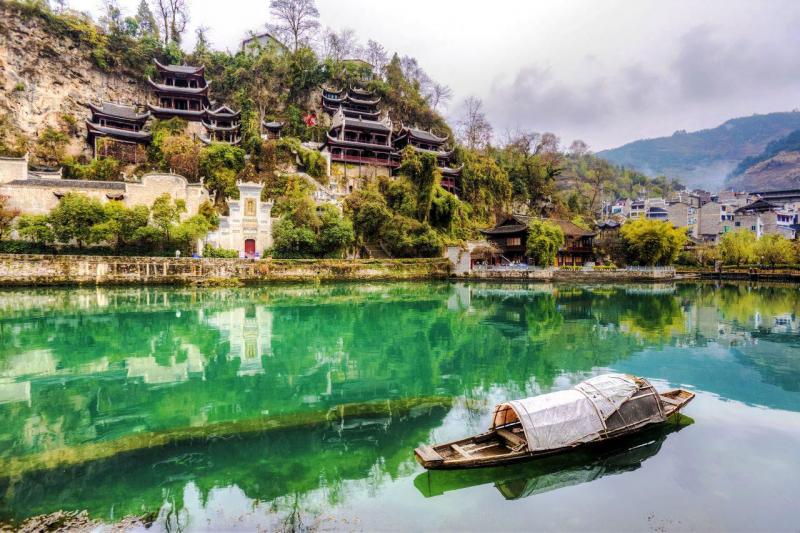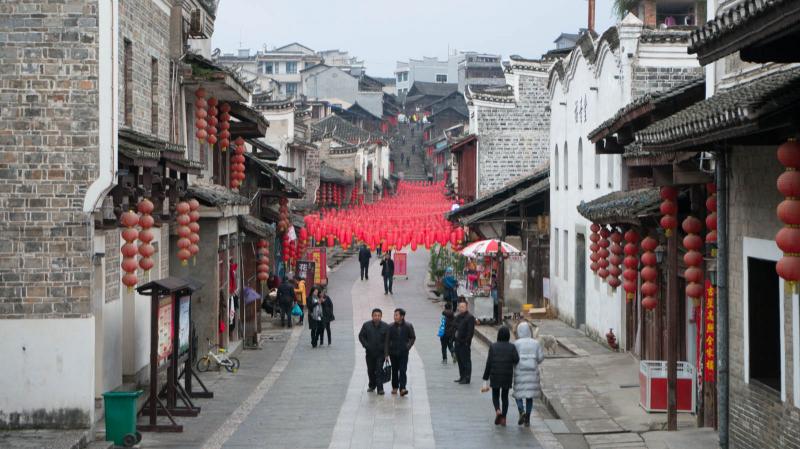 Reason 6
Experience the Minority Ethnic Customs in Xijiang Miao Village
The charm of Guizhou ethnic folk custom in winter continues unabated, especially the Xijiang Miao Village - the largest ethnic village of Guizhou. It is surrounded by mountains and rivers. The huge village itself is just like a forest of Miao wooden cabins built from the foot to the mountain top. Xijiang Miao Village is also called as the Living Fossil of Miao history and culture. You will not only see their unique architectures, but also their ways of life, such as making the best Miao silver jewelry handcraft. The locals are good at producing all kinds of silverwares for their people.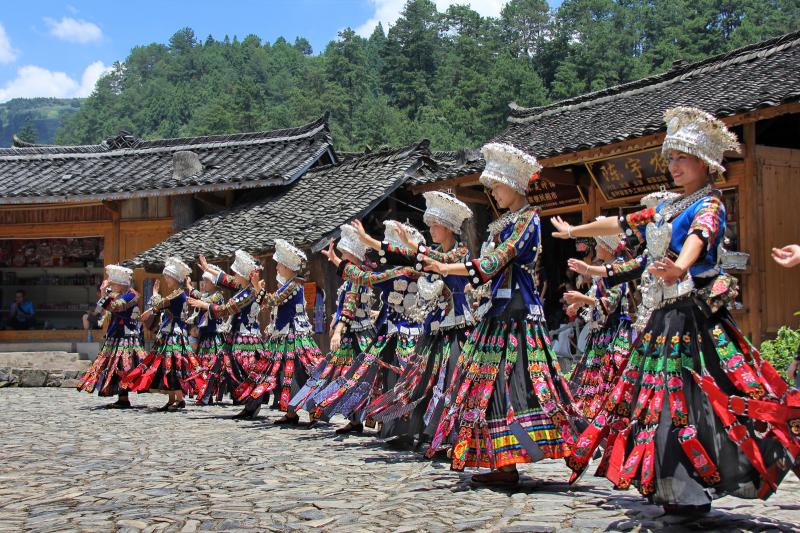 Reason 7
Visit the Caohai National Nature Reserve of Guizhou and Watching Black-necked Crane
Travel to Caohai in winter, you can not only enjoy the unique bleak scenery, but also have a chance to watch the national animal of China -the black-necked crane. While in the sunrise and sunset, you can see the black-neck cranes flying in the sky, passing through the vast areas of grass. What a peaceful beauty! A gust of wind blowing, you can smell the taste of the sea, everything here will touch your heart.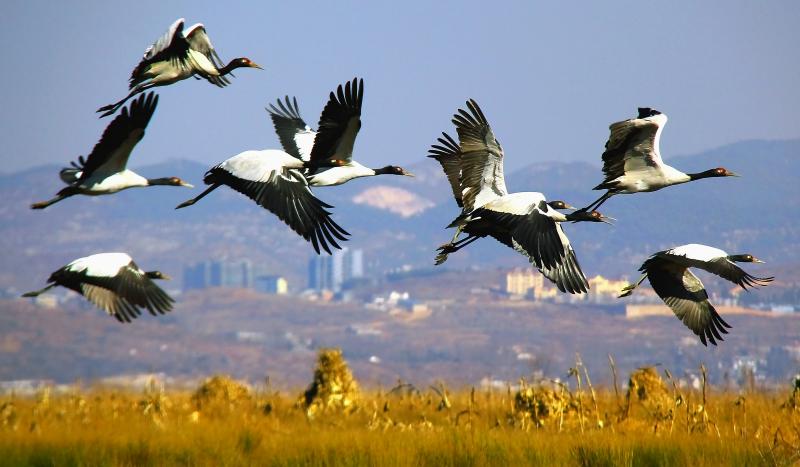 Reason 8
Enjoy Guizhou Fancy Food Feast
Winter is the best season to enjoy the Guizhou cuisine. A food tour to Guizhou is a good choice for your winter holiday. There're so many kind of food here, such as the delicious Huajiang dog meat, Miao sour soup fish, Miao bacon, glutinous rice, Qiao crisp, rice tofu and so on. That is definitely a paradise for foodies.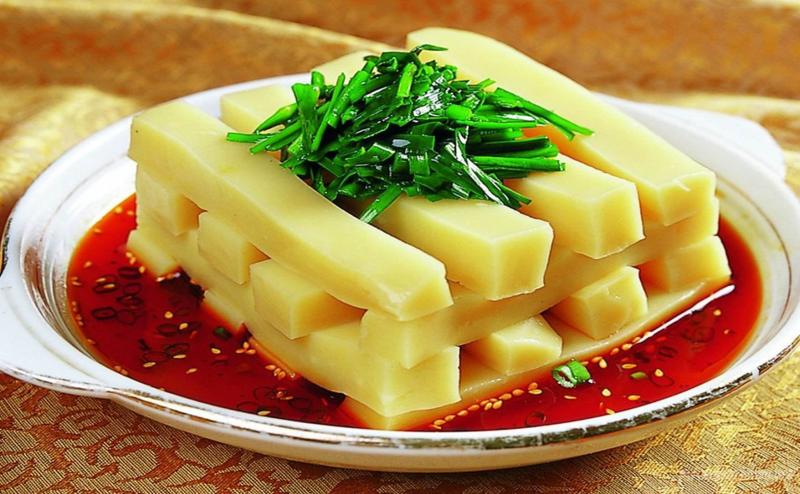 Reason 9
Participate in the Celebrations of Zhaoxing Dong Village
The activities of Zhaoxing Dong Village in winter are rich and colorful. The locals will sit around the fire and chat about their daily stuff and interesting stories. During festivals and celebrations, all the people will wear their festival costumes and accessories, and participate in recreational activities such as singing, dancing, Lusheng playing and Dong opera. The bustling and cheerful scene will absolutely make your trip to Guizhou very unique and worth visiting.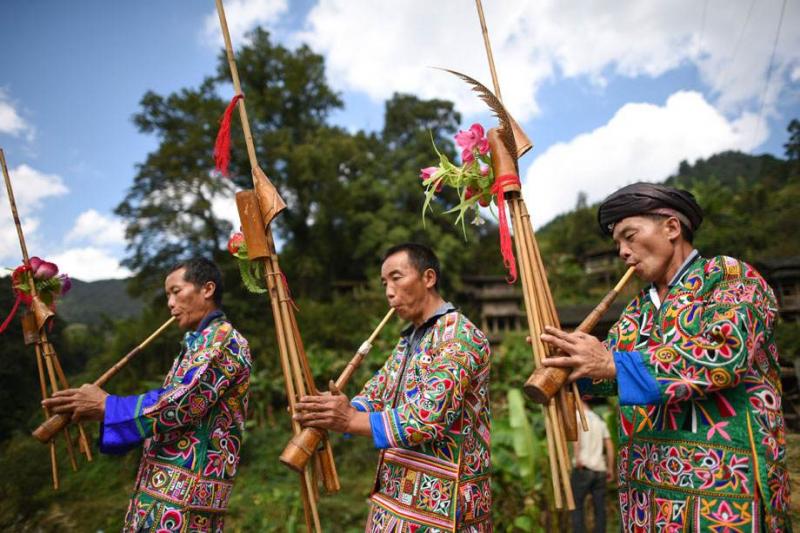 Reason 10
Purify your soul in Mount Fanjing
Mount Fanjing in winter can bring visitors a holy atmosphere. The snow on the mountain creates a pure white world. It just waits quietly for visitors to take a cable car to the top of the mountain. Up there, all of the trees will covered with soft rime, and while the sun rises, the soft rime are dyed to sakura (cherry) color, which is so beautiful. All of the views around you are covered with snow and ice. A vast expanse of ice hanging under the eaves, and they are shining with fantastic luster. Such pure and simple scenery can let you forget the troubles of life, and purify your soul. Besides, The Buddhist culture of Mount Fanjing is very rich, which make it become a famous "Buddha Temple". Praying for the New Year and making wishes in the Mount Fanjing temple are good ways to make a fresh start for the New Year.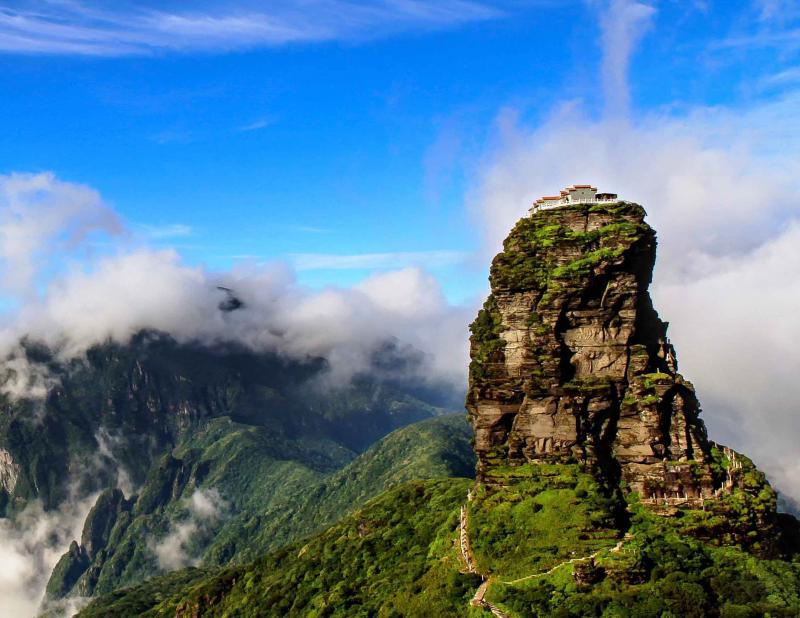 Recommended Guizhou Tour Packages: