15-day Guilin Grand Loops Bike Tour
Tour code: ETC-B74
Guilin Grand Loops is one of our longest running and most diversified landscape cycling tours. It covers the Danxia landform, UNESCO heritage at Ziyuan (or Langshan), 3000 feet lush green mountain areas, the gigantic rice terraces in Longji, and the Karst landform lowland (450 feet) of Guilin's southeast, another UNESCO heritage (2014). Most of the 600-km journey remained untouched by tourists. In addition to biking, hiking and boats tours are offered so you will take in these extraordinary sights in depth where bikes cannot cover. Enjoy your trip with mountain lodge, hotels, and riverside and lakeside lodges.


Click to enlarge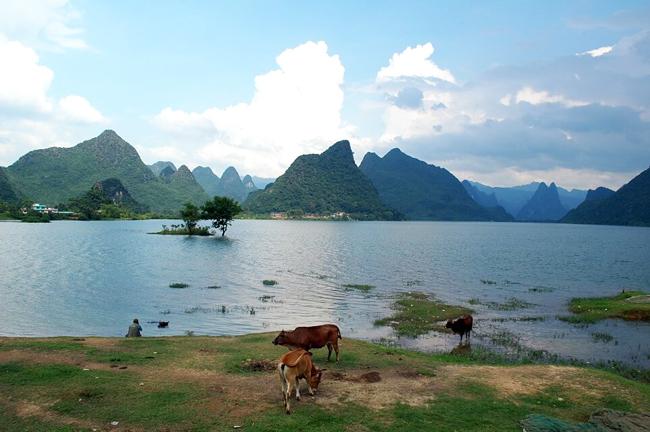 | | | |
| --- | --- | --- |
| Tour Date | City | Tour Brief |
| 1 | Guilin | Arrival in Guilin |
| 2 | Guilin – Xing'an | Cycling for 43miles / 70km from Guilin to Xing'an country |
| 3 | Xing'an – Ziyuan | Cycling for 50miles / 80km from Xing'an to Ziyuan country |
| 4 | Ziyuan – Bajiaozhai Danxia Park | Cycling from Ziyuan to Bajiaozhai Danxia Park (27miles/ 43km), Bajiaozhai National Park hiking |
| 5 | Bajiaozhai – Longsheng Hot Spring | Cycling fromBajiaozhai to Longsheng Hot Spring (65miles / 105km), relax in the hot spring |
| 6 | Longsheng hot spring – Longji rice terrace | Cycling from Longsheng hot spring to Longji rice terrace (43miles /70km), |
| 7 | Longji Rice terraces | 4hr trek on Longji Rice terraces |
| 8 | Longji Rice terraces – Qingshitan | Cycling from Longji Rice terraces to Qingshitan (54 miles / 87km) |
| 9 | Qingshitan Reservoir – Guilin | Cycling from Qingshitan Reservoir to Guilin (34miles / 55km), the old village of Jiangtouzhou |
| 10 | Guilin – Yanshan | Cycling from Guilin to Yanshan (37miles /60km), the wetland scenery & karst landforms |
| 11 | Yanshan – Yangshuo | Cycling from Yanshan to Yangshuo (47miles/ 75km) |
| 12 | Yangshuo | Yangshuo biking (34miles/ 55km), Gaotian town, moon hill, Yulong River |
| 13 | Yangshuo – Xingping | Cycling from Yangshuo to Xingping along Li River (25miles/ 40km) |
| 14 | Xingping – Guilin | Bamboo rafting to Caoping, cycling from Xingping to Guilin (24miles/ 38km), Daxu old village |
| 15 | Guilin | Service Ends |
Our unique tour characteristics: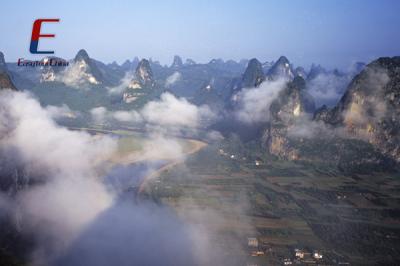 - A mixture of professional off road biking experiences and the leisure visit
- Discover the world where there are less conventional tourists and annoying cars
- A perfect introduction of the secret places of Guilin and the typical view of southeast of China
- Unique experience of biking, climbing the magnificent mountain park and the pretty hills, bathing in the hot spring, small boat wetland drifting, and bamboo rafting on Li River
- One tour itinerary with many options suitable for skilled riders or newbies
- Professional bikes and support vehicles and reliable tour leader who understand bikes and travelling
Day 1 Arrival at Guilin (D)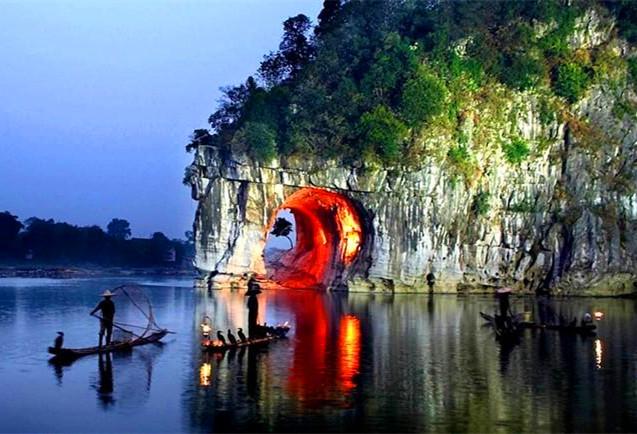 Guilin is connected by flights with major cities in China, like Hong Kong, Beijing, Shanghai, Guangzhou, Chengdu and etc. ETC's rep will meet you at Guilin airport and take you to your city center hotel. We'll get together for a group meeting in the early evening and test ride the bikes before heading out for a banquet of local restaurant. (No matter you are a skilled rider or a newbie, you will be given a professional basic user manual about the bicycle we offer and the matters need attention about this tour. You will get your bicycles today and have a try with our leader of this tour)
If your flight arrives in Guilin in the morning, you will have more free time to visit the city. An optional evening cruise through Guilin city is highly recommended.
Overnight in Guilin
Day2 Guilin – Lingtian – Gaoshang - Xing'an (B, L, D) 78km/48miles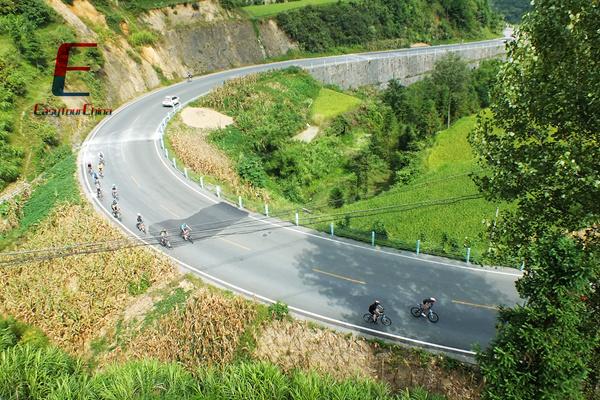 Today's highlights: fun-filled day, passing through university, well-preserved old houses and villages, optional hidden sacred waterfall, peaceful country road
Most of the roads today are on good condition and the landscape is first-rate. Riders will see the university life of Chinese students. We have chances to see the rural market fair in a small village. Visiting the over waterfall (over 50meters in height) rarely known by people is an optional today, which will be on turnoff. And if we want to visit it, we need to bike the road back to our former position for about 4KM. Then we will be challenged by an uphill biking of about 4KM and then reach Xing'an county, where the oldest canal in China is located. It was dug out in 214BC when the first emperor ruled China, and connected Guilin with central China by shipping ever since.
Overnight in Xing'an
Day 3 Xing'an – Ziyuan (B, L, D) 80KM/50miles
Today's highlights: deep into mountain areas, boundary of the county, climbing difficulty close to CAT.1 (tour of France)
We are leaving the plains near Guilin and head for the mountains areas of Ziyuan. The average elevation here is 800m. Ziyuan is where the UNESCO Danxia landform is located. The route will be away from the main road. The traffic is very light while the sceneries are great.
Today's challenge is to take a Category 1 uphill slope (9km continuous) uphill biking in the middle of the ride. After that, it is mostly downhill or level. After the villages and the mountain pass, you will go downhill along the river till the county of Ziyuan.
Ziyuan is a place with hot springs and attracting cultures. The county is full of featured bridges and buildings, and the night scene there will completely fit your photography needs.
Overnight in Ziyuan Town
Day 4 Ziyuan – Bajiaozhai Danxia landform Park (B, L, D) 45KM/28miles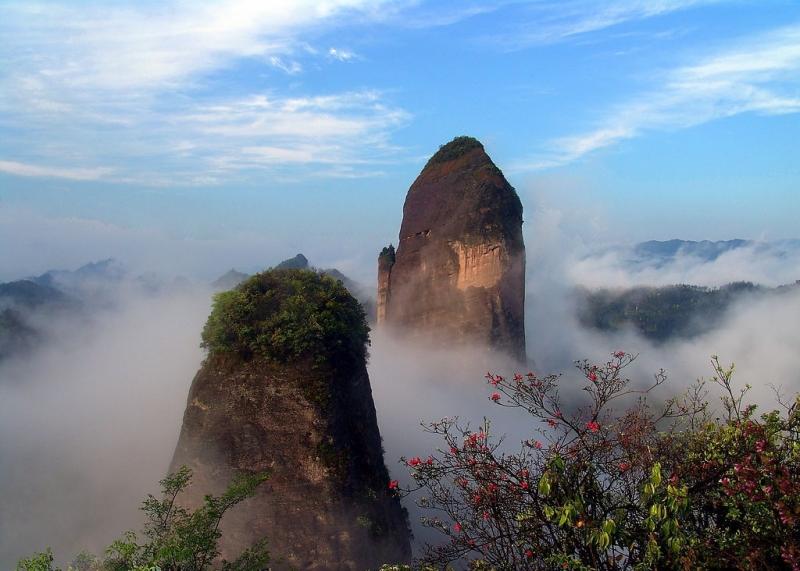 Today's highlights: biking and trekking, climbing visit in the park hill
We will get the park by bike around noon. After lunch we will hike into the National Park for 2-3hrs. The park is located on the border between Guangxi and Hunan province. A different landscape from the Karst hills may attract you today, and the mountain here is similar to the ones in Hunan province. Make friends with the local farmers and enjoy the family food there, and we might have an unforgettable night today.
Overnight in simple basic farmers' house
Day 5 Bajiaozhai Danxia landform Park – Longsheng hot springs (B, L, D) 110KM/68miles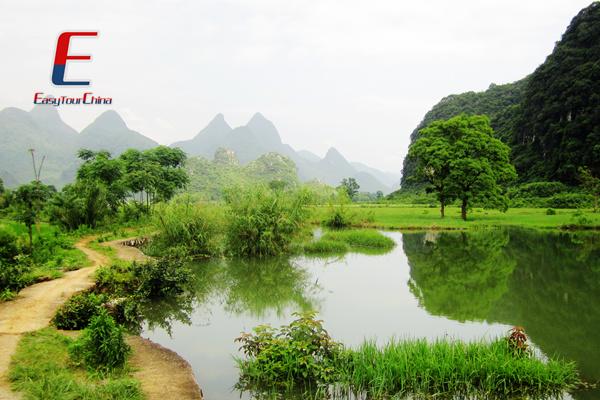 Today's highlights: most difficult day, personal challenge, mountain areas
This is the most challenging day of the entire program. The road winds thru the mountains, valleys and along the rivers with 3 challenging slopes (around totally 25km). However, the body and soul will relax in the hot spring at the end of the day. The 110KM today is probably composed by 25km uphill biking, 40km level road and downhill for others.
After a long and tired biking today, we will stay overnight at the Hot Spring Hotel, then enjoy the luxury and comfortable hot spring water bath.
Day 6 Longsheng hot springs – Longji rice terraces (B, L, D) 70KM/43miles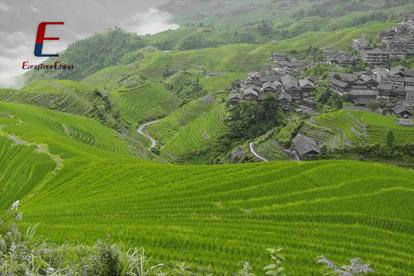 Today's highlights: buffering day for the whole trip
A morning soak in the hot Spring is not a bad idea. A late departure will not ruin the schedule of the day as most of the roads today are level. First 24km will be level along the river. Then you will be challenged by a few slopes. Upon arrival at the rice terraces car park and have lunch, we store up the bikes then hike uphill (1.5hr) for our lodge on the rice terraces. The ethnic people of Yao have been living here for more than 400yrs and their flamboyant red color dress is a constant theme of picture taking. Annoying groups are inevitable as the terraces are SO famous!
Overnight at hotel or wood lodge on the rice terraces
Day 7 Longji rice terraces trekking and rest (B, L, D) 4hrs trekking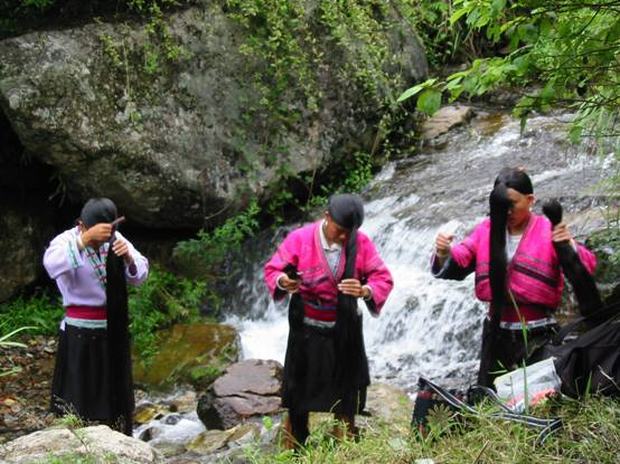 Today's highlights: the only conventional tour for a whole day
Today is a walking day for a break from the previous hard biking. The trekking lasts about 4hr on the mostly stone paved paths by the local villagers (walking shoes sound necessary). You will return in the afternoon and relax on the balcony while enjoying the sunset with a soothing cold drink.
We will stay overnight at hotel or wood lodge on the rice terraces. Local people live in this wooden house as it is cool in summer and warm in winter.
Day 8 Terraces – Qingshitan Reservoir (B, L, D) 87KM/54miles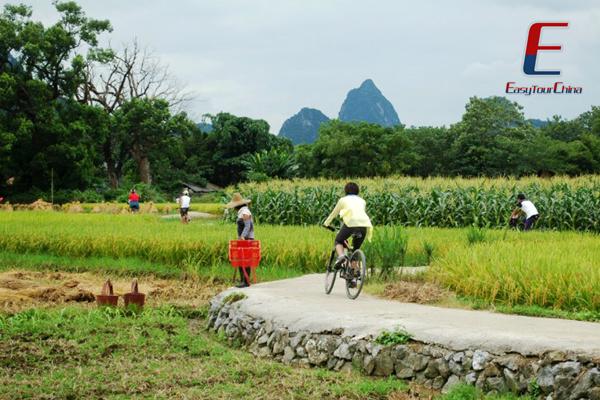 Today's highlights: long-distance riding, inevitable jammed national road
After enjoying the terraces, we are back on bikes today. After a major uphill riding at the 25th km, we will head downhill out of the mountains, to the reservoir. The local fish for dinner is recommended, or a fish head with noodles gives you a particular feeling? The route today covers about 30km on national road (with a bit heavy traffic) although we have tried best to avoid it. We are hoping staying overnight at a lodge at the reservoir brings you a new feeling.
Day 9 Qingshitan Reservoir – Guilin (B, L) 55km/34miles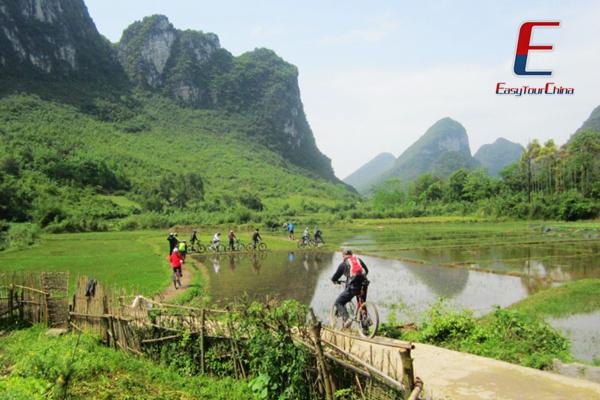 Today's highlights: connection from the north to the south, preparation for the biking to the south.
Today we will finish the first part of Greater Loop of the northern Guilin with a short visit to the old village of Jiangtouzhou. This village is inhabited by a famous philosopher of the Song Dynasty, Zhou Dunyi (1017 – 1073). And their consistent attention to education has produced in history, many good officials. Old houses dating back to Ming and Qing dynasties are all over with intricate wood carvings and stone carvings.
After the visit and trip, we will back to Guilin for rest, you will have enough time to visit some parks or relax on your own. Dinner is not included today, so try anything you like but do not take too much food with pepper. And try best to rest then stay in good shape.
Overnight in Guilin city center hotel
Day10 Guilin – Huixian Wetland Areas - Yanshan (B, L, D) Optional 60KM(37miles) or 80KM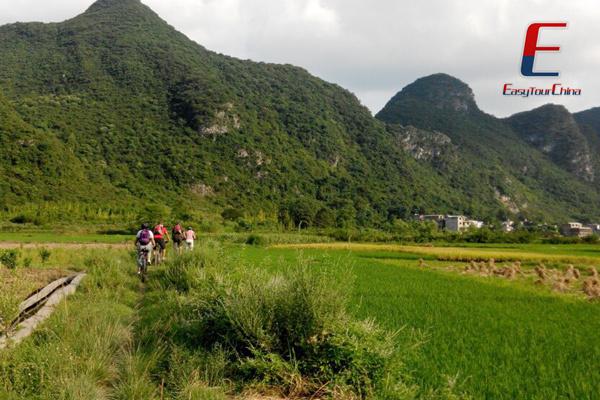 Today's highlights: escape from the annoying cars, wetland boat drifting and an optional isolated gorgeous reservoir
We will start this tour by biking from the hotel and leaving Guilin from a less busy road. A section of off-road biking is included today. After some small paths and villages we will arrive at Huixian country, then continue our trip to the wetland banks and take a boat and start to enjoy the splendid scenic views. You may even climb the hill to see a complete picture of the wetland. After lunch and rest, we go on riding along the small path and villages to Yanshan town of Guilin and check in hotel for rest. If the group arrives at Yanshan town early, you can have an optional visit to the Garden show park of Yanshan, it's optional and charged.
Today the tour takes to enjoy the limestone peaks, crisscrossing rivers, old bridges and ancient routes connecting villages. The level biking is easy but the path crisscross the labyrinth of the small paths. Follow the leader closely.
Overnight in Yanshan town
Optional biking itinerary (Total distance increases to 80KM)
Except the 37miles biking today ends at Yanshan (totally around 4hours biking and 1-2hours for drifting on the Huixian wetland), you can also choose to have a bike visit to the Golden pheasant lake reservoir at Luojin town. We may need to ride for a little longer distance. But the reservoir is the most beautiful one of Guilin. It is undeveloped, less polluted and for free. If your group is well equipped, efficient and skilled in biking, think about making this reservoir into your route because this reservoir is even more beautiful than most of the charging places!
Day11 Yanshan – Putao – Baisha - Yangshuo (B, L, D) 75KM (46miles)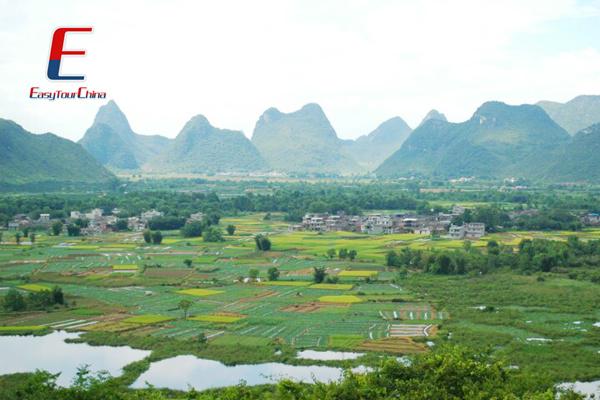 Today's highlights: well-known places, new ways to explore the hidden villages and towns, well-kept old street and town, groves and country roads
During the biking today, you will see meandering rivers, limestone hills, rural countryside with rice paddies and mud brick houses. The amazing karst topography and peaceful country road accompany you all the way to Yangshuo. Our trip is quite different from the traditional tours by cars. The biking route today is not so simple, you will encounter macadam, unsurfaced forest-road with soil or even mud. For most of the time we will not have many chances to see groceries and our support vehicle, so do a cautious ride today. There are many elegant places worth to see. So enjoy the time on the road. We will arrive at Yangshuo before evening.
Overnight at a guesthouse in Yangshuo
Day12 Yangshuo (B, L)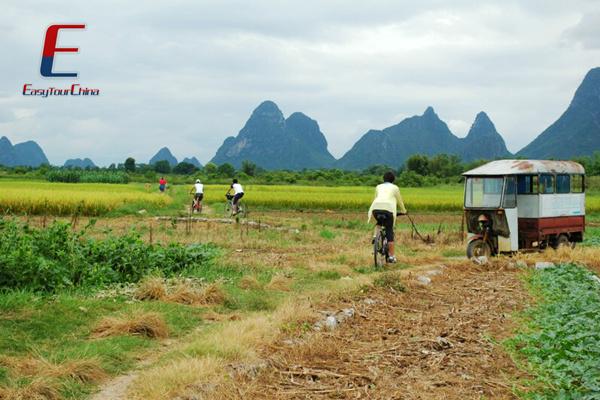 Today's highlights: world-famous county, leisure time and rest
You can choose to continue your bicycle tour today with our guide to Gaotian town or any places nearby that interests you. Upon return, we will visit moon hill and climb the 900 or so stairs for a panoramic view of the surrounding farmlands and peaks. It is awesome. Or you may have a free time today. (The lunch will be included if everyone goes to the same destination)
Overnight at a guesthouse in Yangshuo
Day13 Yangshuo – Xingping (B, L, D) 43KM (27miles)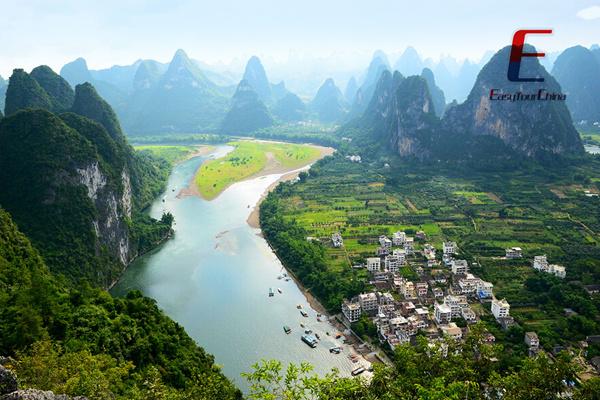 Today's highlights: comfortable route, farmland, challenge of mountain climbing
We start our riding today along the Li River, biking through the lanes of peaceful villages, keeping away from the dangerous tunnels and roads for cars. Enjoy a pleasant journey to Xingping, a small town located on the northeast of Yangshuo. This beautiful place is an important wharf of the Li River.
Optional hill climbing to see panoramic view of Li River
After checking in hotel at Xingping, you will have an optional choice to have a free time or go with the guide to climb the Laozhai Hill. On the top of the hill, a great panoramic view and the great bend of the Li River will definitely shock you! You need to climb over 1000 simple ladders before reaching the top of the hill. Look out for your own safety as it is a bit dangerous to walk on these wild ladders.
Overnight at a guesthouse in Xingping
Day14 Xingping – Daxu - Guilin (B, L, D) 40KM/25miles or 77KM/48miles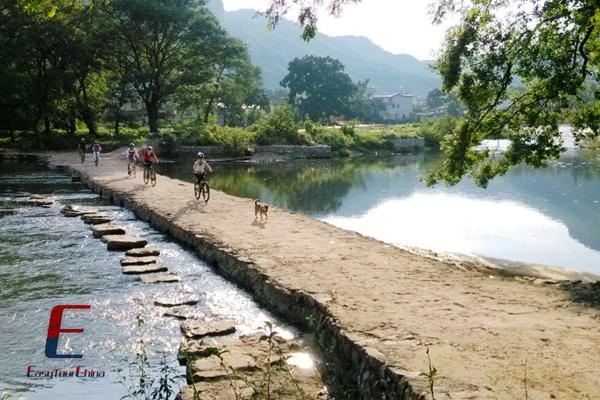 Today's highlights: second chance to see a panoramic view Li River (optional and charged and only available when choosing the whole day biking route), bamboo raft cruise or rough road and bicycle climbing up and down
We will take a bamboo raft cruise from Xingping to Yangdi and enjoy the most highlight sections of the Li River. Then we continue our bicycle tour from Yangdi (the starting place of the well-known trekking rout of Li River). We choose country roads that close to the nature and also to avoid the pollution from the vehicle exhaust and regular travel groups.
Optional service and itinerary (Total distance today increases to 77KM/48miles)
Choosing the 40KM/25miles today is recommended, as the bamboo cruise offers you a highlight of Li River and makes you comfortable and relaxed after the long trip.
However, if the team is strong and skilled, and looking for more exploring on the land, the cruise section can be deleted today. And we will have a whole day biking from Xingping to Guilin! The inland areas are of typical Karst land features which make the road rougher and harder than the other days. We shall climb up and down with our bicycles and help each other to finish the challenge today. (Note: When the Li River is flooded, no boat is allowed on river, so we will bike 77km to Guilin.)
All the bicycles will be returned to us after you checking in. We will have another feast of the local specialties.
End of the Lesser Loop
Overnight at a city center hotel
Day15 Guilin (B) Departure or free time
Our trip service ends with the breakfast today. If you want a transfer service, please book before hand with us.
PRICES START FROM PER PERSON
Dates:
2015 dates: Jul.12, Aug.16, Sept.13, Oct.11, Nov.15
Tour starting date is available based on your requests.
Prices: per person, double occupancy
USD2750 (2-3pax),
USD1720 (4-5pax),
USD1450 (6-7pax),
USD1290 (8-9pax),
USD1190 (10-15pax).
Single room surcharge: USD280
This tour is available with your own bicycle and available without supporting vehicle, the price will much cheaper, however, riders should carry their own luggages during the whole trip and there is less security and more risk only cycling with the tour guide.
Included Services:
Guided
1. 14 nights' accommodation in comfortable hotels or guesthouses with twin share rooms, private bathrooms
2. All transport from the start point to the finish point;
3. Meals: all breakfasts, lunches and most dinners;
4. Water and snacks whilst cycling
5. Entrance fees as per itinerary unless stated as "optional"
6. Our cycling leader who can fix small bike problems;
7. Air-conditioned support vehicle & driver (minimum 2 vacation seats);
8. Quality well-maintained mountain bikes of 27 speed front suspension;
9. Bike tools, spare parts and a backup bike;
Not included
1. Departure airport transfers;
2. International airfares and airfares to Guilin and exit Guilin;
3. Visas;
4. Insurance*
5. Tips, gratuities, personal expenses
6. Helmet or cycling gear (our bike pedals are standard and may not suit you)
*Please note that obtaining your own travel insurance is required in order to participate on this biking tour. It will need to include a minimum coverage of medical expenses with emergency evacuation, personal liability and accident insurance. Our biking leader will need to see a copy of your insurance at the group meeting on the first day. We reserve the right to refuse you if you do not carry such an insurance policy.
Tailor-made Suggestions
Not satisfied with what we have here? Please let us know your requirements and send to our travel specialists by filling in the following form(* Required), you will receive our reply within 24 hours:
Other Recommended China Tour Packages
Guilin in South China is famed for Karst landscape and ideal for leisure cycling and biking adventure. Join this 6 day ...

We've updated this classic route of the old Dragon's cycling trail from Guizhou to Guangxi. Bike through the mountain ...

Guilin Grand Loops is one of our longest running and most diversified landscape cycling tours. It covers the Danxia la ...
Google Search
Find something useful to you at Easy Tour China website.
Top China Tours
China Travel Toolkits
The Silk Road is like a thick history book to me, so enchanting with full of contents. The best season to visit is in July, August and September.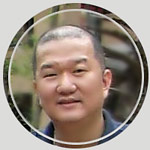 Wei
Senior Travel Specialist