Highlights
This well-crafted Guilin cycling trip will take you from the countryroad to see the wild jungle and the uncommercial hidden highlight attraction 28KM near Guilin. Spring and summer season is the best time to join the tour. Riding a bike through rape flower fields on well paved concrete road and experience the mountain bike climbing up and down. The rainy season makes the waterfall and the jungle amazing, the tour is available all year round.
Tour Departure: Daily, garantee departure except really poor weather.
Booking and payment: Online payment or cash. Booking should be at least one day prior to the tour departure date (more days earlier if departure is on weekends).
Cycle Type: Leisure-ride with trekking visits.
Difficulty: ★★☆☆☆
Total cycling distant: 54KM (shuttle bus back for the last 19km) or 73KM (whole day cycling).
Tour Duration: 8 hours.
Roads: Well paved concrete roads. Trekking without bicycle for about 1 hour.
The cycling of Guilin is far more than doing a simple and easy bicycle riding to/around Yangshuo. There are too many places worthy for a trip on your bikes, and many places are more stunning than you can imagine. We need to cycle to this village before seeing the magnificent waterfall. The waterfall is also named the pearl waterfall, as it lies down from tens of meters height hills and the water crashes to the rocks nearby and looks like tens of thousands small pearls that are falling.
Guilin has its rainy season from Feb. to June, then the river and field revives, so does the waterfall. Visitors will see a giant waterfall hidden in a wild jungle and will have an really wild trekking to see it.
Guests will meet the tour leader at 8:30 in the morning at the designated Location. After testing bikes, we start cycling out of the Guilin city from the east. After 1.5 hour cycling, we will reach Lingtian village. It is the only place for have lunch and cheap supplys. We will have a rest there.
Then we continue our bike journey to the waterfall hidden in a small village. We may need to lock our bikes before trekking into the wild forest. The trekking lasts 15-20minutes before seeing the great waterfall. The tracks for this trekking is on wild roads built with stones and mud. Please do not wear self-lock cycle shoes, as it is very slipry in rainy days.
Enjoy the silent world and the talks with the nature before going on our bike tour back to Guilin. We need to cycle back to Lingtian and change another road to the famous weekend leisure Daxu Ancient Town, passing through the popular village full of rape flowers. We will enjoy our time for full relax visiting the old street of the town. It is recommended to try the local snacks and fruits there, like strawberry, asmanthus bean jelly, etc.
After Daxu, we will take the shuttle bus for the rest route back to Guilin or cycle back.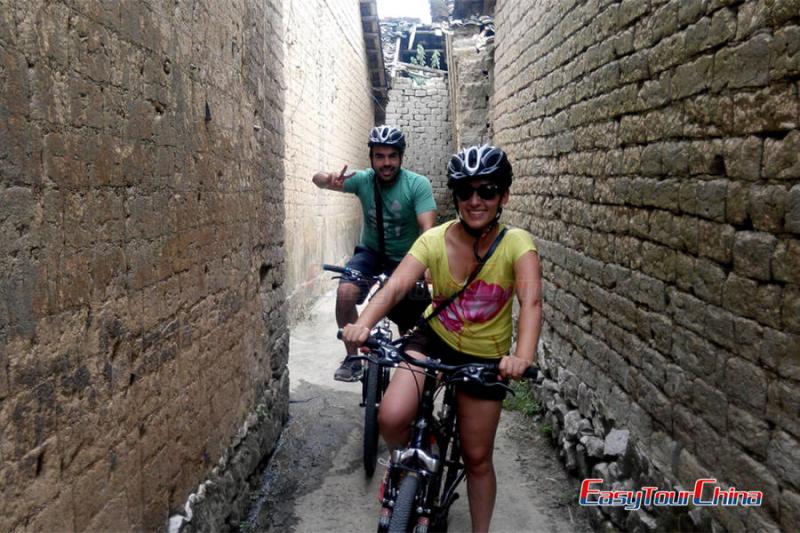 Note:
A. The waterfall may dries up from August, the best time for this cycling is May-July. Swimming/bathing in the pools of the waterfall is safe.
B. Self lock bicycle shoes are ok for this tour before the trekking to see the waterfall.
C. The waterfall is so huge that a 18mm lens only catches about half of it.
Tour Price:
| Person(s) | Price |
| --- | --- |
| 1 | CNY 850 (with public shuttle bus transferring back to Guilin when cycling is finished) |
| 2 - 3 | CNY 450 (with public shuttle bus transferring back to Guilin after cycling) |
| 4 or more | CNY 400 (cycling back to Guilin, the total distance is about 74KM) |
About the shuttle bus from Daxu:
The public shuttle bus is narrow with local people and it is only available with group less than 3 people and it is only availbe before 5:30pm.
What's included
Guide

An English-speaking cycling leader, with route guidance GPS map and simple bike repairing tools.

Bikes

Well-maintained brand quality mountain bikes of 27 speed front suspension.

Meal

One bottle of mineral water and simple local rice noddle lunch.

Helmets

Visa

Visa arrangement. Please consult the local Chinese Embassy or Consulates-General first for the tourist visa.

Other

International airfares and airfares to Guilin and exit Guilin.
Personal expense.
Insurance.
Gratuities to guides and drivers.
We don't offer rider gears for cycling (helmet is excepted).