Overview
Historically rich with epic size and majestic architecture, the Great Wall of China is the most important sight to visit for your first China trips. It has been standing for over 2000 years, traversing through North China, and was the greatest military defense engineering in ancient times. Our 1-day Beijing Great Wall tour can be customized based on your traveling date, schedule and needs and takes you to one section of the Great Wall that interests you the most, from Mutianyu, Badaling to Jinshanling or Huanghuacheng.
Customize Your Tour:
☑ Travel Dates ☑ Your Interests ☑ Your Travel Style

Meal: L
After breakfast this morning, meet your exclusive tour guide at your hotel lobby and transfer to the Great Wall with a private, comfortable and air-conditioned vehicle. The drive ride takes 1.5 to 2.5 hours according to the section of the Great Wall you visit today.
Arrive at the Great Wall, you can choose to walk uphill or take the cable car to get into the wall on the mountain top. Though as long as 21,196.18 kilometers (13,170.70 miles) in total, the sections at Mutianyu, Badaling, Jinshanling, Huanghuacheng are most recommended, for their distance from Beijing, popularity, completeness and repairing project.
Take your time to walk on the wall, enjoy the sublime views of North China's mountain landscape and take memorable photos. Discover the centuries-old watch towers and some broken walls and learn from your expert guide the history and legendary back stories of the Great Wall. Understand why and how the wall was built, how it worked to defend the middle kingdom against the "northern enemy", and glimpse into the life of ancient Chinese people.
For you lunch, you can decide to dine on a local restaurant for authentic Beijing dishes, or enjoy a picnic lunch on the Great Wall with some packed foods, bread, snacks, drinks and fruits, especially recommended for family with children.
After the Great Wall trip, drive back to the downtown and drop off at your hotel. If you look for restaurants or night food street for tonight's dinner, don't hesitate to ask your tour guide who can give you the best recommendations.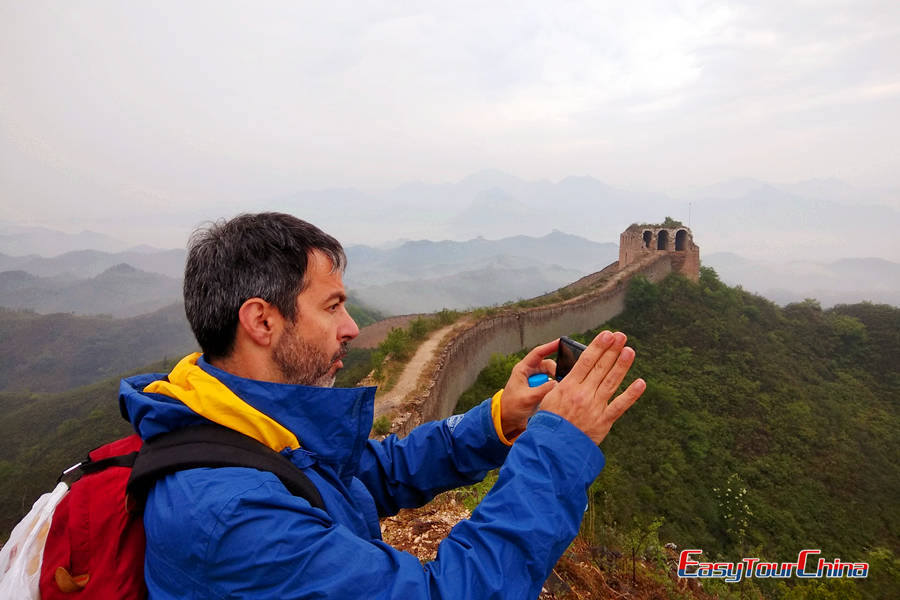 You May Want to Know:

Mutianyu - approximately 75km (1.5 hours' drive) from downtown Beijing, built in 1368 when China ruled by Emperor Zhu Yuanzhang of Ming Dynasty, favored by international travelers including many state leaders and celebrities; Mutianyu toboggan ride is a great choice for kids to get down the hill.
Badaling - approximately 75km (1.5 hours' drive) from downtown Beijing, built in Ming Dynasty, the most famous section of the Great Wall, with most tourist crowds; For wheelchair travelers, Badaling is more recommended.
Jinshanling - approximately 135km (2.5 hours' drive) from downtown Beijing, built in 1567 during Ming Dynasty, famous for its beauty, grandeur and majestic; Jinshanling is the best part of Great Wall for photography and sunrise
Huanghucheng – approximately 84km (1.5 to 2 hours' drive) from downtown Beijing, built in Emperor Yongle of Ming Dynasty (1403-1424), the only water-side Great Wall, plus the best site for Great Wall flower photography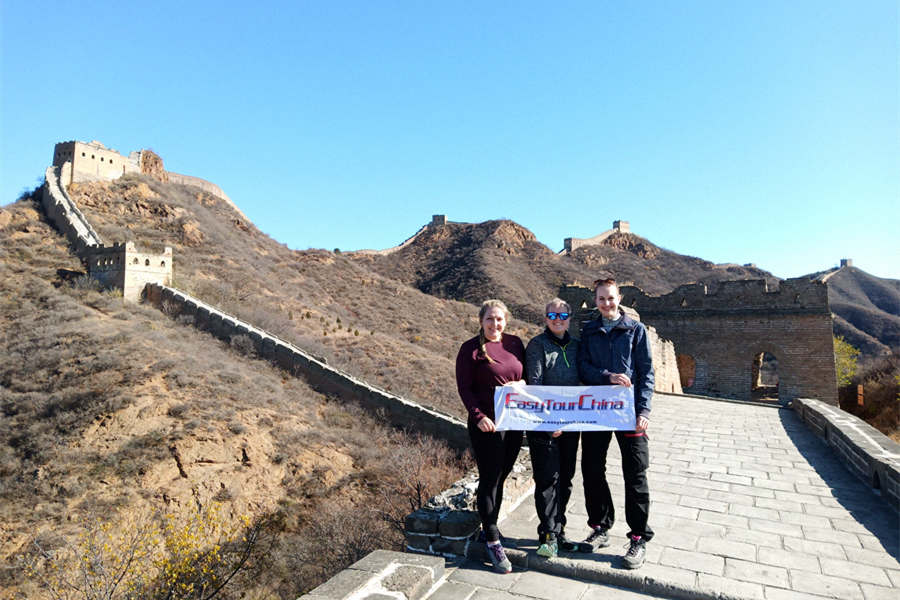 Extend the Tour
Xi'an: the heart of ancient China, served as the capital of 13 ruling dynasties. Add 2-3 days to discover the highlights of Xi'an: Terracotta Army, Ancient City Wall, and Small Wild Goose Pagoda.
Chengdu: the lovely hometown of giant panda, the city is also famous for its cuisine, tea and history. Extend your Beijing tour to Chengdu for another 2-4 days for panda base, Jiuzhaigou, Mt. Emei, Leshan Giant Buddha.
Shanghai: the most dynamic cosmopolitan city in China. Add 2-3 days to experience its colonial history and dramatic modernity: the Bund, Yu Garden, Shanghai World Financial Center Tower, and Old French Concession.
What's included
1-on-1 Travel Consultant

Your China based expert listens to your wishes carefully, provides professional advice, ensures unlimited itinerary revisions before done and 24/7 helpline service while traveling.

Private Local Guide and Driver

Your guides are friendly, helpful and knowledgeable, and your drivers are professional, polite and patient. They are very flexible to accommodate your personal needs and happy to show you the local attractions, history, culture, foods and real life.
Private transfers from hotel to attractions, airport or train station are also included.

Accommodation to Suite Your Preference

We hand pick hotels ranging from luxury 5 star, superior 4 star to comfortable 3 star. Luxury or cozy boutique hotels and budget guesthouses are also among your choices. You could decide where to stay to meet your taste and budget.

Gourmet Meals

Most of the hotels we select offer both Western and Chinese buffet breakfast. Lunch and dinner included are arranged in selected restaurants to taste authentic Chinese cuisine and local specialties. Thus you may also have a unique food tour.
Meals specified in itinerary as B=breakfast, L=lunch, D=dinner.

Attractions and Activities Listed on the Itinerary

Our city tour packages have included the (first/main) entry to all attractions and the expenses of activities on the itinerary (except the optional activities).