Overview
Combining the best views and historical sites in Hangzhou, this 3-day Hangzhou tour package takes you visit the West Lake of both scenic beauty and cultural importance, and UNESCO-protected Beijing-Hangzhou Grand Canal, the longest and largest ancient canal in the world. Explore another highlight of the area - Wuzhen water town, which is resembling a traditional Chinese wash painting, showcasing the traditional culture, local life style, unique boats, stone arch bridges and dwelling houses.
Customize Your Tour:
☑ Travel Dates ☑ Your Interests ☑ Your Travel Style

Make your way to Hangzhou by flight or high speed rail in the morning. Be met and greeted by your Easy Tour China guide, then transfer with a private vehicle to your hotel to check in.
In the afternoon, transfer to visit the West Lake, the large freshwater lake, bordered on three sides by hills. Its banks and islands are blanketed with small gardens and temples. You will enjoy a short boat cruise at West Lake. There are 3 highlights of West Lake- Broken Bridge, Viewing Fish at Flower Harbor and Leifeng Pagoda. The Broken Bridge, located in the eastern end of West Lake, was built in the Tang Dynasty. The existing bridge is 8.8 meters in length and 8.6 meters in width. With the simple and elegant style of this bridge, it is an important sign of West Lake. Viewing Fish at Flower Harbor, is located on the south side of West Lake. Its history can be dated to Southern Song Dynasty. The best season to visit here is spring when flowers are blooming. Leifeng Pagoda, a five story tall tower with eight sides, is located on Sunset Hill south of the West Lake. The original pagoda was built in 975 AD, during the Five Dynasties and Ten Kingdoms period. However, it was destroyed during Ming Dynasty when Japanese pirates attacked Hangzhou. In October 1999, the provincial and municipal governments decided to rebuild Leifeng Pagoda based on the ruins of the old one. The new pagoda opened in 2002. It is composed of a 1400 tonne steel structure with 200 tonnes of copper parts.
Later you will transfer to visit the Lingyin Temple, located at the foot of Lingyin Mountain. It is one of the most prestigious Buddhist monasteries in China. The temple was built in 326 A.D. The Great Hall, 33.6 meters high, is one of China's tallest one-story buildings, further distinguished by double eaves. A statue of Sakyamuni, carved out of 24 blocks of camphor wood, stands 19.6 meters high in the main hall. You will also visit the Feilai Peak. There are 470 Buddhist stone carvings dating back to the Five Dynasties, the Song Dynasty (960-1279), and the Yuan Dynasty (1271 -1368). These elegant carvings are of high artistic value. With magnificent mountains and high trees surrounding the monastery, the Lingyin Temple is a beautiful scenic spot with numerous cultural relics to see.
Meal: L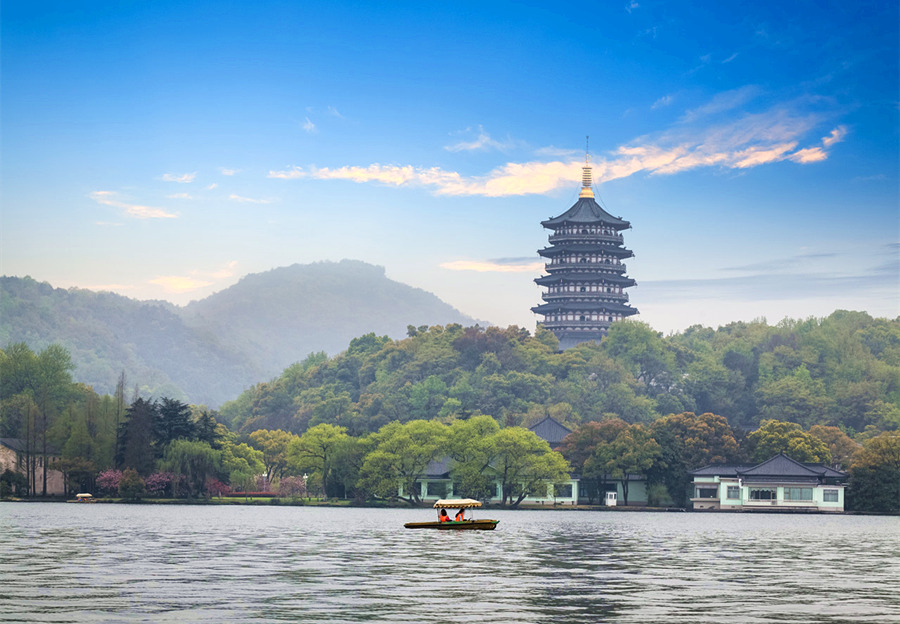 After breakfast, transfer to Wuzhen Water Town, around 1.5 hrs drive from Hangzhou downtown (about 75km). Wuzhen is a well-known town of fish, rice, and silk, located at the north of Tongxiang City of Zhejiang Province. Today you will visit the east part of Wuzhen, named Dongzha. There's chance to enjoy the folk performance, such as shadow plays, Huagu Opera, martial arts performances on boats, and bamboo pole climbing. The highlights of Dongzha include Hongyuantai Dyehouse, Jiangnan Hundred Beds Museum and Folk Custom Museum. The Hongyuantai Dyehouse was first built in the Song and Yuan Dynasties. The traditional process of dyeing cloth is still preserved in this house today. Dyed clothes, a symbol of ancient China, is a good souvenirs for visitors. Jiangnan Hundred Beds Museum is known for its collection of ancient beds in Jiangnan. With exquisite design and workmanship, these are not just items of furniture, but excellently preserved examples of Chinese folk art. Folk Custom Museum, was built in the house of a family which used to be the richest one in the town. Nowadays, people can know the Wuzhen people's customs of birthday,and season change as they existed in the late 19th and early 20th centuries.
If you want to sleep one night in Wuzhen:
We recommend the west part of Wuzhen, named Xizha, which is quieter, spacious and less crowded comparing with the east part. Xizha has been rebuilt and renovated corresponding to the original style. It is beautifully lit with red lanterns at night, subtly highlighting various architectural features and the bridges. The streets of Xi Zha are lined with guest houses, restaurants, bars, and souvenir and arts and crafts shops.
Meal: B, L
After breakfast, transfer to visit the Beijing-Hangzhou Grand Canal Museum (Grand Jing-hang Canal Museum), with thousands of cultural relics and historical materials collected and exhibited to fully demonstrates the significant position and function of the grand canal - the 46th UNESCO world heritage site in China, The exhibition area is more than 5000 square meters, and divided into four halls: the Excavation and Development of the Grand Canal Hall, the Utilization of the Grand Canal hall, the City beside the Grand Canal Hall and the Culture of the Grand Canal Hall.
Right next to the museum is the over 400-year-old Gongchen Bridge, the southernmost and the iconic landmark of Beijing-Hangzhou Grand Canal. 92 meters long and 16 meters high, it is the highest and longest ancient stone arch bridge in Hangzhou. Standing on the bridge, you can still see the busy shipping on this canal as it has been doing for the past 1400 years. Now you can understand why it is still playing an important role in China's economy today.
According to your flight or high speed train departure time, you will be escorted to airport or rail station on time. Move to your next destination. Your 3 days Hangzhou tour ends.
Meal: B, L

Service ends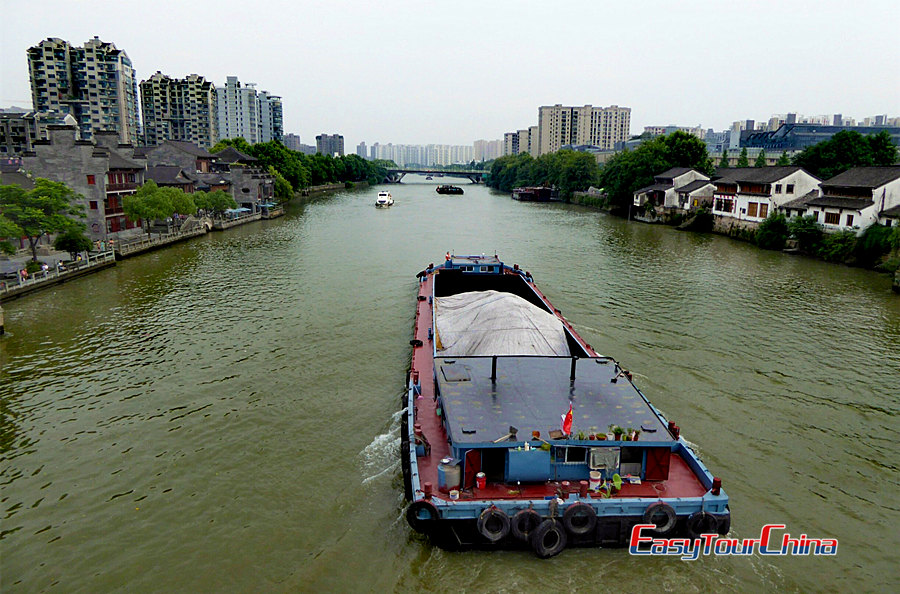 What's included
1-on-1 Travel Consultant

Your China based expert listens to your wishes carefully, provides professional advice, ensures unlimited itinerary revisions before done and 24/7 helpline service while traveling.

Private Local Guide and Driver

Your guides are friendly, helpful and knowledgeable, and your drivers are professional, polite and patient. They are very flexible to accommodate your personal needs and happy to show you the local attractions, history, culture, foods and real life.
Private transfers from hotel to attractions, airport or train station are also included.

Accommodation to Suite Your Preference

We hand pick hotels ranging from luxury 5 star, superior 4 star to comfortable 3 star. Luxury or cozy boutique hotels and budget guesthouses are also among your choices. You could decide where to stay to meet your taste and budget.

Gourmet Meals

Most of the hotels we select offer both Western and Chinese buffet breakfast. Lunch and dinner included are arranged in selected restaurants to taste authentic Chinese cuisine and local specialties. Thus you may also have a unique food tour.
Meals specified in itinerary as B=breakfast, L=lunch, D=dinner.

Attractions and Activities Listed on the Itinerary

Our city tour packages have included the (first/main) entry to all attractions and the expenses of activities on the itinerary (except the optional activities).