Overview
Datong is where the history is still enveloped and the Buddhist religon have been inherited and carried forward. Take an "unusual" 3-day private Datong tour to have an impressive experience – marvel at the Monastery Hanging at Mount Heng, astonish at the fantastic Yungang Grottoes, admire China's existant earliest and highest all-wood pagoda (Yingxian Wooden Pagoda)… And immerse yourself in the history and culture. Contact us to get the best price!
Customize Your Tour:
☑ Travel Dates ☑ Your Interests ☑ Your Travel Style

Fly or take bullet train into Datong. Be met and greeted by Easy Tour China guide and driver, then transfer with a comfortable private vehicle to your hotel. For the rest of the day, you may rest at hotel or explore the city on your own pace.
About Datong: Historically, Datong had a luminous past as the capital of the Northern Wei Dynasty (383-534 AD), and was one of the nine ancient capitals of China. If you love history and are interested in China's Buddhist culture, travel to Datong to discover its more than 2400 years past and some of world's most outstanding Buddhist treasures and ruins.
After breakfast, transfer to visit Yingxian Wooden Pagoda, which is the world's oldest and tallest wooden pagoda first built in 1056 of the Liao Dynasty (907-1125). Soaring 67.13 meters, the octagonal pagoda is one of the few surviving examples of a Song-Dynasty pagoda, rich in detail, dynamic in bracketing, and noble in proportion. The pagoda is 115 years older and 12.57 meters taller than the Leaning Tower of Pisa in Italy (54.56 meters high). It is surprising that not a single nail was used in the construction of the nine-storey wooden structure (5-storey from outside look).
Then transfer to visit the Hanging Monastery, also known Hanging Temple and Xuankong Temple, one of the few temples in China that blends all Buddhist, Taoist and confucianist cultures. It was established in the later period of the Nothern Wei Dynasty, which is over 1,500 years history. The halls and pavilions were constructed along the contours of the cliff face between 26 to 50 meters from bottom up by using the natural hollows and outcrops. The buildings are connected by corridors, bridges and boardwalks and contain more than 80 bronze, iron and stone statues of gods and buddhas from different dynasties.
Meal: B, L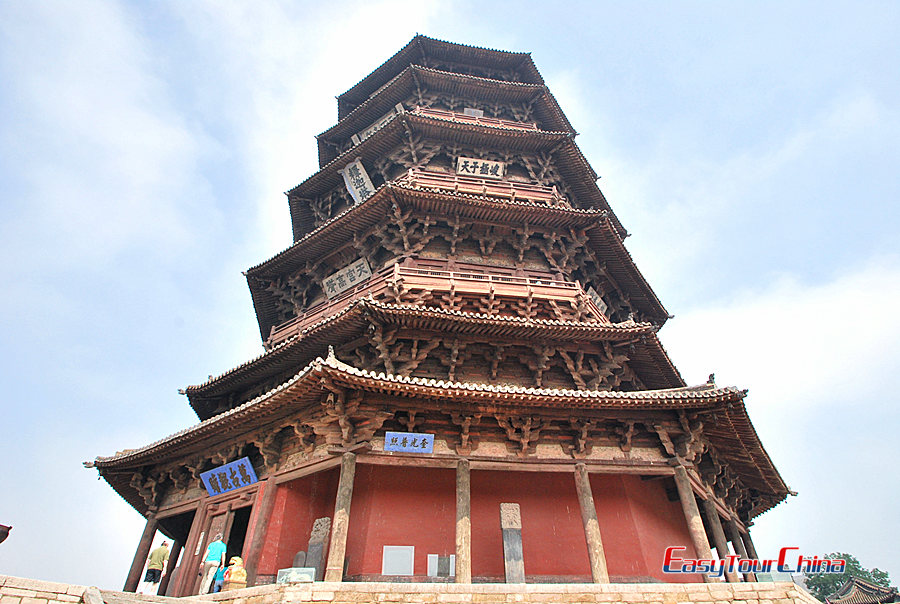 This morning is time to visit the Yungang Grottos, one of the four great Buddhist Grottoes in China. With the wide spread of Buddhism in China in the second century, grotto art was introduced to China from India, developing rapidly between the second and fourth centuries. The Yungang Grottos is located 16 kilometers west of Datong city, the Yungang Grottoes are hewn out of cliff-sides in a honeycomb pattern, stretching for 1,000 meters (1 km) from east to west. The Grottoes were built more than 1,500 years ago in the Northern Wei Dynasty. Nowadays, more than 51,000 statues remain, the largest being 17 meters high and the smallest only few centimeters. Whether huge or tiny, all are meticulously carved.
After the visit of Yungang Grottoes, according to your flight or rail, you will transfer to airport or rail station on time. Head for your next destination. Easy Tour China Datong tour ends.
Meal: B, L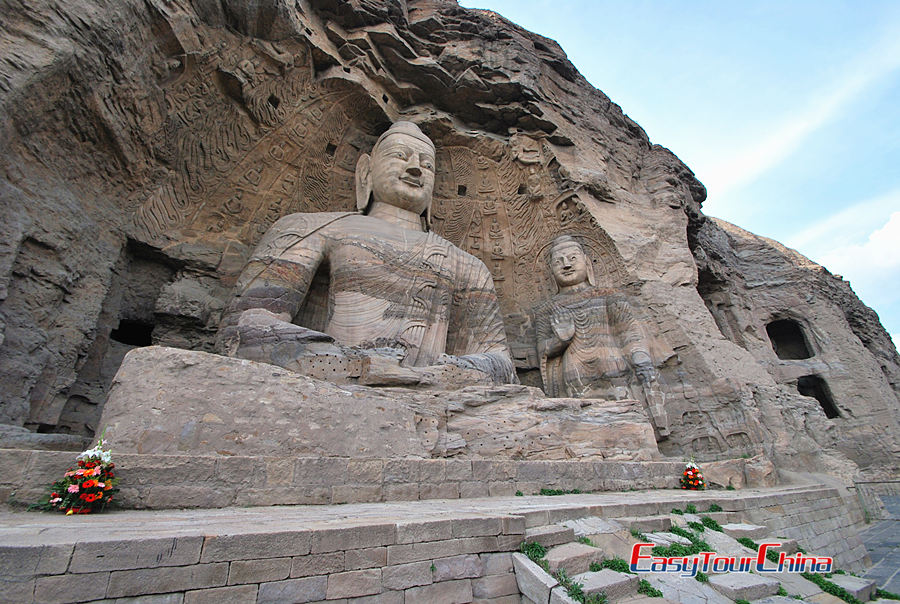 What's included
1-on-1 Travel Consultant

Your China based expert listens to your wishes carefully, provides professional advice, ensures unlimited itinerary revisions before done and 24/7 helpline service while traveling.

Private Local Guide and Driver

Your guides are friendly, helpful and knowledgeable, and your drivers are professional, polite and patient. They are very flexible to accommodate your personal needs and happy to show you the local attractions, history, culture, foods and real life.
Private transfers from hotel to attractions, airport or train station are also included.

Accommodation to Suite Your Preference

We hand pick hotels ranging from luxury 5 star, superior 4 star to comfortable 3 star. Luxury or cozy boutique hotels and budget guesthouses are also among your choices. You could decide where to stay to meet your taste and budget.

Gourmet Meals

Most of the hotels we select offer both Western and Chinese buffet breakfast. Lunch and dinner included are arranged in selected restaurants to taste authentic Chinese cuisine and local specialties. Thus you may also have a unique food tour.
Meals specified in itinerary as B=breakfast, L=lunch, D=dinner.

Attractions and Activities Listed on the Itinerary

Our city tour packages have included the (first/main) entry to all attractions and the expenses of activities on the itinerary (except the optional activities).