Overview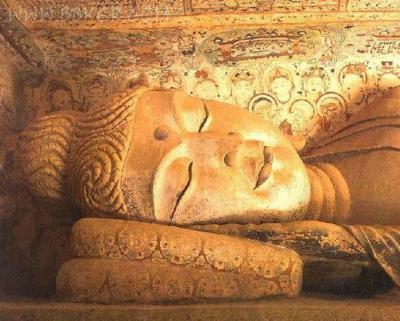 Have a 3-day Gobi Desert Walking Tour to the mysterious oasis city - Dunhuang, along the ancient Silk Road. Savoring up the highlights in Crescent Lake & Singing Sand Dune and Mogao Grottoes, you can try interesting activities with joy beyond expectation and know the beauty and culture of Chinese murals. Take a little challenge to hiking along ancient Han Great Wall, which is a popular hiking trail, as if you go back to the old times. Let's try this amazing Dunhuang hiking trip!
Customize Your Tour:
☑ Travel Dates ☑ Your Interests ☑ Your Travel Style

Upon your arrival at Dunhuang Rail Station or airport, you will be greeted by our guide, and transfer to the hotel. The rest time is for your own explanation in the city.
Try to get up early this morning to catch the sunrise from the desert. As one of the top 5 scenic deserts in China, the dunes of Crescent Lake & Singing Sand Dune reach a relative height of 250 meters (820 feet). Do a light hiking in the desert, and climb up to the top of the dunes. You will be rewarded with the breathtaking view back across the rolling desert sands towards the oasis. To feel the charm and joy of the desert, camel riding, sand-sledding and desert motor-riding are available on your own choice and expense.
Afternoon, transfer to visit another highlight of Dunhuang, the Mogao Caves. Mogao Caves are the best known Chinese Buddhist grottoes. In 1987, the Mogao Grottoes was listed as the World Heritage site by UNESCO. You will appreciate a train of exquisite murals inside the caves and understand what they've been through, how they've been preserved and restored. The visit time lasts about 3.5hrs; you will get why it becomes top Chinese treasure. In the evening, have a leisure visit to the Shazhou Night Market and enjoy your dinner here, where is popular among tourists because of its local features.
Extra Info of Mogao Caves You May Want to Know:
The ticket we include is type A for peak season (April 1st to November 30th), and type D for low season (December 1st to March 31st). During peak season, 8 caves are included in the visiting, while 12 caves for the low season.
If you want to have any specific caves included, please definitely let us know. For the tickets booking, your accurate passport information is needed.
There are only 6,000 tickets for sale per day, so it's better to make booking as early as you can.
Meal: B, L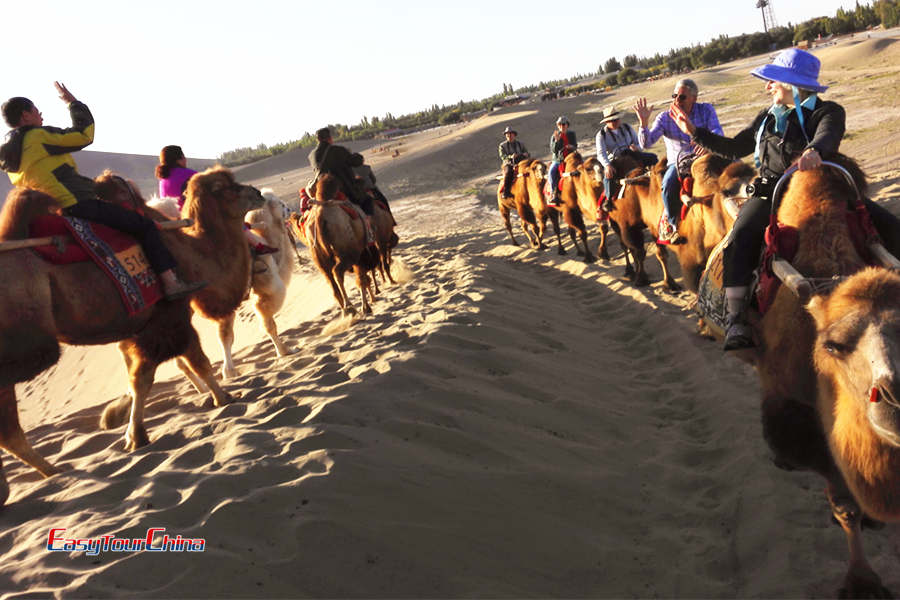 After breakfast, you will take one-hour driving to Shanshuigou Valley, Yangguan country, where it is the start point of today's hiking. Trek along the ancient frontier wall which was considered to be the Great Wall of Han dynasty (206 BC – 220 AD) for around 15 km. This historical wall used to be the route marking of the ancient Silk Road, and now it's our route marking for today's hiking. On the way, you can also see the sand flat and soldier tombs from the ancient time. Following the hiking, a visit to Yangguan pass can't be missed. Yang Pass, together with another grand pass - Yumen Pass acted as two important western passageways of Great Wall to Central Asia, India and Europe in Western Han Dynasty (206BC - 24AD). You can imagine what it was like to be on the frontier in ancient times.
At the appropriate time, you will be transferred to airport/rail station for your to next destination. Farewell to Dunhuang.
Meal: B, L
Tips for Today's Hiking:
It's usually hot and dry in Dunhuang, especially in summer, so be sure that you are carrying enough water.
Adequate covers to protect from strong sunlight. Hat and long sleeves are good choice and sunscreen isimportant.
Good walking shoes are necessary and ankle boots are highly suggested. Mesh shoes are not proper for walking in the desert Gobi. It will be annoying to pour out sand again and again.
Walk at your pace and let your guide known if you want to take a break or do not feel well.
In case you encounter a venomous snake or other animal, do not attack or try to frighten it. Make a detour and leave it alone.
Do not touch the plants before making sure they're safe.
Service ends.
What's included
1-on-1 Travel Consultant

Your China based expert listens to your wishes carefully, provides professional advice, ensures unlimited itinerary revisions before done and 24/7 helpline service while traveling.

Private Local Guide and Driver

Your guides are friendly, helpful and knowledgeable, and your drivers are professional, polite and patient. They are very flexible to accommodate your personal needs and happy to show you the local attractions, history, culture, foods and real life.
Private transfers from hotel to attractions, airport or train station are also included.

Accommodation to Suite Your Preference

We hand pick hotels ranging from luxury 5 star, superior 4 star to comfortable 3 star. Luxury or cozy boutique hotels and budget guesthouses are also among your choices. You could decide where to stay to meet your taste and budget.

Gourmet Meals

Most of the hotels we select offer both Western and Chinese buffet breakfast. Lunch and dinner included are arranged in selected restaurants to taste authentic Chinese cuisine and local specialties. Thus you may also have a unique food tour.
Meals specified in itinerary as B=breakfast, L=lunch, D=dinner.

Attractions and Activities Listed on the Itinerary

Our city tour packages have included the (first/main) entry to all attractions and the expenses of activities on the itinerary (except the optional activities).