Harbin Snow Town is reputed to be the Snow Paradise in China in winter. If you are interested in snow scape, snow play, hiking or photography, Harbin Snow Town will be your best choice! Trekking through the Yangcaoshan Mountain from Snow Town (Shuangfeng Forest Farm) to Snow Village (Dongsheng Forest Farm) is one of the most amazing and popular winter activities in China.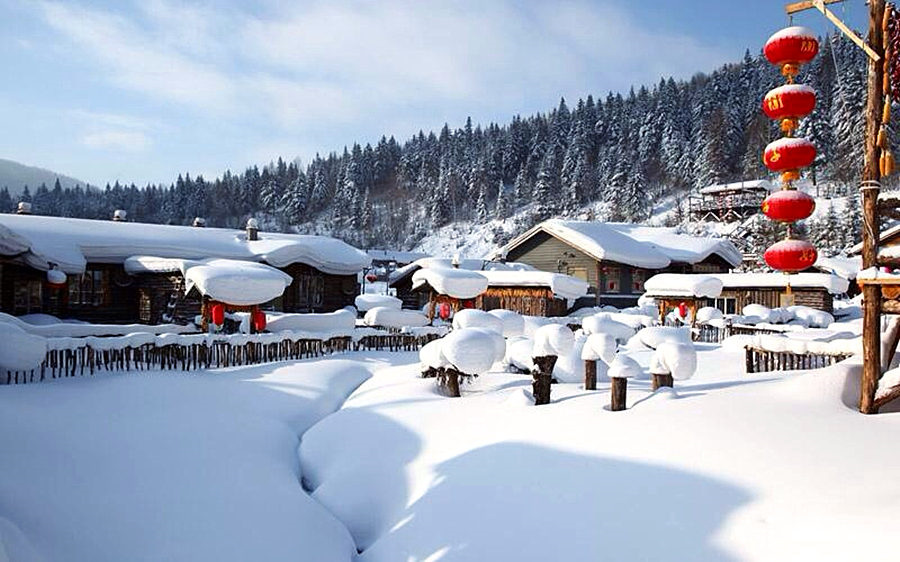 China Snow Town Weather and Best Time to Hike
Because of its unique location, the town snows from October to April of next year. The full seven months of snowing makes it an incredible ice & snow fairyland, up to 2 meters of snow at the thickest point! Trekking on the snow, catching the sense of walking on the thick snow, you can also find the whole forests blanketed with snow - a different scene from Harbin city or even Snow Town.
The best time to visit and hike Snow Town is from December to February of next year when the snow is the whitest and softest. Two or Three days are great to have an enjoyable time in Snow Town.
Weather & Temperature
December: -22℃
January: -18.3℃
February: -10.4℃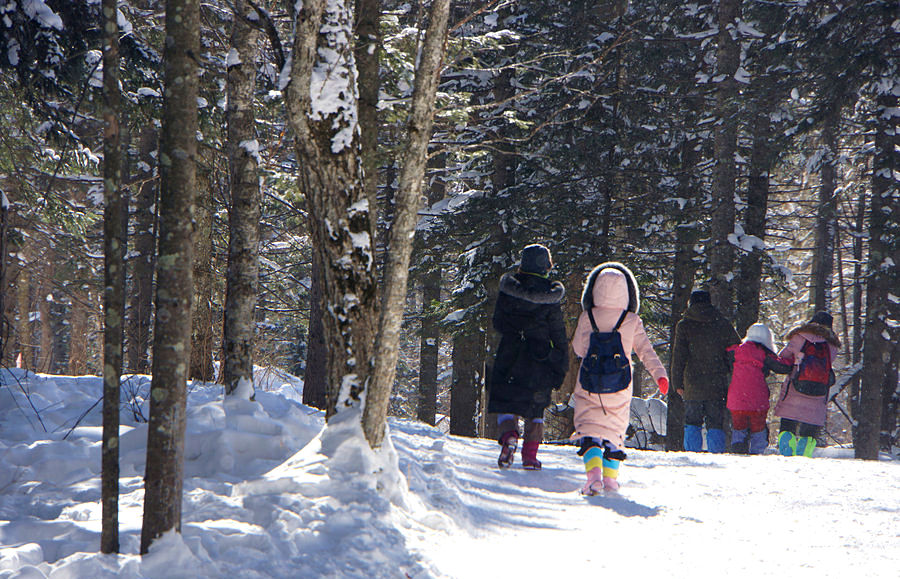 How to Get There?
Take flight or train to Harbin, then book a bus or private vehicle to Snow Town. It's convenient to take shuttle bus to your destination at Harbin West Railway Station; but you need to change bus if you drop on the bus at other stations, so booking private vehicle is more recommended. It takes 6hrs to get there (280km). On the way, you have chances to catch the sights of northeast of China and take photos.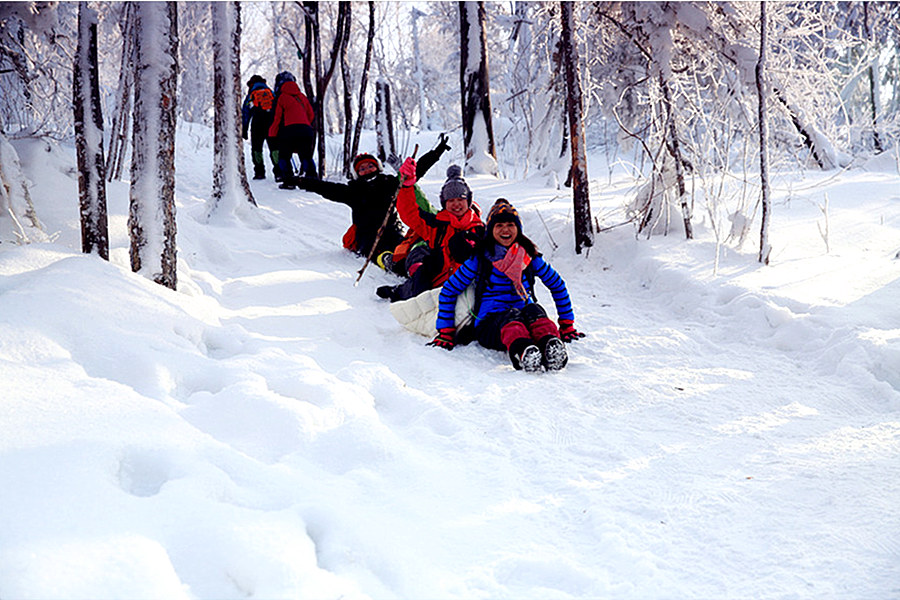 Get Ready – What to Pack before Hiking
1. Down Coat. It's better for you to bring thicken down coat at around 300g down with water-proof fabric.
2. Boots. Water-proof snow boots will make your hiking tour more comfortable.
3. Outdoor warm pants.
4. Other wearing: scarf, glove, woolen hat, thicken socks, sunglasses.
5. Slip-resistant crampons for your boots.
6. Foods. High energy snacks like chocolate, snickers; warm water; simple lunch.
7. Bring some medicines in case of getting cold.
If something forgotten, you can buy it in Harbin. Confirm your wearing is water-proof!


Go!
Let's start the hiking in the morning so that you can enjoy the first sunshine from the forest. How magnificent it is! We Recommend 2 Snow Town Hiking Trails for You:
Trail One: shorter & easier one for those who want to experience the snow scape. It is from Snow Town to Yangcaoshan Mountain, which takes around 1.5hrs one way. It's more recommended to family visitors, especially with kids or elders.
Trail Two: longer & more challenging one for those who enjoy hiking and exploration. It's from Snow Town (Shuangfeng Forest Farm) to Yangcaoshan Mountain, then continue hiking to Snow Village (Dongsheng Forest Farm), which takes 5-6hrs one way. It's more recommended to energetic visitors or explorers.

As you can see, Yangcaoshan Mountain is between Snow Town and Snow Village, where there is a wide ground on the top of the mountain. It's a good place to have a rest and have snow play.
Snow Town is at an altitude of 800 meters. On Trail One, it's an uphill process; you will go up to the altitude of 1200 meters. The road is smoother with around 5km, so it's easier to trek, and it doesn't take long.
As for Trail Two, you will go on the trekking after the rest of lunch time on the top of Yangcaoshan Mountain. You need to go down to the altitude of 400 meters to get to Snow Village, this makes it harder. It's around 10km, takes about 4hrs, depending on your physical strength and power. If you couldn't finish the whole trip, don't worry; horse-drawn sleigh or electric sleds are available!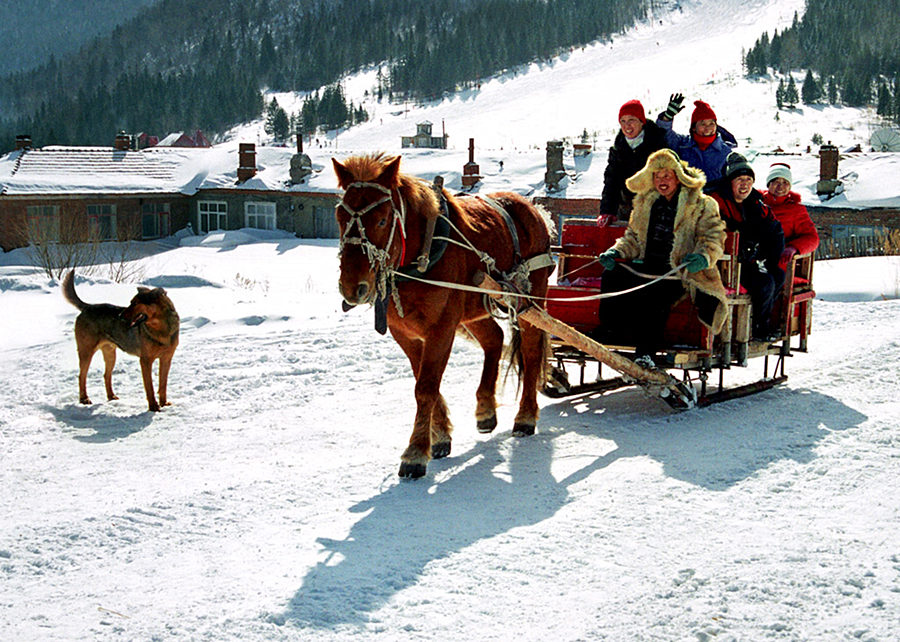 Snow Town Accommodation
After you arrive at Snow Village for a rest; drive back to Snow Town in 2hrs. Refresh yourself on your accommodation. There are a few stander hotels, but more family inn with folk style house in wood. The former workers of the forest farm have remolded their courtyard into family inn. These rooms are full of northeast China characters with stone-bed room; we call them "Kang" in Chinese. If you want to experience the real folk life there, "Kang" will be more recommended.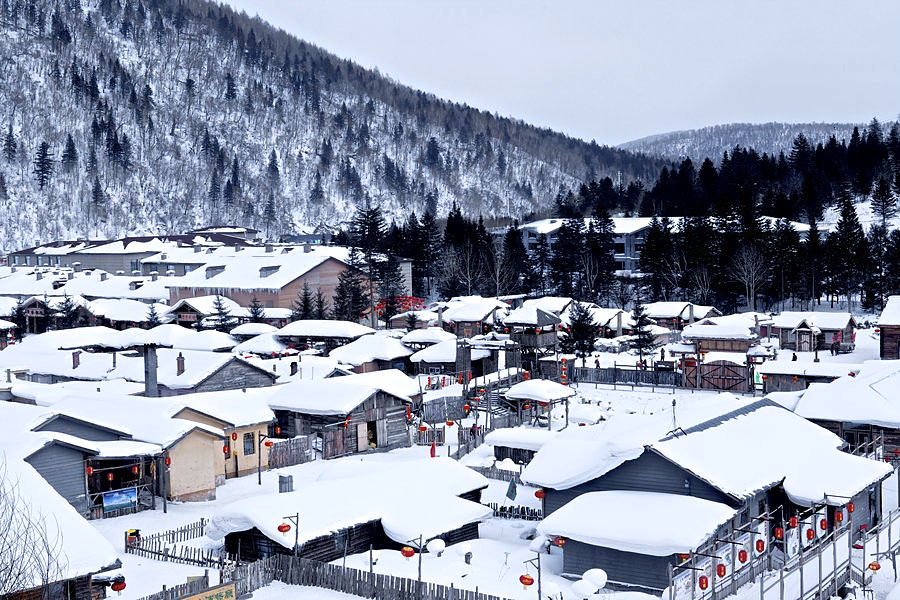 What Else to Do
What can you do for the rest time after the Harbin Snow Town hiking? Strolling Xueyun Street, photographing at Snow Mushroom or Snow Cake, taking the sleigh cars or dog-drawn sleigh, skiing, trying local food, watching Er-ren-zhuan performance etc. all are good choice!
Recommended Snow Town and Hiking Tours:
5-day Harbin China Snow Town Hiking Tour
4-day Harbin & China Snow Town Tour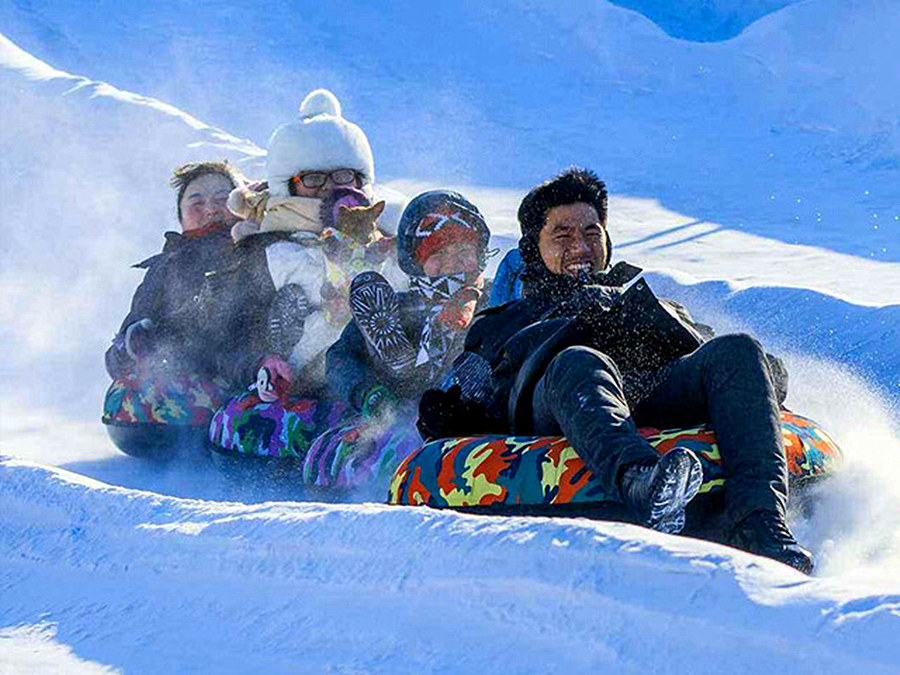 You may also be interested in: