Meili Snow Mountain-Yubeng Village Trekking Guide & Tips
China Hiking Tips Meili Snow Mountain-Yubeng Village Trekking Guide & Tips
You probably have never heard of Yubeng Village in Shangri-La Yunnan, but you must have heard Meili Snow Mountain, neighboring Tibet and considered as one of the four great holy mountains for Tibetan Buddhists. Yubeng Village is located right at the foot of the mighty Meili Snow Mountains with only 20 or so households and known among the outdoor enthusiasts as one of the best treks in China. Yubeng is almost inaccessible from the outside world, riding a horse and hiking for a day was previously the only two ways to get to Yubeng Village.
Best Time to Hike in Yubeng
Located under snow mountain, the weather of Yubeng is very changeable.
from Mid-April to May, September and October, is normally considered the best time to go hiking in Yubeng Village. From Mid-April to May, Yubeng Village revives from the long cold winter, and the ice and snow melts. The whole world is green, beautiful and vibrant. In September, buckwheat flowers and Euphorbia flowers are in full bloom. Besides, it is more likely you can see the sunrise/sunset on Kawagarbo, as well as the Milky Way in the sky. From October to November, it is the autumn of Yubeng Village, the mountains turns to a golden yellow. It is also the most beautiful season to see Meili Snow Mountain.
It is usually a lot of snow on the road in Yubeng Village in December, and the mountains are likely to be closed by heavy snow around the Spring Festival, so it is not recommended to hike Yubeng after December.
Besides, the rainy season in Yubeng Village is from July to August. During this period, it will rain continuously and the mountain roads can be difficult, and sometimes even difficult, to walk.
>> 9 Days Meili Snow Mountain & Yubeng Village Trek Tour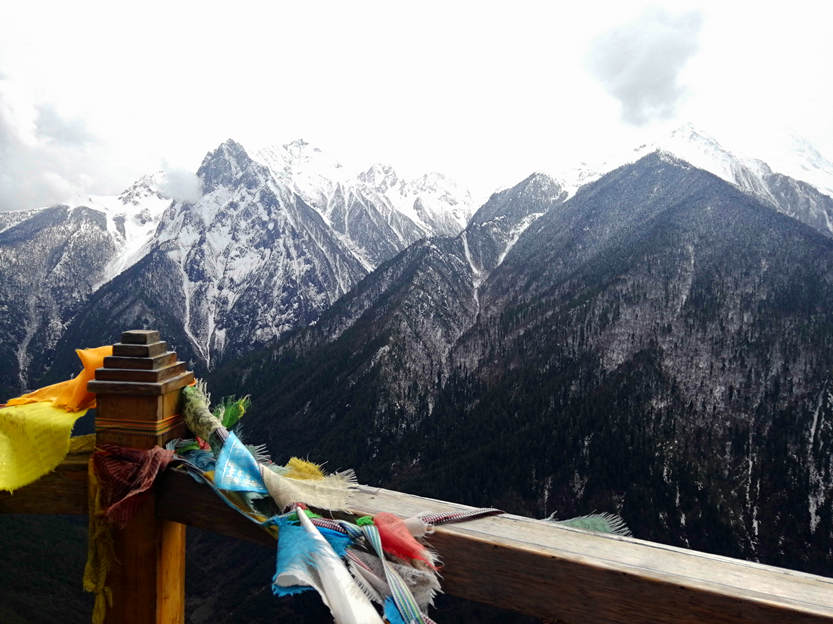 Getting in: Hike from Xidang to Yubeng
After arriving Shangri-La in Yunnan Province, China, take a chartered bus to Feilaisi (named after a temple named Feilaisi, but it actually refers to an area) in Deqin County, where you can find a viewing platform for Meili Snow Mountain and its main peak Kawagebo at an altitude of 6740m. Stay for one day at Feilaisi, praying that you may witness sunset and sunrise over Meili.
Drive from Feilaisi to Xidang Village, it takes about 2 hours. From Xidang, there is only one road leading to Yubeng. After getting to Xidang, we were surprised to find that visitors could take SUV to get to Yubeng directly. Therefore, if you don't want to hike, no matter at the very beginning or on the halfway, you can use the SUV service offered by locals.
A tip for you, you have to hike uphill at over 3000m for about 7km with your bag on your back all along, so pack appropriately. There are two food depots on the way, but might be closed in case of bad weather. Hike uphill in the woods until seeing the amazingly beautiful thirteen peaks of Meili Snow Mountain, you now hike downhill for 2km.
Yubeng village (that comprises of Upper Yubeng and Lower Yubeng) then leap to the eyes. It is nestled in snow-capped mountains, with rural farmlands and Tibetan style dwellings. What a peaceful and magical paradise!
Both Upper Yubeng and Lower Village provides basic accommodations, restaurants and even café. You won't be disturbed by any noise or chaos like being in cities, so breathe freely and enjoy a happy and profound sleep.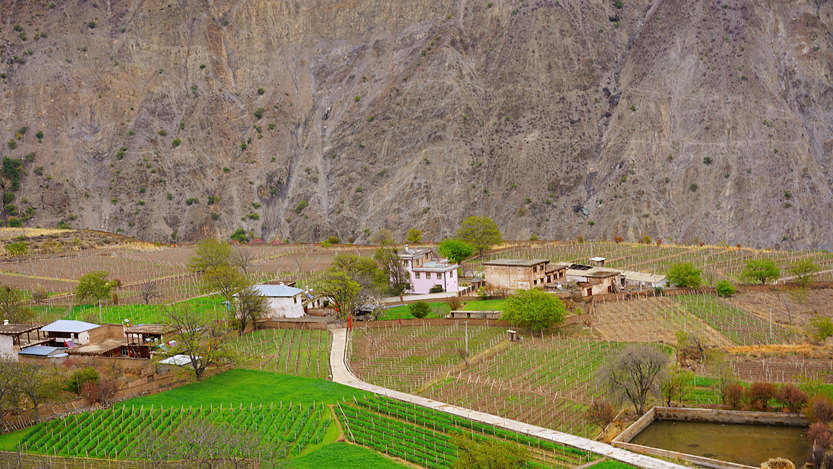 Suggested Yubeng Trekking Route (Elevation between 3050m and 3900m) -
The trek of Yubeng continues and gets deeper. Based on the different hiking levels, routes and weather, we normally suggest 3 days Yubeng trekking itinerary.
Day 1 trekking route, Upper Yubeng to Xiaonong Base Camp to Ice Lake, totally 8 hours needed
You need to hike many mountain slops today, without any clear hiking trails. So follow the road signs and garbage cans. Harder than the day hiking to Yubeng, today, you may struggle in the forests, but rewarded with more beautiful natural sceneries.
Hike uphill for about 5km and arrive at Xiaonong Bas camp (at 3600m), a highlight of Yubeng trek. It was built by Sino-Japanese joint mountaineering team in 1991 to climb Kawagebo. This mountain event failed finally, but Kawagebo had become known to the world.
If you have energy, continue climbing for about 2km to the little Ice Lake (at 3900), which is covered with snow half of the year, but turns to the emerald when the snow melts.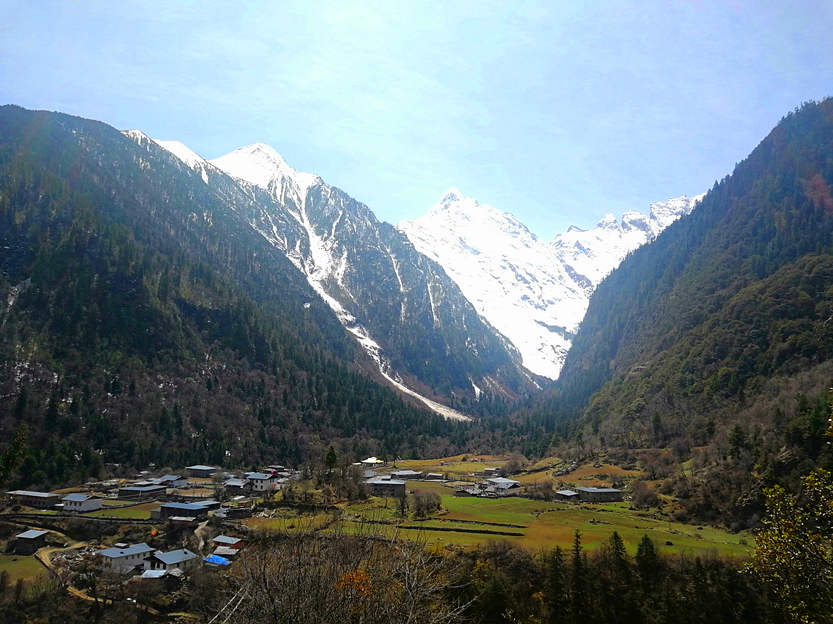 Day 2 trekking route, Yubeng Village to Sacred Waterfall, 6 hours needed
Supposed that you start from Upper Yubeng Village, then firstly hike downhill for about 2km to Lower Yubeng Village, witness the local Tibetan lifestyle and meet local friendly Tibetans. Continue hiking for about 4km towards the snow mountains, and find the sacred waterfall (at 3650m). The locals believe that that waterfall can wash away people's sins.
Day 3 trekking route, get out of Yubeng Village, Hike Ninong Grand Canyon, 5-6 hours needed
To get out of Yubeng, you can hike along Ninong Grand Canyon and Mekong River (Yunnan locals call it Lancang River) for 18km. You will hike down from 3000m to 2000m above sea level, so protect your knees with kneecap.
The Yubeng trek ends.You will find that the views are simply gorgeous and Yubeng is one of the best treks you've ever do! Go back to Shangri-La.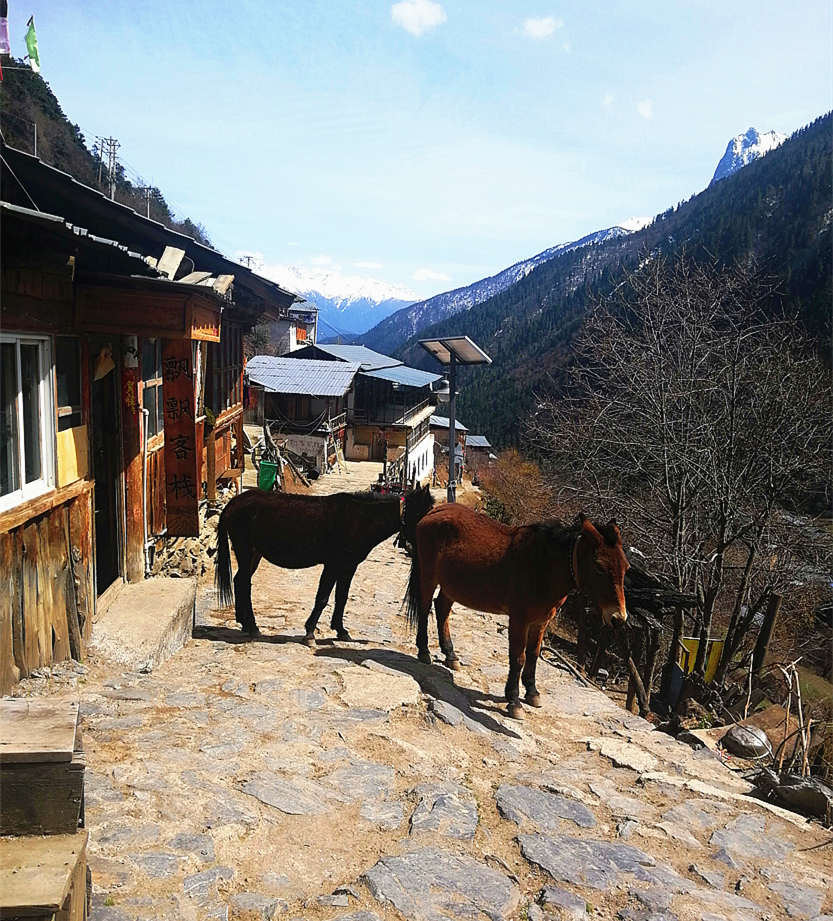 Things to keep in mind while Trekking Yubeng Village & Meili Snow Mountain
1. If possible, pack only the essentials when hiking to Yubeng, and leave your other belongings at your hotel at Feilaisi or ShangriLa.
2. Check the Yubeng weather in advance, and pack accordingly. Prepare yourself with sunglasses, sun cream, rainwear, alpenstock, crampon when it snows, etc.
3. Prepare enough water and some snacks.
4. Choose the trekking route according to your own ability and listen to the advice of your local guide of Yubeng.
5. Respect local Tibetan customs at Yubeng and don't speak loudly at the holy mountain areas.
You may also be interested in: