Guilin is a wonderful tourist destination with stunning Karst landform and idyllic, and there are more than these we can expect. Ancient towns and villages are the outstanding highlights of Guilin with slow life pace, antique architectures and simple attitude to life. Therefore, escape from the city and busy life and come to Guilin, seeking for something that can leave your stress and comfort yourself in the ancient town… Let's find out the beauties of top 8 most beautiful and unparalleled ancient towns and villages around Guilin!
1. Xingping Ancient Town
Fact
- In Chinese: 兴坪古镇
- Location: Northeast of Yangshuo, being 28km away from Yangshuo, Guilin
- Highlights: Li River, antique buildings and relics
- How to go: book a car, or take high speed train from Guilin Xi Station to Yangshuo Station, and then you can take a bus to Xingping.
Recommended Guilin Tours to Xingping Ancient Town:
5-day Relaxing Yangshuo Vacation with Real Local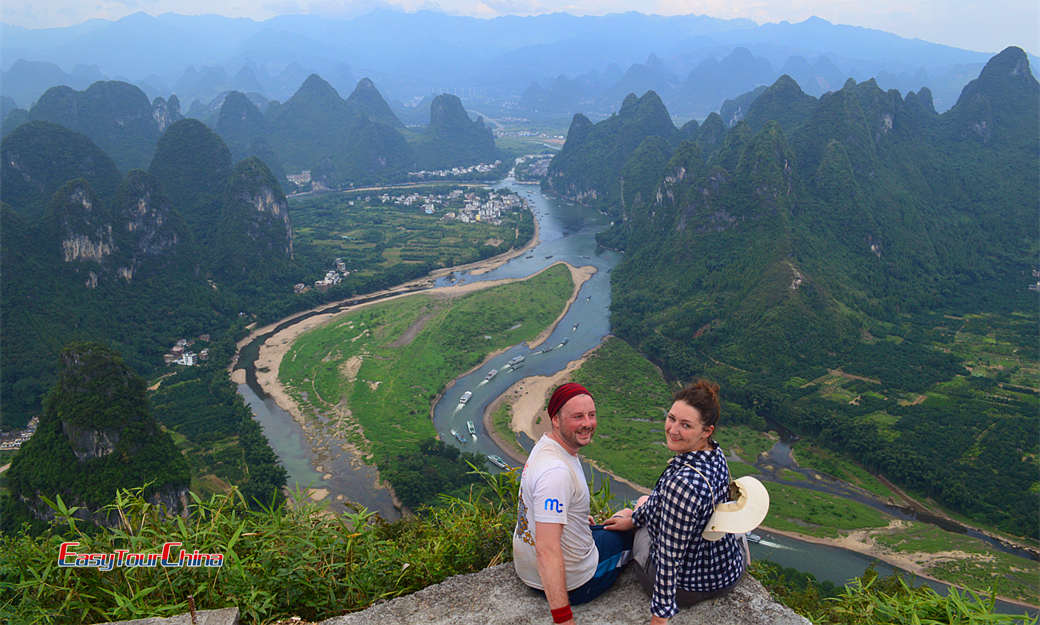 Located on the bank of Li River, Xingping Ancient Town can be called the apple of the eyes of Guilin. Various antique buildings of brick-tile structure and relics are kept integrated. Savor up walking on the Xingping Old Street, you will find that the old city wall, slop-roof houses with black tiles are getting along with the new lifestyle. When you wander to the original fishing village, ancient bridges, pavilions and ferries, and the natural scenery will come into your eyes with breathtaking visual experience. Furthermore, it shows the essential scenery of Li River. The famous pattern of the back of RMB20 Chinese note comes from here, and other highlights like Nine-Horse Fresco Hill, the Lotus Cave, Lingbao Pavilion, Yellow Cloth Shoal and so forth. You can also climb up to Xianggong Hill or Laozhai Mountain to get a sip of the panorama view of Karst landform. Whatever biking, Lijiang cruise, mountain hiking or Li River hiking, Xingping Ancient Town is the most perfect destination.
2. Daxu Ancient Town
Fact
- In Chinese: 大圩古镇
- Location: In the 18.3km southeast of Guilin, Guilin
- Highlights: antique biuldings, street food, traditional activities
- How to go: Rent a car, or take bus from Guilin Bus station to there.
Recommended Guilin Tours to Daxu Ancient Town:
6-day Guilin, Yangshuo & Longji Discovery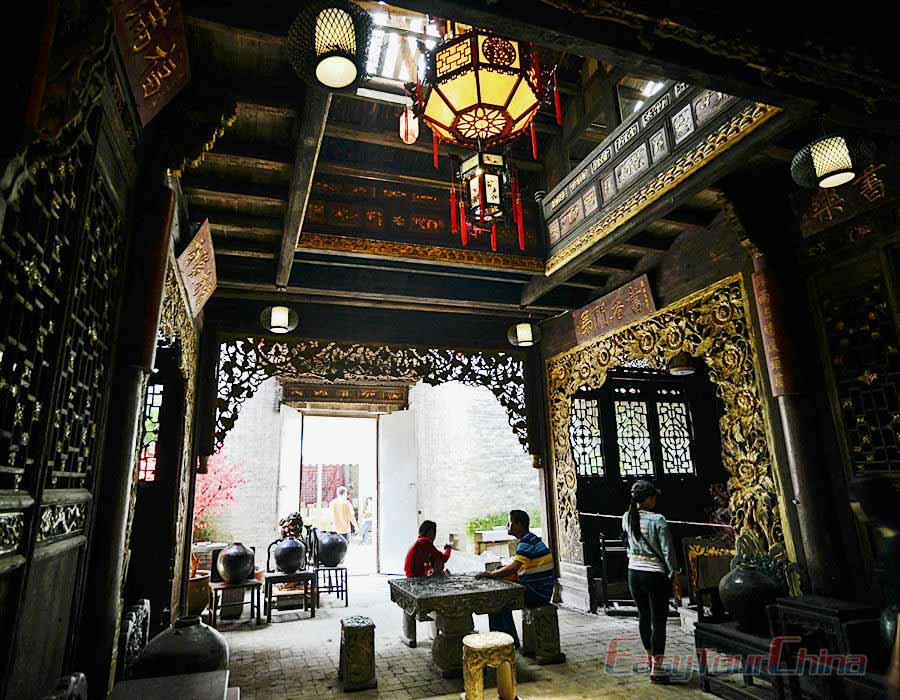 As one of the top 4 ancient towns of Guangxi Province, Daxu Ancient Town represents the architectural cultural characteristics of both Han nation of the northern Guangxi and some minorities. Passing by the stone-made old city wall, you will reach a tranquil and original world. The lanes and paths connect every historical residence. Walk along Daxu Old Street to find out the stories behind them and try some local street food. When Lantern Festival and other local holidays come, dragon boat race, Guangxi opera and Caidiao will be held, you can join such featured activities to get a fantastic experience!
3. Longji Ancient Zhuang Village
Fact
- In Chinese: 龙脊古壮寨
- Location: In the Longji Rice Terrace area, Longsheng County, Guilin
- Highlights: ethnic residence, garments, local food, rice terrace
- How to go: Private car, or take bus from Guilin Bus station to Longji Rice Terrace area.
Recommended Guilin Tours to Longji Ancient Zhuang Village:
8-day Guilin Hiking Tour of Li River and Longji Rice Terraces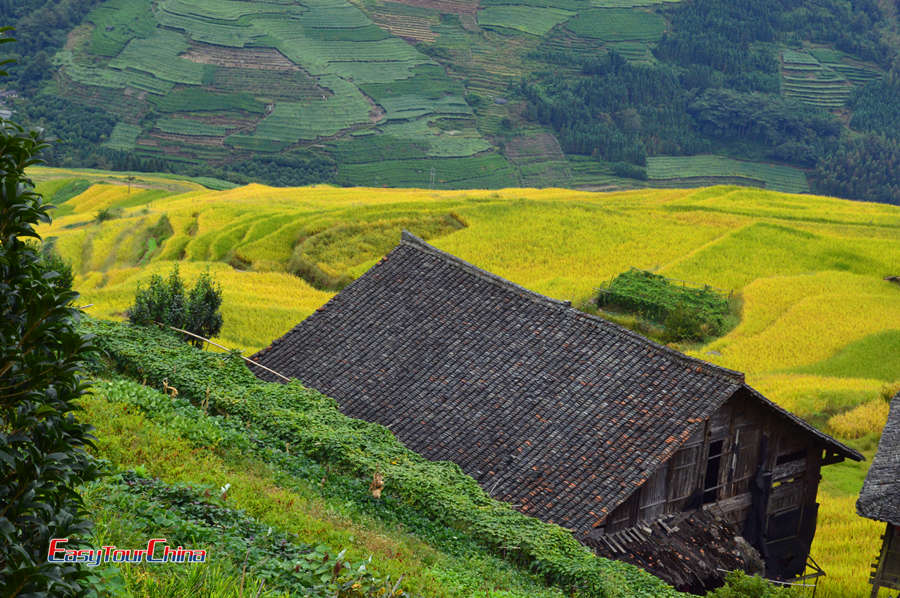 Longji Ancient Zhuang Village lies in a fictitious land of peace in Longji Rice Terrace area, owing the best preserved, most ancient and largest scaled Zhuang Ganlan style wooden dwelling houses in China. Lying in the hotel in Ancient Zhuang Village, steep yourself in the scenic Longji rice terrace of grand and magnificent. In the morning, walk along the terrace in the early sunlight, then seek for delicious local food of bamboo-tube-cooked rice and oil tea meal and elegant hand-made minority clothing. You can enjoy the most original idyllic time here.
4. Fuli Old Town
Fact
- In Chinese: 福利古镇
- Location: To the 11.3km east of Yangshuo, Guilin
- Highlights: Nature and field's scene, fan painting
- How to go: Private car from Guilin to Fuli, or take bus at Yangshuo Bus Station
Recommended Guilin Tours to Fuli Old Town:
5-day Guilin Tour with Longji Rice Terraces Exploration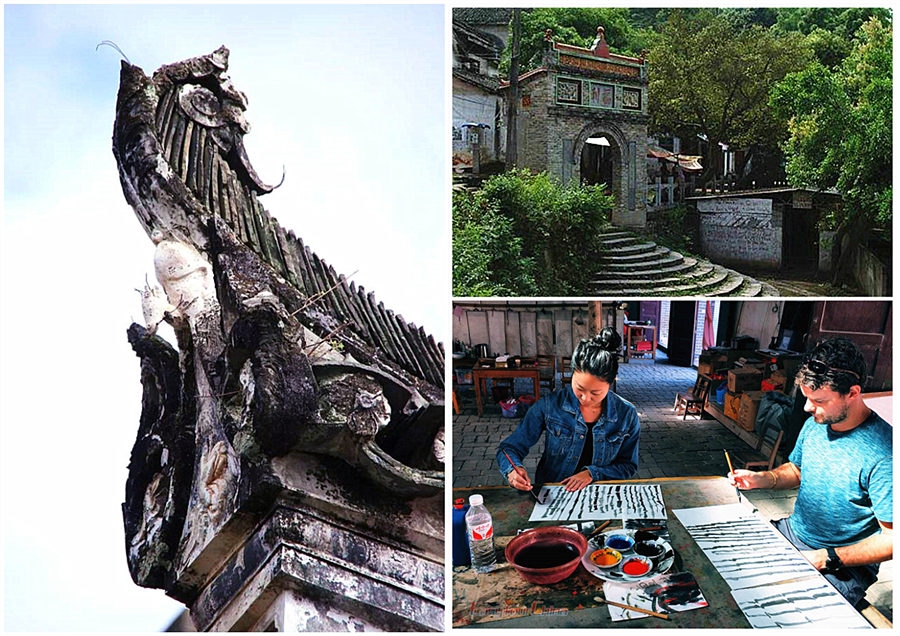 Fuli Old Town not only is situated on a wonderland with three mountains and Li River, but also has a long history of traditional culture for more than one thousand years. It is one of the most famed village of Chinese paintings called the hometown of fan painting; almost every local can draw and write Chinese calligraphy, so therefore you can easily find a teacher to experience fan paintings. Furthermore, the culture and music of primitive tribe are also appealing for visitors from home and abroad.
5. Jiuxian Village
Fact
- In Chinese: 旧县村
- Location: Near Yulong River, on the east of Yangshuo, Guilin
- Highlights: Yulong River, antique dwelling house
- How to go: Take the bus from Guilin to Yangshuo, and then ride a bike or bus to get there.
Recommended Guilin Tours to Jiuxian Village:
4-day Classic Guilin & Yangshuo Tour with Li River Cruise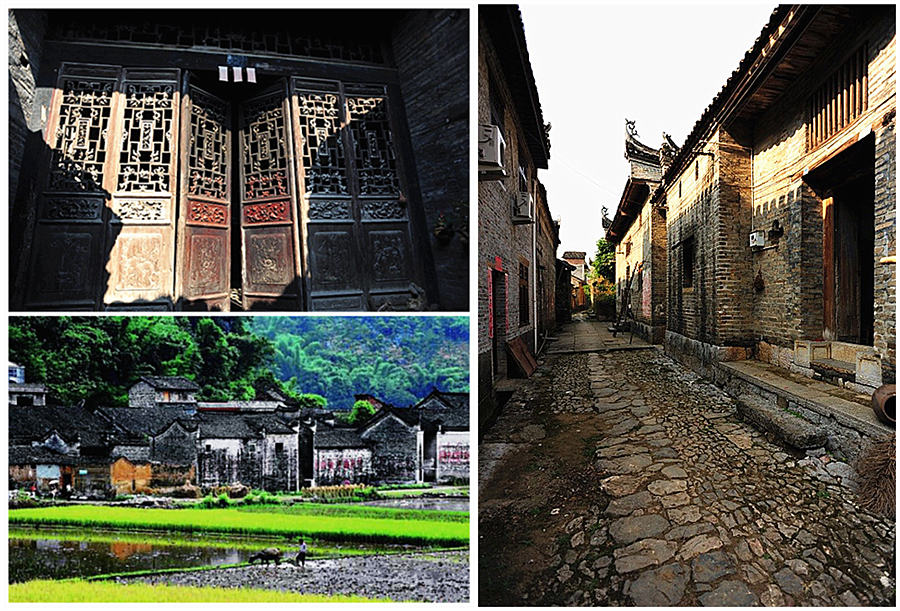 Biking along Yulong River and seeing Ten-mile Gallery of Yangshuo, an ancient village full of stories will come into your eyes, that is Jiuxian Village. You can find old city walls from Tang dynasty, residences from Ming dynasty and scholars' manors of Qing dynasty, now, 44 traditional ancient dwelling houses have been kept, and they adjoin closely one by one, showing you a vivid architectural pattern of Ming dynasty. Jiuxian Village is surrounded by mountains for three sides, it's the closest to the scenic spot and real fields, pretty good to savor up an idyllic tour or Yangshuo countryside trip here.
6. Huangyao Ancient Town
Fact
- In Chinese: 黄姚古镇
- Location: On the southeast of Guilin, being 202km away from Guilin, Zhaoping County, Hezhou
- Highlights: Karst natural scenery, flagstone paved paths, houses made of black bricks and tiles
- How to go: Take a coach at Guilin Bus Station to Huangyao or Gongqiao Station, and then take a tuk-tuk to get there, or book a private car from Guilin to Huangyao Ancient town.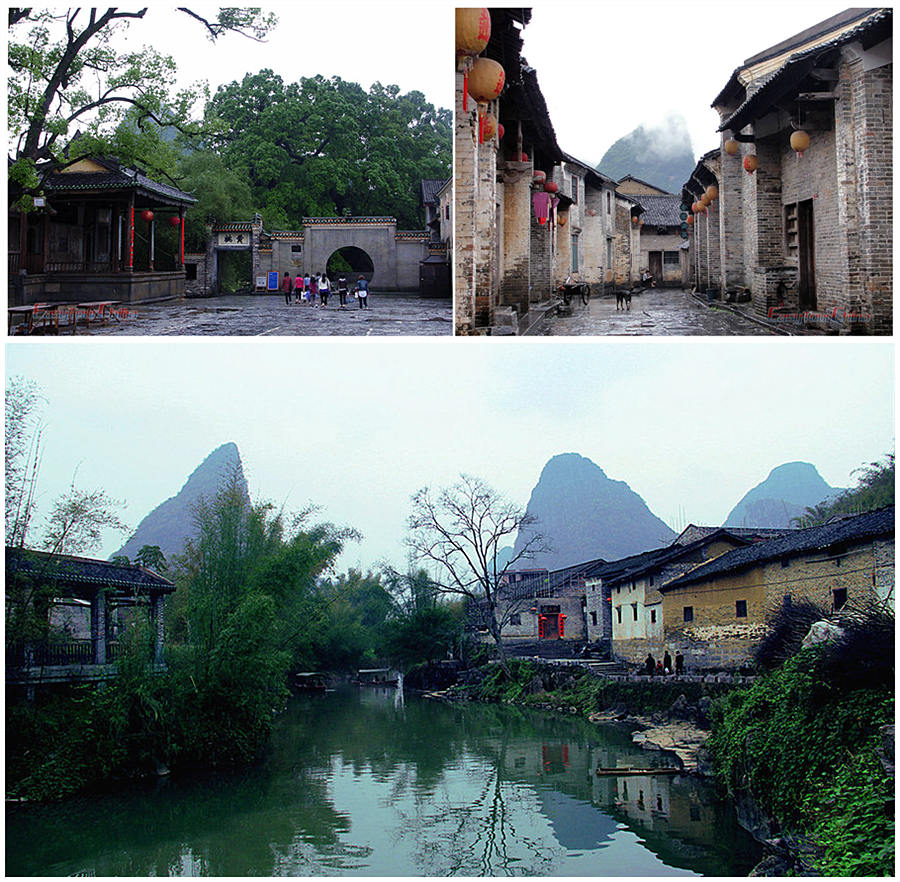 A great array of fabulous Karst mountains rose up, isolating the small town from the outside like folding screens, and that's why the primitive appearance can be kept till now. The old streets paved with dark flagstone have become very smooth after thousands of years. The black bean made in Huangyao town was offered as a tribute in the Qing dynasty, so the dishes with black bean here are the featured cuisine you must try. In the 90s, Huangyao Ancient Town became a wonderful shooting place of some TV series, since then it has been known by more and more people, and locals started to do some small business like dinning or making handicrafts. The dwelling houses in the old town are mostly two-story brick structures with tiled slop roof, the carvings on the stone and woods are exquisite enough to enjoy a visual feast. You're highly recommended to stay overnight to experience the leisure life in such small town hidden behind the city.
7. Xing'an Ancient Town
Fact
- In Chinese: 兴安古镇
- Location: Southwest near the intersection of Xiangjiang Road and Lingqu North Road, Xing'an County, Guilin
- Highlights: The Lingqu Canal, river way, ancient Qin city
- How to go: Coach from Guilin to Xing'an County first, and then take a tuk tuk; or take bullet train to Xing'an.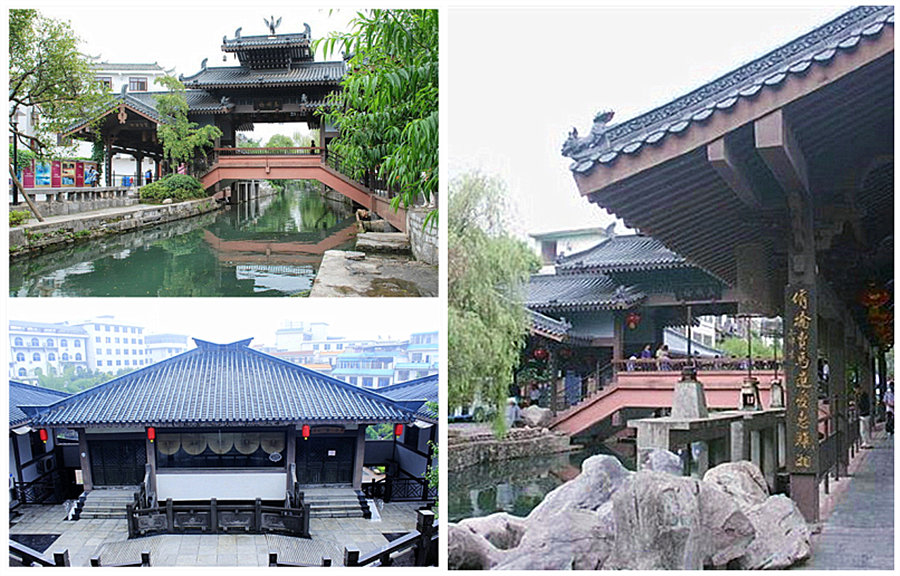 Xing'an Ancient Town claims to be one of top 10 most charming old town in China; there are amount of historical relics and pavilions scattered over the town; and pedestrian streets and traditional houses line; these consist of the essence of the old town. Its history can be traced back to the Qin dynasty. Due to its special position at the intersection of Chu and Yue Kingdoms, since ancient times, it had been the center of Han culture in central China and Baiyue culture in Lingnan District. From here, First Emperor of Qin unified the south of China, and built Lingqu Canal. Since then, Xing'an Ancient Town witnessed numerous historical events and stories.
8. Rongjin Old Town
Fact
- In Chinese: 榕津古城
- Location: In the southeast of Guilin, 135km away from Guilin city center, Pingle County, Guilin
- Highlights: Cluster of antique banyans, Qilou houses
- How to go: First take bus from Guilin to Pingle County, after that, a taxi will take you to the destination.
Lying in the intersection of two branches of Li River, Rongjin River and Shajiang River, Rongjin Old Town once was a hilarious port village. The ancient town got its name from a great array of banyan trees, and that the clear Rongjin River runs along the main street makes the town livelier. Ancient banyan trees embrace each other, ponds cover, surrounding the flagstone paved paths and Rongjin Main Street. On the both sides of the street, southeastern featured architectures of Qilou stand, which were the traditional residential buildings of locals. These antique houses are well preserved, so you can study their brick and wood structure easily. The villagers live a very simple and leisurely life here.