Top Chinese Niche Destinations Accessed by Train
Top Chinese Niche Destinations Accessed by Train
By the year of 2030, China will build an "Eight Vertical and Eight Horizontal" high speed railway network to cover the whole country. This will make it possible to travel between any two large and medium-sized cities within three hour. At the same time, more and more travel destinations can be reached easily. Some scenic sites in mountain areas can only be accessed by flight or automobiles only before having a high speed train station. Long time driving and expensive airfare make travellers give up reluctantly though they're top recommended. Here we will list some niche destinations that can be reached by cheap and
efficient train travel
.
Shennongjia National Park – UNESCO World Heritage Site
Shennongjia is a forestry district in northwestern Hubei province. To its south is the Wu Gorge of Three Gorges of Yangtze River and to its north is sacred Taoist Mt. Wudang. On July 17, 2016, it was listed as a World Heritage Site because of its exceptional floral and faunal biodiversity and its protection of many rare, endangered, and endemic species. As the "roof of central China", Shennongjia's average altitude is 1700 meters above sea level, and the highest Shennong Peak is at 3106 meters. It's one of the best summer retreats in China.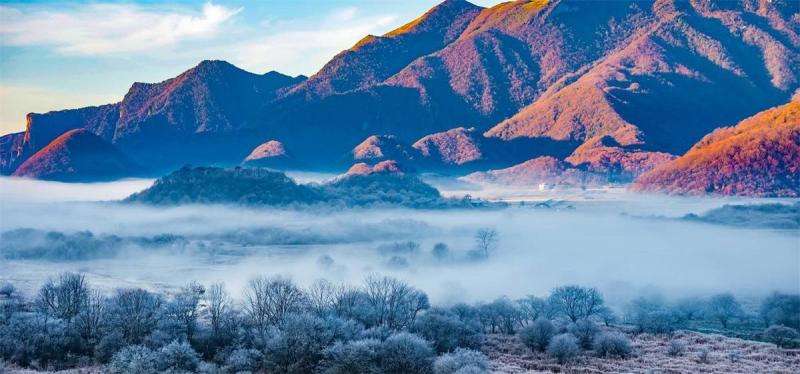 What to do and what to see at Shennongjia?
Natural landscape, virgin forest with abundant plants, flowers and rare animals, clear streams and lakes, and grand waterfall are highlights of Shennongjia.
Shennong Peak - Being the highest point of Shennongjia, Shennong Peak is a great place for stair climbing. A flight with 2999 steps is absolutely a challenge. It takes around 2 hours to get to the sightseeing platform.
Wildlife rescue station in Xiaolongtan offers chances to view golden monkey and other animal, though you might luckily meet one when hike at Jinhouling (Golden Monkey Mountain).
Jinhouling is the habitat of wild golden monkeys. The trail along Jinhou Stream is highly recommended for moderate walking. You might meet wild monkeys on the way and it's important to package your belongings like camera, wallet and food well.
Dajiuhu National Wetland Park is the biggest alpine wetland in central China. Nine connected lakes presents dreamlike scene in different time and different season. A walk around the lakes takes about 3 hours. Shennongjia is also an important Ski Resort for winter travellers. There are 4 ski resorts opening from December to March in the winter.
How to get to Shennongjia by train
On 20th June, 2022, the high speed rail from Zhengzhou to Chongqing opened for operation and the first train arrived at Shennongjia Station (Xinhua County). Travellers from following main cities can take high speed train to Shennongjia conveniently.
| Departure/Arrival City | Shennongjia Station | Xingshan Station | Badong Station |
| --- | --- | --- | --- |
| Chongqing | 2h50m | 2h35m | 2h20m |
| Beijing | 6h01m | 5h38m | 6h27m |
| Chengdu | 4h43m | 4h21m | 4h06m |
| Guangzhou | 8h03m | 8h19m | 8h36m |
| Shanghai | 8h | 8h16m | N/A |
| Wuhan | 2h20m | 2h40m | 2h36m |
| Zhengzhou | 2h55m | 3h20m | 3h37m |
Shennongjia Station is the main station to the scenic area. It is 110km from Shennongjia National Park and shuttle buses are available between station and about 10 scenic sites. Other two stations, Xingshan Station (Xingshan County) and Badong Station (Badong County), are also alternatives. Xingshan Station is only 55km from Muyu Town, main tourist distribution center of Shennongjia. If you book accommodations in Muyu Town, it is more convenient to take train to Xingshan Station if possible. Badong Station, 70km from another tourist distribution center Pingxian Old Town, is the closest station to Shennong Valley and Dajiuhu Wetland Park.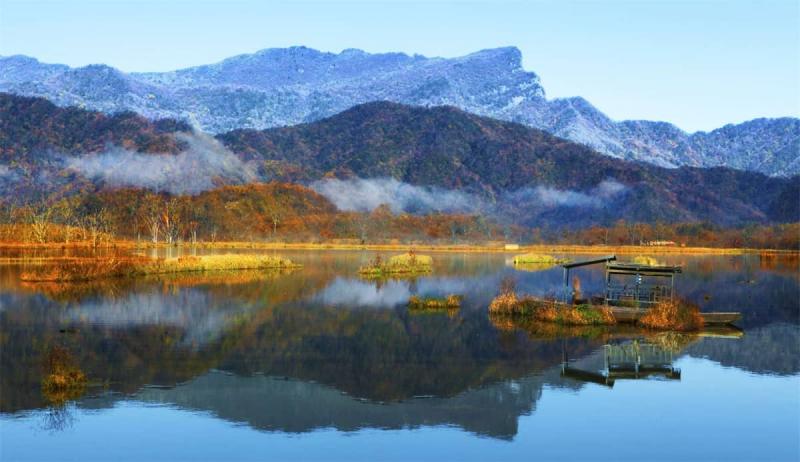 The best time to visit Shennongjia
The best time to visit Shennongjia is autumn season, from
mid-October to early December
. The forest is like a painting with colorful leaves and fruits. In other seasons, Shennongjia presents its infinite variety of the virgin forest.
May and June
is time to enjoy flowers and view wild animals. With average temperature of 20°C, Shennongjia is no doubt the ideal summer resort in
July and August
. In rainy season,
from September to mid-October
, the scenic area is like a fairyland with mountaintops, villages, plants and lakes looming in the mist.
Winter (December to March)
is the world of ice and snow.
Zhangjiajie National Forest Park
Zhangjiajie National Forest Park is one of the first Chinese sites listed on National Park UNESCO World Heritage Site for its unique quartzite sandstone peak forest. The park is known for its pillar-like formations that are found throughout the area. In 2009, the film Avatar 2 made it internationally renowned as the Hallelujah Mountains in the film were inspired by Heavenly Pillar in Zhangjiajie National Forest Park.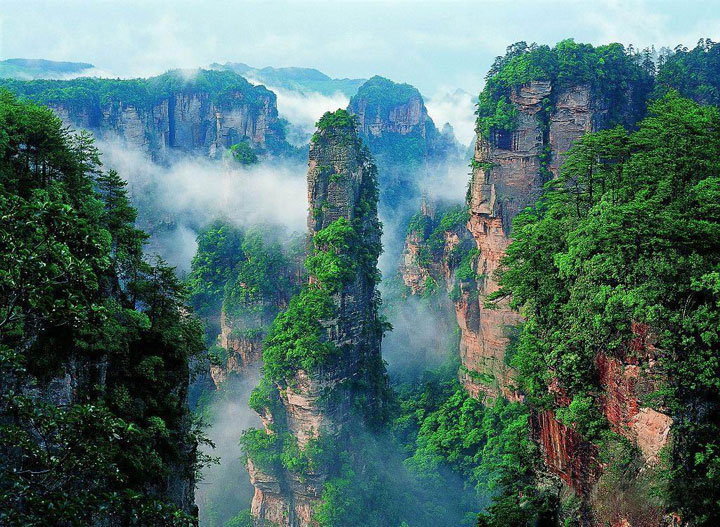 What to see in Zhangjiajie?
Wulingyuan Scenic Area
– Generally when we mention Zhangjiajie it equals to Wulingyuan in tourism. Wulingyuan consists of four national parks and :
Zhangjiajie National Forest Park: It is China's first national forest park, includes Huangshizhai, Golden Whip Stream, Yuanjiajie. Huangshizhai is a high-south, low-north terrace composed of many cliffs and reputed with high, magnificent and vast sightseeing platform. Golden Whip Stream at the foot of the mountain is a great place to take a walking. Famous Hallelujah Mountain (South Sky Pillar) is at Yuanjiajie.
Suoxi Valley Nature Reserve: covers an area of more than 180 square kilometers and is the largest of the four zones. It is famous for unique mountains, beautiful water, precipitous bridges and secluded caves. The main spots are Baofeng Lake, Yellow Dragon Cave, Ten-mile Gallery, Xihai Peak Forest etc.
Tianzi Mountain Nature Reserve: Tianzi Mountain is regarded as the top site to see sandstone peaks in high density. The reserve is known as the "king of the peak forest" with pinnacles and peaks lined in it east, west and south sides. It is also the paradise of photographer, and Laowuchang is one of the most famous spot.
Yangjiajie Scenic Area: It is well-known for its magnificence, steepness, comeliness and tranquility. The main attractions in Yangjiajie Scenic Area are: Wulong Village, Tianbo Mansion, the Natural Great Wall and the Air Corridor.
Bailong Elevator: is a glass double-deck elevator built onto the side of a huge cliff, connecting Suoxiyu Valley at the foot and Yangjiajie on the top. On 15 July 2015, the elevator was officially recognized by Guinness World Records as the world's tallest outdoor elevator. It is 326 meters high and takes around 1.5 minutes from bottom to the top. Not far from upper station, visitors can enjoy the view of Hallelujah Mountain.
Zhangjiajie Grand Canyon and Glass Bridge
Challenging the walking on the Glass Bridge is undoubtedly the most attractive point of Grand Canyon. This glass bridge is the world's longest and highest one, suspending between two peaks with a length of 430 meters and a height of 300 meters. Glass Bridge is not the only attraction in Grand Canyon. Travellers can join other activities to enjoy its waterfalls, mountains, streams, cliffs and caves. Hiking the Grand Canyon is one of the popular activities travellers prefer.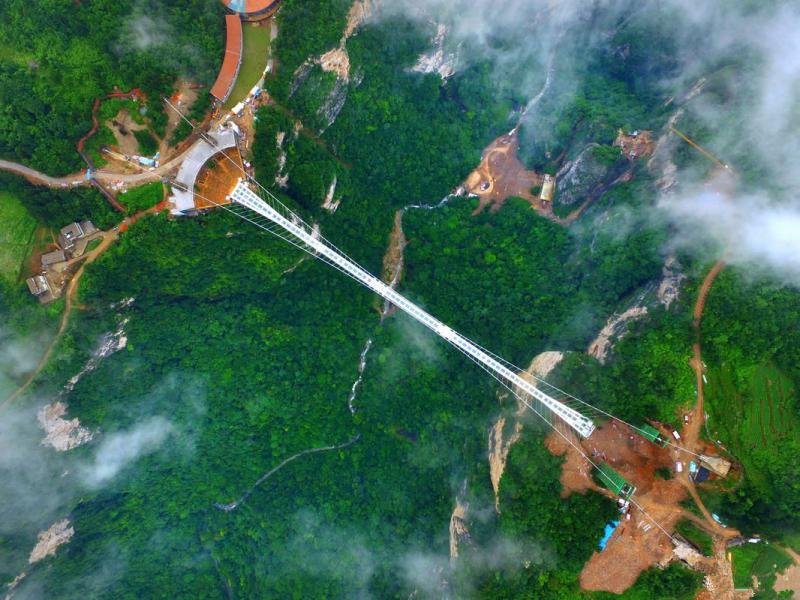 Tianmen Mountain National Park
Tianmen Mountain is around 35km south to Wulingyuan with Zhangjiajie city in between. In Chinese, literally meaning of Tianmen is Gate of Heaven.
Tianmen Cave
, in fact a giant water-eroded hole between two peaks, like a door towards the heaven. And the 999 steps up to the cave is called the Stairway to Heaven – another challenge for stair climbers.
Glass skywalk
built on the cliff is another challenge for travellers. There are three flights of glass skywalk in the park, west flight named "the Walk of Faith" (60 meters long, 200 meters above the rock bottom), east flight (60 meters in length) and Coiled Dragon Cliff Glass Walkway (100 meters long, 600 meters above 99 Bends cableway)
How to get to Zhangjiajie by train?
As a world-known national park, Zhangjiajie has attracted tourists from all over the world. But it is a niche destination as many had to drop it due to inconvenient transportation. Though both flight and train are available, it's always difficult to arrange Zhangjiajie with other scenic cities. On December 6th, 2021, the operation of Zhangjiajie-Jishoui-Huaihua high speed rail connects Zhangjiajie with other main cities like Beijing, Shanghai, Guangzhou, Changsha, Guilin, etc. Transit at Huaihua Station, passengers can easily continue the trip to Guiyang, Kunming, Chengdu, Chongqing in 2-5 hours.
There are two train stations in Zhangjiajie - Zhangjiajie West Station and Zhangjiajie Station. Train to Changde direction (not fully opened till 2022) starts from Zhangjiajie Station, while West Station is on the newly operated rail to Huaihua.
Upon arrive at Zhangjiajie West Station, you can take bus to Zhangjiajie City and there are buses from there to each scenic site.
Fanjingshan Scenic Area
Guizhou, located on Yungui Plateau at the southwest of China, is a mountain area noted more by its colorful minority cultures, Huangguoshu Waterfalls and spicy sour soup hotpot in the past. Inconvenient transportation was the biggest obstacle to visit this province. But since all villages can be accessed with paved road under the Connecting Every Village Project, expressway network and high speed rail network are basically completed, Guizhou is becoming a new star of China tourism. Fanjingshan, also called Mount Fanjing, is one of the hottest new destinations of Guizhou in past 3 years.
Fanjingshan is in the northeast of Guizhou province, around 300km from Guiyang downtown. It is the highest peak of the Wuling Mountains, whose terrain ranges from 480 to 2,570 meters above sea level. The mountain was inscribed as a UNESCO World Heritage Site in July 2018 as isolation has led to high degree of biodiversity with endemic species, such as the Fanjingshan Fir and the Guizhou Snub-nosed Monkey. Fanjingshan has the largest and most contiguous primeval beech forest in the subtropical region.
Fanjingshan is a sacred mountain in Chinese Buddhism, considered to be the bodhimaṇḍa of the Maitreya Buddha. It was listed as the "No.5 Great Buddhist Mountain in China", following other four Buddhist mountains, Wutai Mt., Emei Mt., Putuo Mt. and Jiuhua Mt. Two temples on 100-meter high rock columns make it an amazing sight and more mystical and sacred.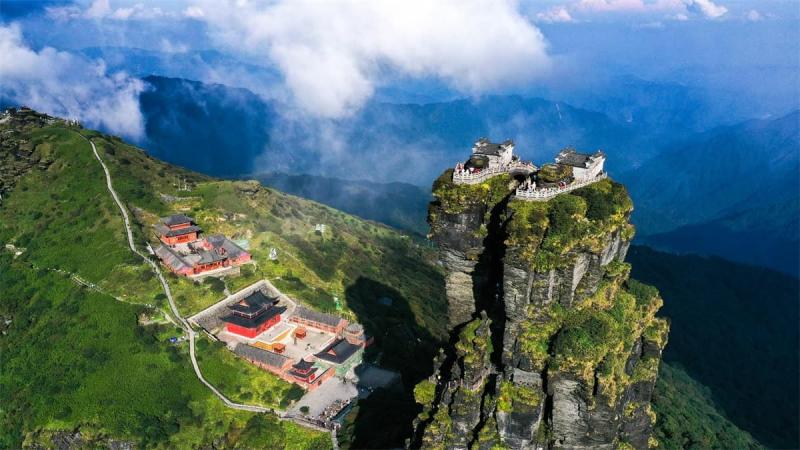 What to see at Fanjingshan?
In the "Best Trips in 2019" list National Geographic released, Fanjingshan is the only tourist destination in China among 28 places selected around the world. According to National Geographic, the reason for the recommendation is: soaring up with over 8,000 steps, it rewards hikers with bizarre rock formations and above-the-clouds views of China's Wuling mountain range.
Red Cloud Golden Summit: Also called New Golden Summit. With two temples sit atop two rock pillars side by side with a bridge connecting, it became the internet celebrity sight bring Fanjingshan to more travellers who want to make a China trip. The summit is 2336 meters above sea level and 94 meters high from mountain rock. The steep, narrow steps leading to the peak can only be walked on with the iron chains holding onto the steep stone path. It takes around 30 minutes to climb up to the Temple of Buddha on the south side, and the Maitreya Temple is on the north pillar accessed by a bridge. Descend along the steps on north pillar.
Old Golden Summit: It is the 2nd highest peak of Fanjingshan at an altitude of 2493 meters. As it is not as steep as New Golden Summit, climbing up to the top is easier. From the top, people can take a panoramic view of New Golden Summit and Mushroom Rocks.
Mushroom Rock: It is about 10 meters high with a big top partly connected to a small base. The top seems to be on the verge of collapse, but it has been standing there for millions of years. It is now an icon of the "fold belt" landform of Fanjingshan. Around the Mushroom Rock, there are some other rocks in bizarre shapes.
Fanjingshan Temple: As the No.5 Great Buddhist Mountain in China, Buddhist culture is highlight of Fanjingshan. There are many Buddhist temples in Fanjing Mountain, and Cheng'en Temple between new and old summits is the main temple. Two temple halls on top of Red Cloud Golden Summit worship Sakyamuni Buddha (representing the present) and Maitreya Buddha (representing the future), temple hall on top of Old Golden Summit worships Dipankara Buddha (representing the past).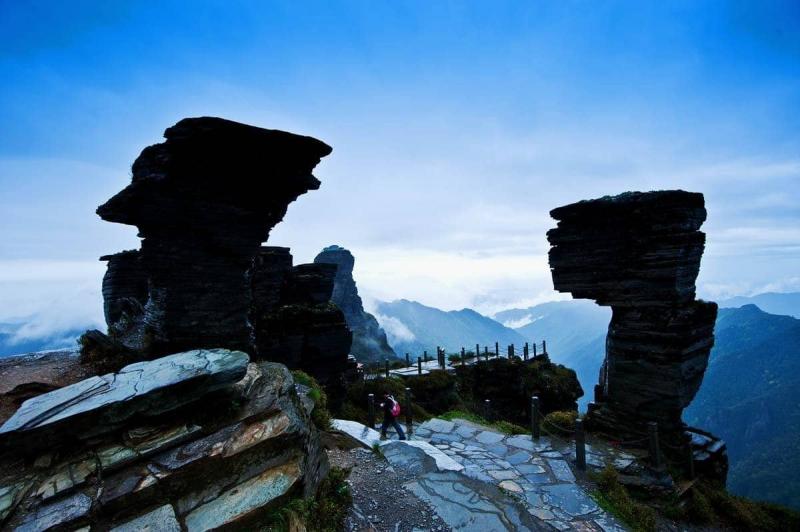 How to visit Fanjingshan?
There is a cable car to make the first step of the visit easier. Visitors can take the sightseeing bus at the entrance of the Fanjingshan Scenic Area. After around 20min, the bus arrives at Yuao Station, where cable car can take visitors to the upper station in 20 minutes. Rest of the visit will all on foot.
From upper station, a 45min walking through the forest will take you to the Mushroom Rock and Cheng'en Temple. Visitors can then choose the climbing of the Old Golden Summit (50min) or Red Cloud Golden Summit (60min), or challenge both of them.
How to get to Fanjingshan by train?
There are two train stations can be chosen to get to Fanjingshan, Tongren Station and Tongren South Station. Tongren Station is closer to the scenic area and recommended if possible. High speed train is available from cities like Guiyang, Kunming, Changsha, Shanghai, Hangzhou, Guangzhou and Shenzhen. If direct train is not available, transit at Guiyang, Changsha or Huaihua is convenient.
Fanjingshan is about 70km from Tongren Station (85min drive) and 90km from Tongren South Station (110min drive). When get off at either of the two station, direct shuttle buses (about 4 buses daily) are available at the bus station opposite to the train station. In case you can not catch the shuttle bus, you can take bus to Jiangkou (江口) and transit public bus to Fanjingshan Scenic Area.
Leave a Comment