The Uygur ethnic minority has a population of about 8.82 million (2003), mainly inhabit in Xinjiang Uygur Autonomous Region, which is by far the biggest of the country's regions and provinces. The Tianshan Mountains divide Xinjiang into northern and southern parts with very different climate and landscape. The Turpan Basin, the largest grape base in China, lies at the eastern end of the Tianshan Mountains. Uygur people have their own language, which belongs to the Turki Austronesian of Altai Phylum. In their language, "Uygur" means "unity" or "alliance". Most Uygur people are believers of Islamic faith.
Recommended China Ethnic Tours:
11-day Guangxi & Guizhou Mountain Tribe Adventure
20-day Yangtze Cruise + ethnic Adventure
15-day Yunnan and Guizhou Getaway Tour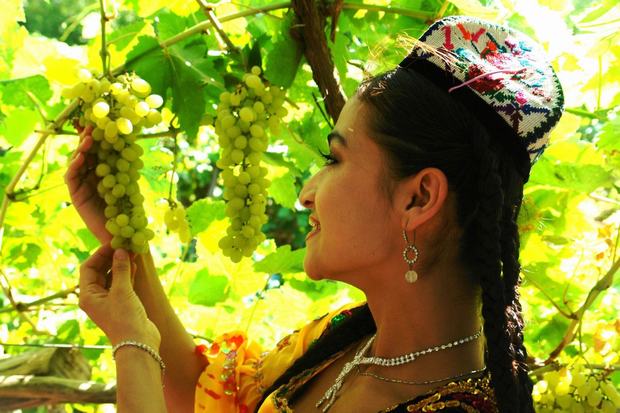 Customs
Many Uygur folk tales, parables, comedies, poems and proverbs praise the courage, wisdom and kindness of the ordinary people, while satirizing the greed, cruelty and foolishness of the exploiting classes. For instance, The Tales of Afandi contains stinging satire about the Bayis and Imams who bully the people.
The Uygurs are excellent at dancing; the 12 Mukams (opera) is an epic comprising more than 340 classic songs and folk dances. The Uygur dances, such as the "Bowls-on-Head Dance", "Drum Dance", "Iron Ring Dance" and "Puta Dance", feature light, graceful and quick-swinging choreography movements. The "Sainaim Dance" is the most popular.
Costumes
Men sport a long gown called a qiapan, which opens on the right and has a slanted collar. It is buttonless and is bound by a long square cloth band around the waist. Women wear bright-colored dresses and scarves of silk material. The Uygurs, old and young, men and women, like to wear a small cap with four pointed corners, embroidered with black and white or colored silk threads in traditional Uygur designs. The women's favorite decorations include earrings, bracelets and necklaces. Some paint their eyebrows and fingernails on grand festive occasions.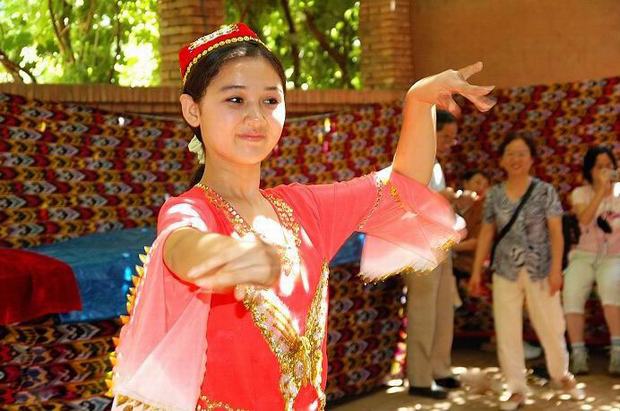 Festivals
The Uygurs are believers of the Islamic faith. The Corban Festival, the Noroz Festival, the Kaizhai Festival are the most important festivals to the Uygur people.
Noroz Festival is one of the most ancient festivals of Uygur ethnic group. It falls on the vernal equinox (around March 22), seen as the beginning of a new year. People hold various activities like singing, dancing and drumming. Then they take a bath, and sit together to enjoy a big dinner. The festival also involves house cleaning, extending wishes to each other and helping the poor and troubled families.
Related Reading
Leave a Comment