If you are planning a China tour, for work or for leisure, you need to understand how Chinese money works. Here is the Chinese Money Matters guide to give you detailed information about Chinese currency, how and where to exchange currency in China, etc.
Chinese Currency
Renminbi (人民币), abbreviated RMB, is the official currency of the People's Republic of China, which means "people's currency" in Chinese language. The renminbi is issued by the People's Bank of China (中国人民银行), the monetary authority of China. The symbol of the renminbi is ¥, and the code for renminbi is CNY.
Generally, yuan is also used to refer to the Chinese currency, but it is slightly different from the renminbi. Yuan (元) is the base unit of the renminbi. For example, buying a bottle of water in China may cost you three yuan. It would not be correct to say that it cost you three renminbi.
The subordinate units of yuan is jiao (角) and fen (分).
1 yuan = 10 jiao and 1jiao = 10 fen.
At present, the smallest unit is jiao since the unit fen has come out of use for more than ten years.
The Chinese currency renminbi are issued in the following denominations: 1, 2, 5, 10, 20, 50 and 100 yuan; 1, 2 and 5 jiao; and 1, 2 and 5 fen. All face values have paper notes; and 1 yuan, 5jiao, 1jiao, 5 fen, 2 fen, 1 fen have coins.
China is now circulating the fifth series of the renminbi banknotes and coins. The latest edition of the fifth series was officially launched in 2019. The 2019 edition includes new 1, 10, 20, 50 yuan banknotes and coins of 1 jiao, 5jiao, and 1 yuan. 5 yuan and 100 yuan banknotes are not covered by the 2019 edition.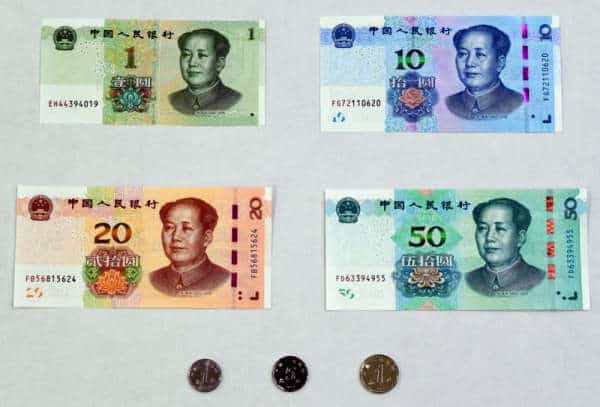 (The 2019 edition of the fifth series of the renminbi)
Notes:
1. Colloquially, Chinese people usually say kuai and mao instead of yuan and jiao in everyday Mandarin.
2. Mainland China uses the renminbi as the legal tender, while Hong Kong, Macao and Taiwan have their own currencies. The local currency in Hong Kong is called Hong Kong dollar (HKD), Macao is Macao Pataca (MOP), and Taiwan is New Taiwan Dollar (NT).
3. Many stores and restaurants in Hong Kong and Macao accept renminbi for payment. However, they generally use very poor exchange rates. So it's strongly suggested that you should take your money (whether CNY, EUR or USD) to a bank to get Hong Kong dollars.
4. Hong Kong dollars can also be used in Macao without much of a loss.
Money Exchange in China
Foreign currencies are not to circulate in China. You can exchange your currency into Chinese renminbi in your country. However, each traveler can bring no more than CNY 20,000 or the equivalent of US$ 5,000 into or out of China according to China Customs Regulations.
Besides, the biggest banknote of renminbi is CNY 100. It's heavy and unsafe to bring 20,000 yuan bills with you along the way. It's very easy to exchange money in China, so it's better to exchange a small amount of Chinese currency renminbi in your country for emergencies and exchange more while your stay in China.
Airports and Hotels
In China, currency exchange is available in certain airports and most four or five star hotels in major cities of China like Beijing, Xi'an and Shanghai offer money exchange service for their guests.
The Bank
Or you can just go to a nearby bank branch for foreign money exchange, but don't forget to take your passport, which is required for identification. The exchange rates are regulated, but you should pay attention to the commission fees which are varied from airports, hotels and banks.
When you exchange money in China, the bank staff will usually give you big Chinese currency bills in 100 or 50 denominations. You can ask them for some small change which would be convenient to use at some little shops or paying taxi fees.
ATMs
For travelers, the quickest and easiest way to get cash in China is to use ATMs. There are so many ATM machines in China (except for some very remote destinations), so you don't have to worry about finding an ATM machine.
For withdrawing money from ATM in China, just check whether the symbols or logo of the accepted credit cards (such as Visa, MasterCard and American Express) are shown on the machine. All ATMs in China have instructions in English. Simply follow the instructions to make cash withdrawal.
Notes:
1. Notify your bank about your upcoming tour to China, so they don't freeze your card on suspicion of fraud.
2. ATMs only spit out 100 RMB bills.
3. There's a limit for withdrawing money from ATMs, around 20,000 RMB per day.
4. If you press the wrong passwords over 3 times, your card will be swallowed by the ATM; just show your ID card or passport to the bank staff and get it back with their help.
5. ATM machines in China dispense cash first, and then return your card. Please remember to pick up your credit card after cashing the money.
Credit Cards
Credit cards can be used for withdrawing money in most Chinese cities. However, if you want to use your credit card for payment in China, you should know that only some four to five star hotels, some department stores and big foreign chains like Starbucks accept credit cards like Visa and MasterCard.
All POS machines in China are connected to UnionPay, also known as "China UnionPay". If your card is issued by UnionPay, you can use it on all POS in China. But Visa and MasterCard can ONLY be used on Visa POS and MasterCard POS respectively.
How to Identify Counterfeit Chinese Money
China also suffers from counterfeiters like other countries; so when you receive big note (100 or 50 yuan), make sure the note is of real. Below are some easy tips to identify real and fake China cashes:
1. The most common way to identify Chinese money is by the color and pattern as they are very hard to follow and duplicate, and the counterfeit notes are usually too fuzzy, meaning that the images and colors are not so sharp.
2. The watermark is another effective way to identify the fake banknotes. Usually the watermark on the fake money is also not clear. The real ones look quite distinct.
3. There's a security line in the middle of 5, 10, 20, 50 & 100 notes (the fifth version).
4. The authentic RMB make a ringing sound when snapping it which resulted from special material used.