Overview
The private 1-day Xiamen tour is well-designed and the best shore excursion for tourists before and after their cruise voyage to Xiamen. There are two great options: Xiamen city day tour for you to experience the beauty of the city, the coastline avenues, sacred Nanputuo Temple and quaint Zengcuoan Fishing Village, and Gulang Island day tour to explore Xinzhuang Garden and Piano Museum.
Customize Your Tour:
☑ Travel Dates ☑ Your Interests ☑ Your Travel Style

Be met at the cruise port by your Easy Tour China's guide and driver and start your one day Xiamen city tour, with the first stop to visit the Island Ring Road (Huandao Road), which is the main avenue in Xiamen, consisting of 4 to 6 seaside lanes with total 43 kilometers in length. The 10-kilometer coastline between Xiamen University and Qianpu is especially beautiful. Driving or cycling along this road, you will find not only seaside views, but also the mountain views, historical sites and etc.
The next spot is the Nanputuo Temple, situated at the foot of Wulao Peak on the southern end of Xiamen. It was first built during the Tang Dynasty (618-907) and rebuilt during the Qing Dynasty (1644-1911). It is now an imposing multi-layered trapezoidal structure that overlooks the sea. Then you will have a photo stop at Xiamen University, the first university in China founded by a member of the overseas Chinese diaspora. It is now a well-ranked (top 50) university directly administered by the Chinese Ministry of Education and recognized as one of the 36 "Class A" institutions in the Double First Class University Plan.
Continbue the trip and visit Zengcuoan Village, also known as Zengjiawo and Zengjiawan. Located at Huandao Road, Zengcuoan used to be a small fishing village near the sea. People who lived by the water made their livings on the water and fishing. Gradually, many ancient houses with red bricks were built one after another and small alleys came into being. It covers an area of 1.25 square kilometers and is honored as "China's most artistic fishing village" by tourists from home and abroad.
The last spot you will visit the Zhongshan Road Pedestrian Street, founded in 1925. The street covers a total area of one million square meters and takes up nearly one third of the total business area of Xiamen. This is a beautiful and prosperous commercial corridor where you can find the serried ranks rows of stores with a dense crowd. Walking around the street, you can not only feel the intense competition of the market economy, but also can taste the fresh aroma of the socialistic civilization.
Transfer back to the cruise port. Your one day Xiamen tour ends.
Meal: L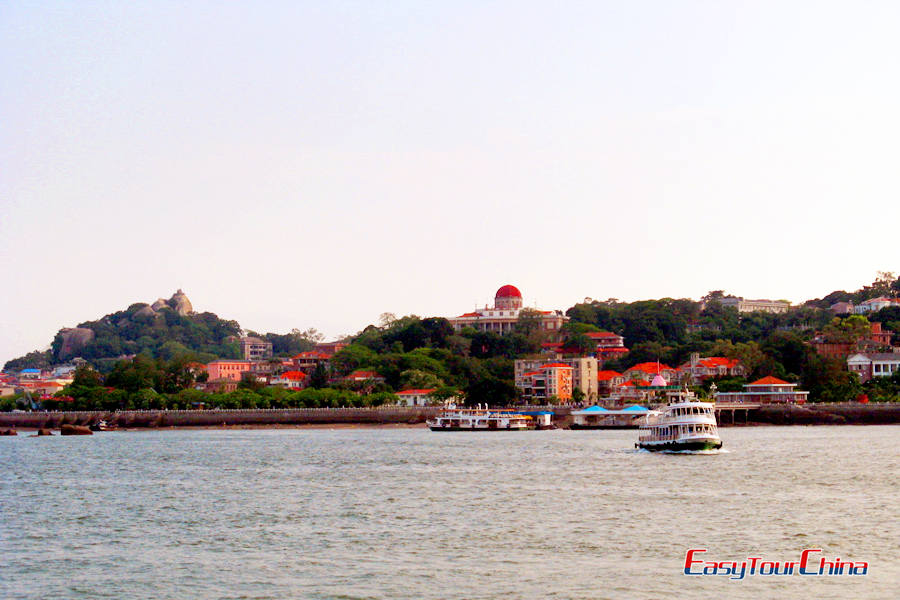 Optional Gulangyu Island Day Tour
Be met at the cruise port by your Easy Tour China's guide and driver and start your Gulangyu Island day tour. The island is separated from Xiamen by the 500-metre-wide Egret River, with an area of 1.77 square kilometers, and enjoys a laudatory title "Garden on the Sea." Overlapping peaks foil the blue water, white clouds, green trees and bright flowers. Gulangyu is also famous for its stunning architectures. So the first highlight in Gulangyu, you will visit the Xinzhuang Garden, located in the south of Gulangyu Island. It was built in 1913. The landscapes of Xinzhuang Garden are alternately dispersive and orderly. The architectural style combines both Min (闽, another name of Fujian) style and Western colors. Gulangyu is also nicknamed the island of Piano. The next spot is the piano museum, which is China's largest piano museum. People here love the piano and music. You will know Xiamen's piano culture and history. The museum collected more than 100 ancient famous pianos from all over the world. After that, leisure walking at the island, you will be attracted by this place and feel relaxed.
Transfer back to Port. Your Gulangyu Isand day tour ends.
Meal: L
Service ends.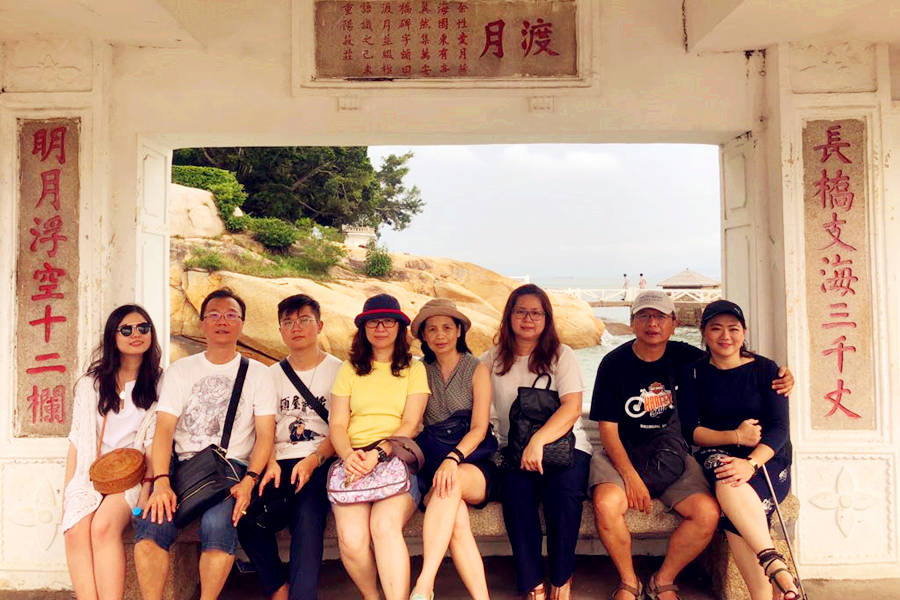 What's included
1-on-1 Travel Consultant

Your China based expert listens to your wishes carefully, provides professional advice, ensures unlimited itinerary revisions before done and 24/7 helpline service while traveling.

Private Local Guide and Driver

Your guides are friendly, helpful and knowledgeable, and your drivers are professional, polite and patient. They are very flexible to accommodate your personal needs and happy to show you the local attractions, history, culture, foods and real life.
Private transfers from hotel to attractions, airport or train station are also included.

Accommodation to Suite Your Preference

We hand pick hotels ranging from luxury 5 star, superior 4 star to comfortable 3 star. Luxury or cozy boutique hotels and budget guesthouses are also among your choices. You could decide where to stay to meet your taste and budget.

Gourmet Meals

Most of the hotels we select offer both Western and Chinese buffet breakfast. Lunch and dinner included are arranged in selected restaurants to taste authentic Chinese cuisine and local specialties. Thus you may also have a unique food tour.
Meals specified in itinerary as B=breakfast, L=lunch, D=dinner.

Attractions and Activities Listed on the Itinerary

Our city tour packages have included the (first/main) entry to all attractions and the expenses of activities on the itinerary (except the optional activities).