Given China's vastness and diversity, you can always find a place lesser-known, lesser crowded, simultaneously favored by people with nature and adventure at heart. Enshi Grand Canyon (Mufu Grand Canyon) in China's Hubei Province is a perfect destination to keep us close to nature's heart, and ensures an enthralling getaway experience. Even in the middle of the coronavirus pandemic, it is somewhere to breathe the clean, fresh air.
Located in Enshi City, at the junction of Hunan, Chongqing and Hubei provinces, Enshi Grand Canyon is the most beautiful part of the Qingjiang River basin, and often comparable to the Colorado Grand Canyon in the United States. The canyon is 108 kilometers long and covers an area of 3,000 square kilometers.
It is one of the longest and most beautiful and grand canyons in China. (Other famous canyons in China include Tiger Leaping Gorge, The Yarlung Zangbo Grand Canyon, Nujiang Grand Canyon, Taihangshan Grand Canyon and the Three Gorges of Yangtze River)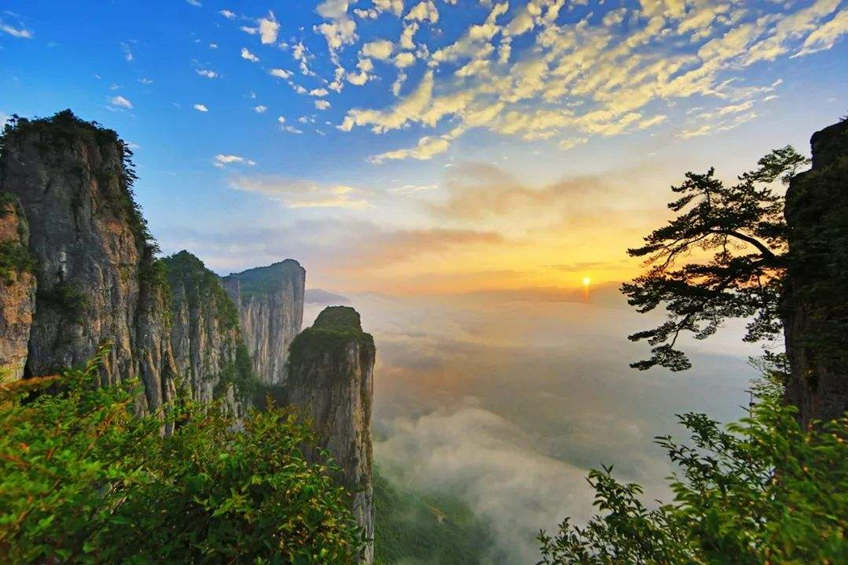 Enshi Grand Canyon Facts
- Chinese name: 恩施大峡谷
- Opening Hours: 08:30 - 15:00
- Entrance Ticket: RMB 175 – 280
- Escalator Ticket: RMB30 - Main Attractions: Yunlong Ground Fissure, Seven Star Village (Qixing Village)
- Enshi Grand Canyon is right situated in the mysterious "30 degrees North Latitude"
- 50 million years ago, the Yunlong Ground Fissure was formed. The strata from the top to the bottom of the seams are mainly limestone that formed between 210 million and 290 million years ago and straddled the Permian and Triassic periods
- The Enshi Grand Canyon was discovered by a Sino-French expedition as late as August 2004. It was first named Qingjiang Grand Canyon, then Mu Fu Grand Canyon, and then Enshi Grand Canyon.
- It is said that there was a village called "Wooden Gong" in the valley, inhabited by an ancient and mysterious people. It was impossible for the Qing Dynasty to "reform the land to return it to the central dynasty", so the imperial court had to set up a county office not far away to control the village, ordering the people to pay rice, and the emperor gave them gifts in return, hence the name "Wooden Gong". The true meaning of "Mu Fu" is said to be the market built by this mysterious people after they were conquered by the Qing Dynasty. It was named "Mu Fu", which means to be bathed and comforted by the emperor's grace.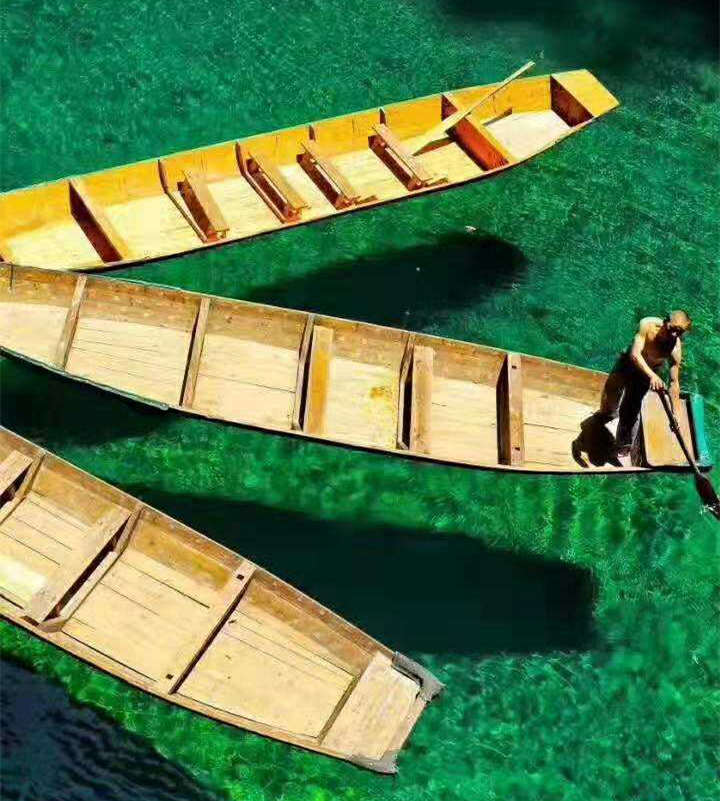 - In 2005, a trekking walkway was built at Enshi Grand Canyon, and in 2007 or so, a 500-meter long suspended corridor was built on the cliff. Escalators were installed to descend the mountain, and the cable car was also completed later.
- The five natural wonders of Enshi Grand Canyon are the seas of clouds rising above Qingjiang River, karst pinnacles, karst caves connected by natural bridges, waterfalls break forth from ground fissure, and hidden river appear with shaft.
When should I go to Enshi Grand Canyon?
Enshi Grand Canyon is beautiful throughout the year, yet the best time to explore Enshi Grand Canyon is from April to October, with mild weather. The rainy season is from May to August, when you may expect 66% of the rain of the year, with the maximum daily rainfall reaching 227.5 mm. You are suggested to check Enshi Grand Canyon's weather before the trip.
Highlights & What to See - Karst Landform Natural Museum
Enshi Grand Canyon has opened two core scenic spots, Qixing Village and Yunlong Ground Rift, with a total area of 35.2 square kilometers, including sinkholes, ground rift, precipice, peaks, rock pillars, karst caves, hidden rivers and other geological landscapes. It is known as a "Karst Landform Natural Museum".
Yunlong Ground Fissure
Yunlong Ground Fissure was formed at least 50 million years ago. It is 3.6 kilometers in length, with an average depth of 75 meters and an average width of 15 meters. It is steep on both sides, with cascading waterfalls and gurgling water at the bottom. There are altogether 7 half-waterfalls on the ground (which appear in high water period and disappear in low water period). Yunlong Ground Fissure was once the subterranean section of Yunlong River. It slept underground for 20 to 30 million years. Later, due to intense erosion of the subterranean water, the surface of the subterranean river was continuously eroded, leading to the collapse of the top of the subterranean river. The ground fissure appeared and became a wonder of Enshi Grand Canyon.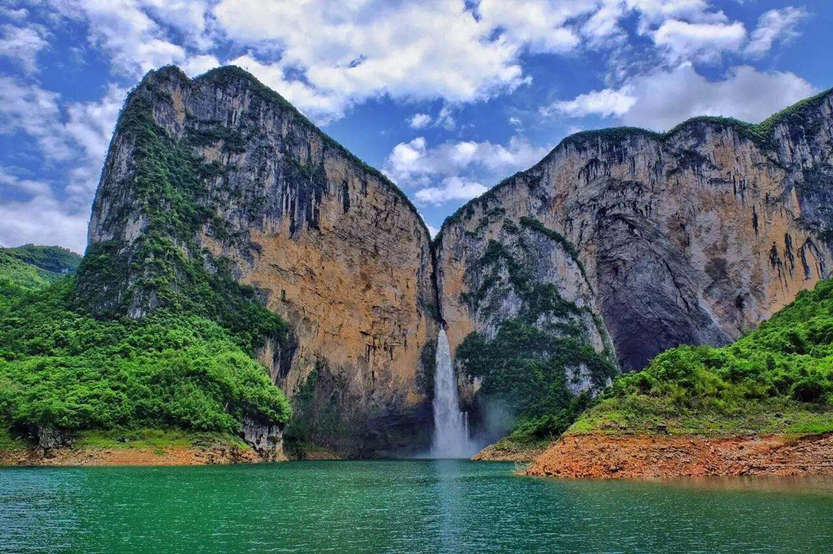 Cable Car
Enshi Grand Canyon passenger cableway is the first single-line loop cable suspension cable way in Enshi Prefecture, Hubei Province. It is located in the east side of the Yunlong River Bridge of Enshi Grand Canyon to the gate of Xiaolou. The cable way goes up the western slope of Yunlong River Gorge and reaches the upper station by passing through "Treading wave Pavilion" of the gate of Xiaolou. The total length of the cableway is 2,284 meters with a height difference of 792 meters. It adopts fully enclosed 8-person cage with a total number of 61 carriages. The maximum running speed is 6 m/s, and the one-way running time is about 6.27 minutes. It reduces 768 staircases and saves 2 kilometers of sightseeing distance. The designed transport capacity is 2000 people/hour.
Cliff Corridor (Cliff Plank Road)
The cliff corridor of Enshi Grand Canyon was built in October 2007. It is 488 meters long with 118 steps. Located at 1700 meters above sea level, more than 300 meters clear difference between the cliff mountainside. The cliff plank road is a one of the highlights if you plan a hiking trip to Enshi Grand Canyon.
Bow Pine in Seven Star Village
Bow Pine is one of the five natural wonders of Enshi Grand Canyon. In karst landforms, those with precipices have no pinnacles and those with pinnacles have no precipices. And a place like Enshi Grand Canyon to have both is a miracle.
Yellow Mountain's "Welcoming Pine" greet the world with open arms. While, Bow Pine, on behalf of the hospitable Tujia people and Miao people, bows deeply to the tourists from afar, both to welcome and to send them off.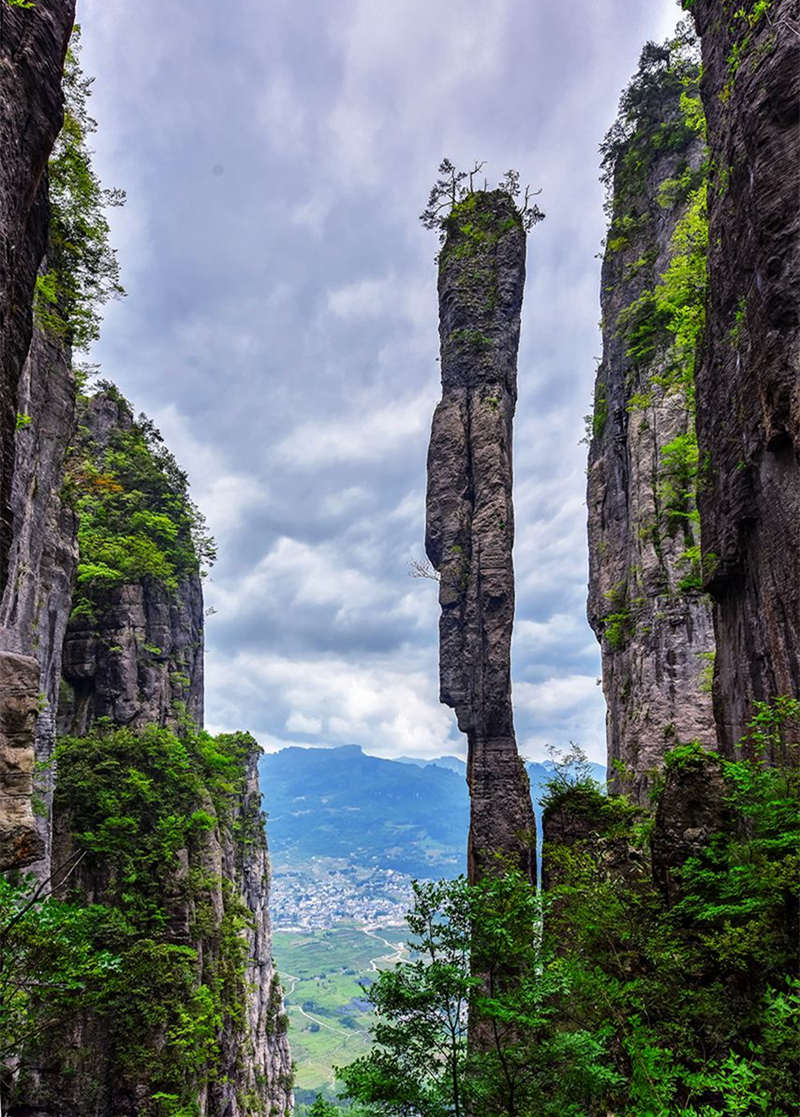 The "Burning incense stick" Pinnacle (Yi Zhu Xiang)
A iconic landmark of Enshi Grand Canyon, this incense stick shaped karst pinnacle is 150m tall and only 4m in minimum diameter, standing between the cliffs in Seven Star Village. It has inspired many painters and photographers to create art works. In 2013, CNN rated "Burning incense stick" Pinnacle, as one of the 40 most beautiful scenic spots in China.
Enshi Grand Canyon Rock Climbing
There are various outdoor activities to experience in Enshi Grand Canyon, apart from hiking, such as ziptrek, camping and rock climbing.
On June 10, 2017, lovers' Peak in Enshi Grand Canyon welcomed a famous international rock climbing couple to challenge. The camera crew of the program Wonderful Earth of National Geographic went to Enshi Grand Canyon with British rock climber James Pearson and his wife French climber Caroline Ciavaldini.
Lovers Peak, also known as Jade Pen Peak, is like a couple embracing, so called lovers peak. it is composed of two towering independent limestone pillars, one big and one small, slender as a pen. The root of the big one is about 60 meters in diameter, 210 meters high, looking like a heavenly King pagoda. The small is about 10 meters in diameter, as high as 200 meters. It is a Triassic limestone pillar.
Due to the intense fall, James and Caroline were not able to get to the top that day. But they made it through on June 16.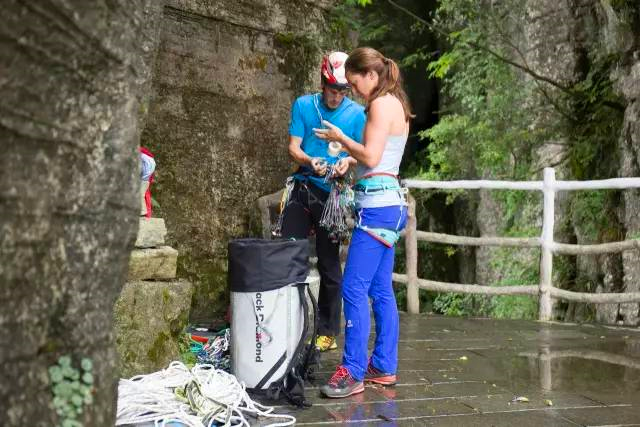 How do I get to Enshi Grand Canyon
You need to get to Enshi City first, by air, train or long-distance bus.
From Enshi Passenger Transport Terminal, there is a tourist bus going to Enshi Grand Canyon directly. The road trip is about 60km and takes about 1.5 hours. If you are in Lichuan City, take Lichuan to Enshi Grand Canyon bus at Lichuan Railway Station. The road trip is about 39km, and takes about 1 hour.
Suggested1-day Enshi Grand Canyon Tour Itinerary
After breakfast at hotel, take shuttle bus to Yunlong Ground Fissure, one of the wonders of the grand canyon, where there are colorful waterfalls, natural bridges, cliff bridges and sightseeing platform and pavilions. After that, head for Seven Star Village (Qixing Village). there are two options to get to Seven Star Village: taking the cable way (10 minutes) or taking shuttle bus then hiking up (1.5h in total). Explore Seven Star Village in about 4 hours for its fabulous sites, including the "Burning incense stick" Pinnacle, Bow Pine, etc.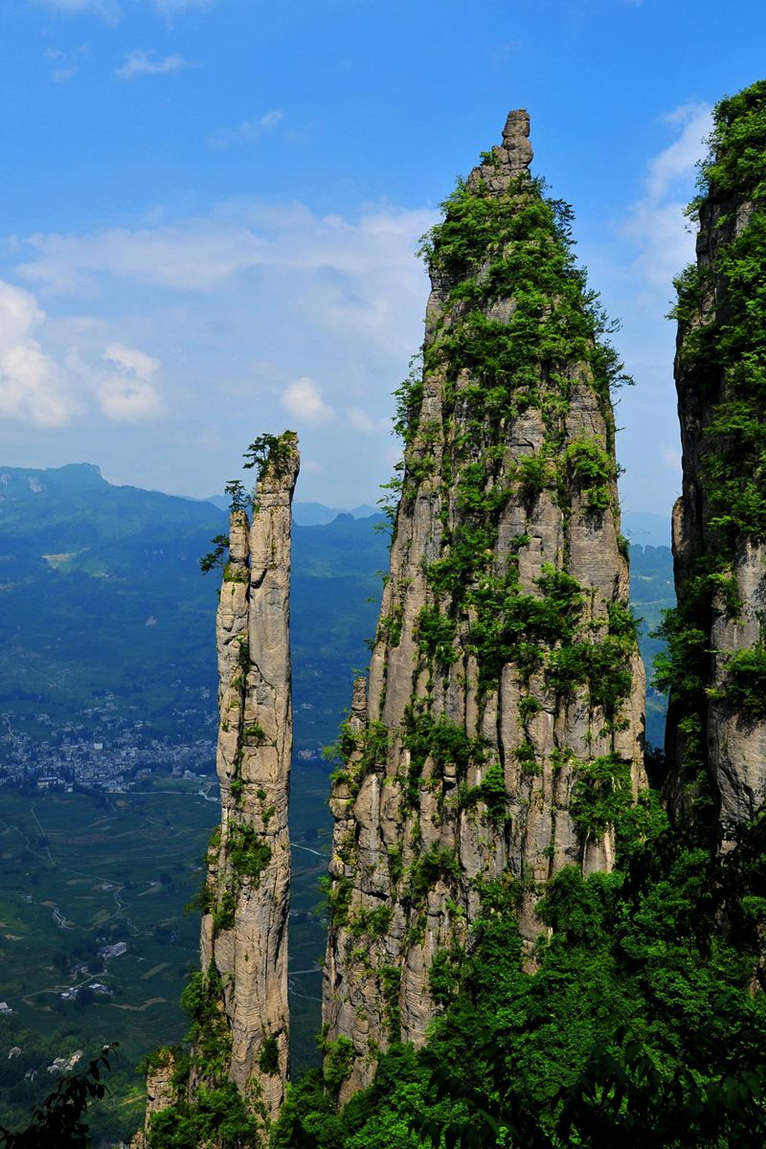 Enshi Grand Canyon Top Tips
The entire hiking length of Enshi Grand Canyon is 8.5 kilometers, and it takes about 4-6 hours to walk. It is recommended to wear walking shoes. For the seniors, children and the weak, you are recommended to have alpenstock ready.
Prepare sunscreen and sun glasses, as Enshi Grand Canyon is 800 to 1800 meters above sea level, ultraviolet rays can be very strong in summer.
Bring with rain gear, as it often rains in Enshi Grand Canyon.
You may extend your trip of Enshi Grand Canyon to

Fenghuang Old Town

and

Zhangjiajie National Forest Pak

and other scenic spots in

Zhangjiajie

, which are approximately 350km away, and take about 5 hours on road.