Lying in the northwest of Hunan province, it covers 4810 hectare, 32 kilometers from Zhangjiajie city. It was recognized as the first national forest park in China in 1988 and was included in World Heritage list by NUESCO in 1992. Zhangjiajie National Forest Park is also a World Geological Park, with a sandstone peak forest consisting of more than 3,000 knife-edged pillars. Certain geologists have even proposed naming this type of formation a "Zhangjiajie" Landform. The park together with Suoxiyu Nature Reserve, Tianzi Mountain Natural Reserve and Yangjiajie Nature Reserve constitute Wulingyuan Scenic Area.For tourists who is planning to visit Zhangjiajie, I would say Zhangjiajie National Forest Park is a must for your Zhangjiajie tour.
Zhangjiajie National Forest Park has already developed several scenic spots, such as, Yellow Stone Stronghold (Huang-shi-zhai), Golden Whip Stream (Jin-bian-xi), Yuanjiajie, etc. It not only boasts breathtaking natural landscape but also is rich in animal and plant resources. So it is titled 'Natural Garden' and 'Kingdom of Wild Animals'. The vegetation in the park is up to 98%. And there are 7 kinds of rare species (plant and animal) under the state-level protection. Among them, national-level protected animals include macaques, otters, big civets, musk deer, pangolins, golden roosters, and giant salamanders.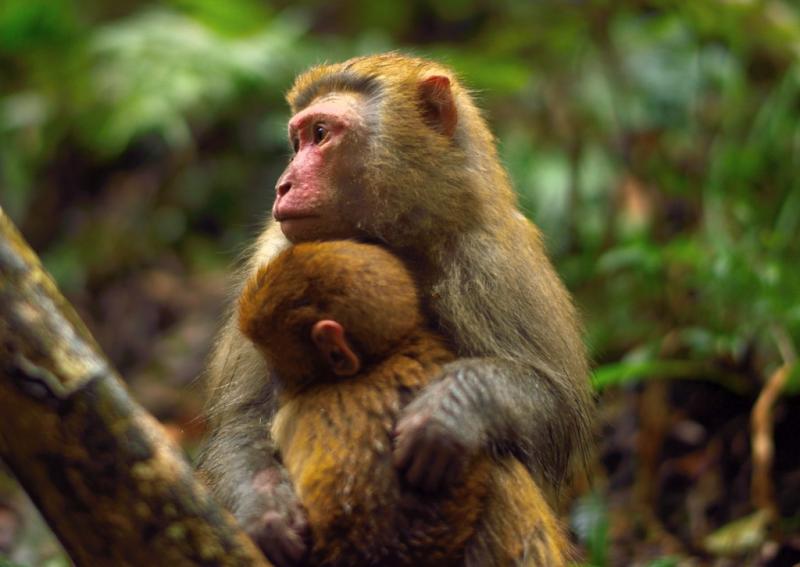 The park is famous for its strange peaks, quiet valleys and elegant forest. More than 3,000 sandstone hills with various shapes are erecting at the wonderful land. In spring it is drowned by fragrance of brilliant flowers. In summer with cool wind, it is the great resort for leisure and relaxation. Mountains are decorated by red leaves and wild fruits in autumn whereas by glittering snow in winter. Different seasons show different sceneries in the park, which also make it an ideal destination for tour and holiday.
Zhangjiajie National Forest Park Facts
Chinese Name: 张家界国家森林公园
Location: Zhangjiajie city, Hunan Province, China. 湖南省西北部张家界市境内
Opening hours: 7:00-18:00
How far from Zhangjiajie: 32 km.
Entry Ticket price:RMB227 (valid for four days).
Cable cars price at Huangshizhai village: RMB65/single way, RMB118/round way.
Bailong Elevater price: RMB65/single way, RMB130/round way.
What to see in Zhangjiajie National Forest Park?
1. Yuanjiajie Scenic Area
Fitness needed: moderate
Yuanjiajie is located in the north of Zhangjiajie National Forest Park, has a total area of about 1200 hectares and an average elevation of 1074 meters. There are several attractions and among all the Bailong Elevator, the No.1 Bridge and the Avatar Hallelujah Mountain are highlighted.
Being the tallest outdoor elevator in the world, it only takes 66 seconds for the Bailong Elevator up the mountain from the mountain foot. The construction of the Bailong Elevator solves the traffic problem which is the biggest problem of developing the scenic area. It turns many inaccessible places into popular tourist attractions. When the elevator reaches the top of the mountain and visitors walk out of the station, a magical picture is surprise right in front of them. From here, you start to get the charm of Zhangjiajie.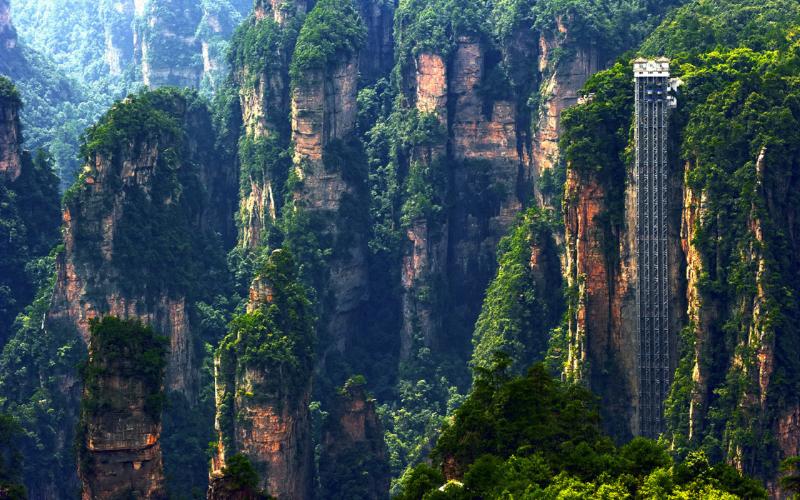 The No. 1 Bridge, as one of the top ten scenic spots in Zhangjiajie, spans between two mountains. The bridge has a width of 2 meters and a thickness of 5 meters, a span of 25 meters, and a height of 357 meters from the mountain foot, which makes it very majestic. In fact, the two large mountains spanned by the No. 1 Bridge were originally connected together. The stone in the middle part is relatively fragile and gradually collapse due to the effects of weathering and now it has been formed like a stone bridge in front of us. There is a 2,000-meter-long stone slab path built on the edge of the cliff where is perfect for light hiking, from the No. 1 Bridge to the Ecstasy Terrace. Along the way with a pleasant hike, tourists are able to enjoy the marvelous beauty of nature.
Thousands of natural pillars can be found in the Zhangjiajie National Forest Park. One of them is considered to be the inspiration of the floating mountains in the movie "Avatar", so the special pinnacle got its new name "Avatar Hallelujah Mountain". In December 2008, Hollywood photographer Hansen carried out a four-day location shooting in Zhangjiajie. A large number of landscape pictures later became the prototype of "Pandora" in the film "Avatar". The Hallelujah Mountain is located at the southern end of Yuanjiajie Scenic Area. It has a vertical height of about 150 meters and looks very distinctive.If you love "Avatar", don't forget to add Yuanjiajie Scenic Area into your Zhangjiajie tour plan.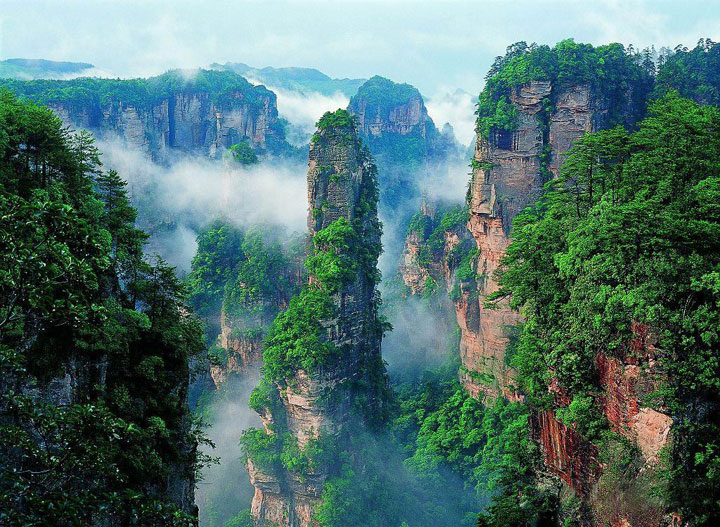 2. Golden Whip Stream
Fitness needed: low
Zhangjiajie Golden Whip Stream is one of the earliest scenic spots developed in Zhangjiajie National Forest Park. Zhangjiajie Golden Whip Stream scenic area is 5.7 kilometers long, and the general hiking time is about 2.5 to 3 hours. It's said that the Golden Whip Stream (Jinbian River) is the most beautiful area in the whole Wulingyuan Scenic Area. After entering from the entrance of Zhangjiajie Forest Park, you will reach the entrance of the Golden Whip Stream after a walk about 300 meters. Walking along the Golden Whip Stream, which flows between the serried peaks and luxuriant plants, to see what nature offers in such deep mountains.
The main tourist attractions of the Golden Whip Stream are Water winding four gates, Camel Peak, Guanyin Sending Children, Baijie carrying his wife on the back, Drunk Arhat, Condor Whip, Golden whip crag, Rescue Mother by cutting the mountain in halves and so on.Choose Golden Whip Stream for a light and leisure hike, would color your tour in Zhangjiajie.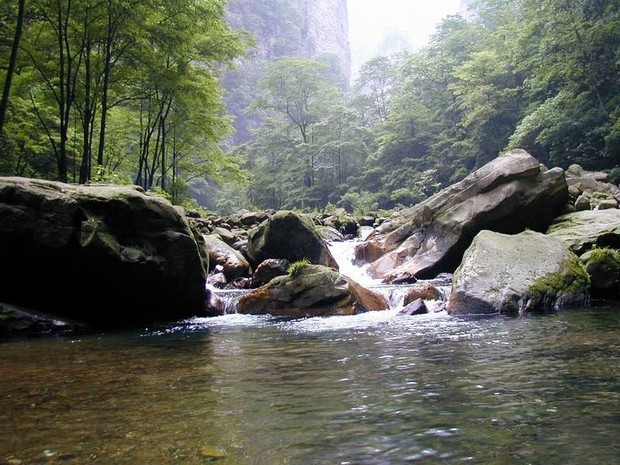 3. Huangshizhai village
Fitness needed: moderate
Huangshizhai is the most famous scenic spot in Zhangjiajie National Forest Park. There's a local saying that "If you don't reach Huangshizhai, you will come to Zhangjiajie in vain". According to legend, Huangshizhai was named after a master Huang Shigong, who came here to make alchemy.
With more than 1,200 meters altitude, and a central location, Huangshizhai village is the best and largest viewing platform overlooking the sandstone peaks and also the best place to enjoy the sunrise. Standing on this large natural viewing platform, looking around, countless stone pillars forming a vast forest, make people feel bright and happy. There are more than 20 main attractions in the Huangshizhai area, such as the Tianshu Treasure Box, Nantian One Column, Natural Murals, Star Picking Platform, Yuanyang Spring, etc.
How to get to the Zhangjiajie National Forest Park?
From Zhangjiajie Hehua Airport: 1. Then take taxi or public bus No.4 to Zhangjiajie Centre Bus Station, and then take the tourists bus to Zhangjiajie National Forest Park. 2. Take taxi to Zhangjiajie National Forest Park directly. 3. The most convenient and recommended way from airport to the park is taking the private vehicle service of Easy Tour China. Please book the service at least one day in advance.
From Zhangjiajie Bus Station: take the tourists bus to Zhangjiajie National Forest Park. The journey takes about 40 minutes.
From Zhangjiajie Rail Station: from the exit of the rail station, walk to Zhangjiajie Centre Bus Station which is about 100m away. Take the tourists bus to Zhangjiajie National Forest Park.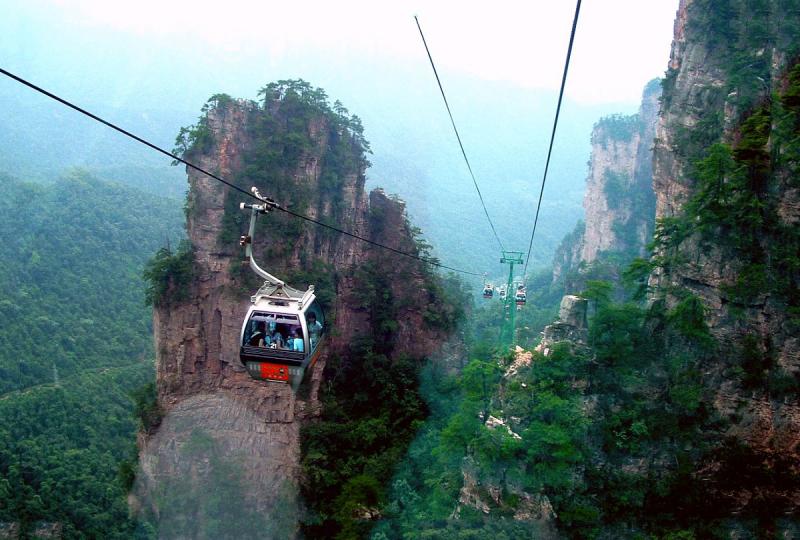 Travel Tips
1. It's very easy to get confused by the names of difference scenic areas in Zhangjiajie. So it's important to be clear about what is what, or just join Easy Tour China for your private guided Zhangjiajie tour.
2. Good walking and antiskid shoes always help.
3. Ready for crowds and queues before taking the Bailong Elevator especially in peak season.
4. Be careful of the wild monkeys. They sometimes rob tourists for food.
5. Restaurants in the park are basic and offer simple food. So take some snack as backup.
6. Shared shuttle buses inside the park can be used for transfer between different sites.
7. Ready for steps and moderate hiking.
8. Don't miss the latest cable car down which is at 18:00.
9. A tour guide is highly recommended.
More Attractions in Zhangjiajie
Recommended China Tours Including Zhangjiajie National Forest Park Zhangjiajie