Lying in the northwest of Hunan province, it covers 4810 hectare, 32 kilometers from Zhangjiajie city. It was recognized as the first national forest park in China in 1988 and was included in World Heritage list by NUESCO in 1992. Zhangjiajie National Forest Park together with Suoxiyu Nature Reserve, Tianzi Mountain Natural Reserve and Yangjiajie Nature Reserve constitute Wulingyuan Scenic Area.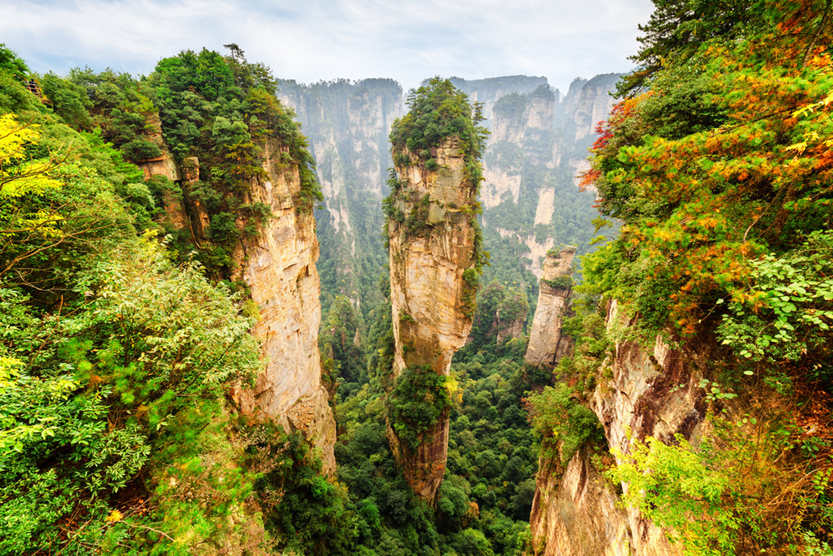 Zhangjiajie National Forest Park has already developed several scenic spots, such as, Yellow Stone Stronghold (Huang-shi-zhai), Golden Whip Stream (Jin-bian-xi), Yuanjiajie, etc. It not only boasts breathtaking natural landscape but also is rich in animal and plant resources. So it is titled 'Natural Garden' and 'Kingdom of Wild Animals'. The vegetation in the park is up to 98%. And there 7 kinds of rare species (plant and animal) under the state-level protection.
The park is famous for its strange peaks, quiet valleys and elegant forest. More than 3,000 sandstone hills with various shapes are erecting at the wonderful land. In spring it is drowned by fragrance of brilliant flowers. In summer with cool wind, it is the great resort for leisure and relaxation. Mountains are decorated by red leaves and wild fruits in autumn whereas by glittering snow in winter. Different seasons show different sceneries in the park, which also make it an ideal destination for tour and holiday.
More Attractions in Zhangjiajie
Recommended China Tours Including Zhangjiajie National Forest Park Zhangjiajie