98km south of Shangri-La, and 80 km north of Lijiang old town, Tiger Leaping Gorge is a canyon on the upper reach of the Yangtze River, which part is usually called Jinsha River (Golden Sand River). The gorge is located where the river passes between 5,596-meter-high Jade Dragon Snow Mountain and 5,396-meter-high Haba Snow Mountain in a series of rapids under lofty 2000-metee-deep cliffs. Legend says a tiger could jump across the river at the narrowest point (still 25 meters wide), hence the name.
Tiger Leaping Gorge Facts
Chinese Name: 虎跳峡
Location: Hutiaoxia County, Shangri-La City, Diqing Tibetan Autonomous Prefecture, Yunnan, China
Opening hours: 9:00-18:00
Entry Ticket price: RMB65
Altitude: 1,600-5,596m
Hiking altitude: 1,600m-2,650m
Time needed: 2-3 hours for sightseeing, 1-3 days for hiking/trekking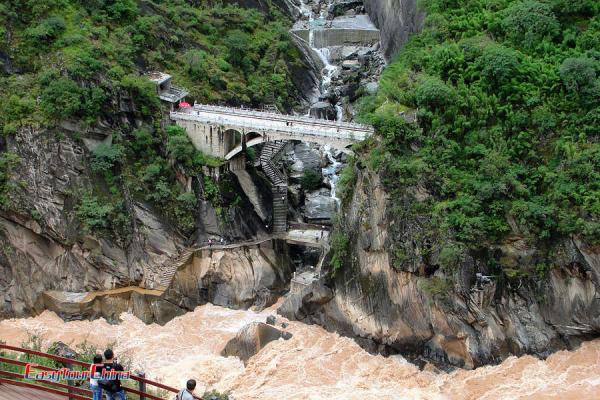 The Best Time to Visit Tiger Leaping Gorge
The best time to visit and hike Tiger Leaping Gorge (Hu Tiao Xia) is from late spring to early summer and autumn, namely from April to June and from September to October, as the weather is mild and the temperature is moderate, at 10-25℃.
In spring, Tiger Leaping Gorge's meadows are dotted with beautiful flowers. And about 20 days after the Mid-Autumn Festival, the plateau turns to be autumn color -- Diqing Plateau will be at its best.
Don't hike Tiger Leaping Gorge in summer from June to August, which is the rainy season of Tiger Leaping Gorge, as there's potential danger and accidents caused by hillslide.If you visit/hike Tiger Leaping Gorge in winter from December to February, when the temperature is around -5-15℃, ensure you bring with winter jacket or down coat.
Tiger Leaping Gorge History & Legends
The Jinsha River, the Nujiang River, the Lancang River, the Jade Dragon Snow Mountain and the Haba Mountain were originally five siblings. Three sisters grew up, met out to choose their husbands. But their parents were anxious and angry, and asked Jade Dragon, Haba to catch up and get the sisters back. The Jade Dragon carried thirteen swords, Haba with twelve bows, took the path to Lijiang, sitting face to face and waiting in turn, and agreed that who let go of the three sisters, would be beheaded.
When it was Haba's turn to watch, and the Jade Dragon had just fallen asleep when the Jinsha girl came. The way was blocked by two brothers. What should they do? The clever Jinsha girl remembered that Haba had the trouble of dozing off, so she sang eighteen songs in a row. As expected, Haba was charmed by the melodious and moving singing, and fell asleep gradually. The Jinsha girl caught this opportunity, and finally dashed past the feet of her two brothers, and ran away laughing loudly. The jade dragon woke up, angry and sad, for Jinsha had gone far, and Haba would be beheaded.
He could not break the covenant, so he drew his sword and cut off Haba's head. Then he turned his back and wept bitterly. His tears turned into white water and black water. Haba's twelve bows became the twenty-four bends on the west bank of the Tiger Leaping Gorge, and Haba's head fell into the river and became Tiger Leaping Stone.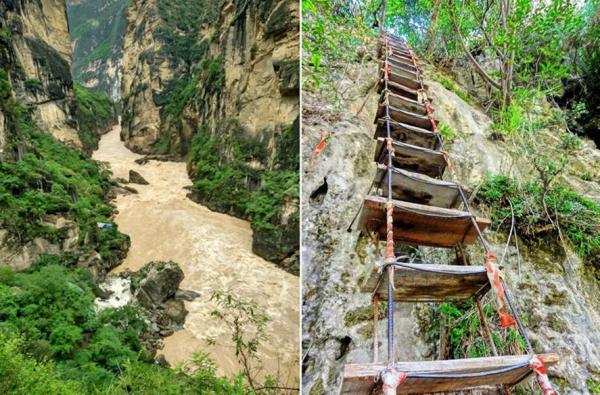 What to See & Major Attractions of Tiger Leaping Gorge
Snow Mountains
Tiger Leaping Gorge is a famous grand canyon in the world, famous for its steepness and grandeur. The valley was flanked by high mountains. The Jade Dragon (Yulong) Snow Mountain in the east has a peak of 5,596 meters above sea level, while the Haba Snow Mountain in the west has a peak of 5,396 meters above sea level, while the lowest river is only 1,550 meters above sea level.
Upper Leaping Gorge
Upper Leaping Gorge is the narrowest section of the canyon, 9 kilometers from the town of Tiger Leaping Gorge on the side of the road. There is a giant boulder in the middle of the river, lying across the middle stream, like a waterfall, a high ridge rises sharply in front of the eyes, splitting the torrents in two. Legend has it that a tiger, by using this huge rock, jumped from Jade Dragon Snow Mountain to Haba Snow Mountain, so the stone was named Tiger Leaping Stone. On the sightseeing platform of Upper Leaping Gorge, visitors will take in majestic, serene mountain vista and also the roaring river running down from the bridge.
Qiaotou Town
Go west from Lijiang City to 214 National Road, and then go north along this National Road, pass Jinshajiang Bridge, and then travel north from Zhongdian side for more than 10 kilometers, you will see Qiaotou. Qiaotou is 99 kilometers from Lijiang. Qiaotou, also known as "Tiger Leaping Gorge Town," can also be reached 96 kilometers south from Zhongdian County.
One of the deepest canyons in China and beyond, and known as one of the best hiking trails in the world, Tiger Leaping Gorge offers an exciting, exhilarating walk through spectacular scenery, easily accessible from Lijiang. The gorge stretches 18 km, consists of 3 sections: upper Tiger Leaping Gorge, middle Tiger Leaping Gorge and lower Tiger Leaping Gorge. The hiking trail extends 25 km in total. Typically, travelers can have Tiger Leaping hiking trip from one to three days. Each day is a hike of approximately 4-6 hours, which is not particularly strenuous, but with plenty of dips and rises along the ridge to give a bit of a workout. You will walk trekking road, sky ladder, 28 bends, etc. Basic accommodations can be provided with clean beds and hot water shower.
>> Get to know Tiger Leaping Gorge hiking route & itinerary, map, road conditions, elevation and detailed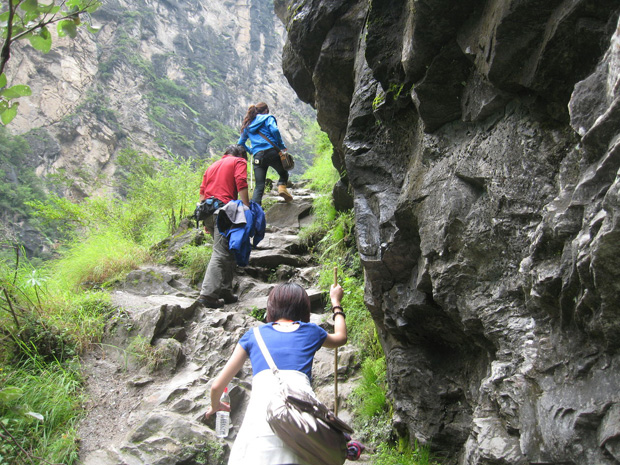 Tiger Leaping Gorge FAQ
Question: How to get to Tiger Leaping Gorge from Lijiang/Shangri-La?
Answer: You can take a regular bus from Lijiang Passenger Station (丽江客运站) or Shangri-La (Zhongdian) Passenger Station to Tiger Leaping Gorge Town (Qiaotou) or Daju (大具), and enter Tiger Leaping Gorge from either Qiaotou or Daju.
Question: What is the Tiger Leaping Gorge accommodation?
Answer: At Qiaotou (Tiger Leaping Gorge Town), there are many hostels priced ranging from RMB100 - 200 yuan. If hiking Tiger Leaping Gorge for 2 or 3 days, you can stay overnight at Tea Horse Guesthouse, Halfway Guesthouse or Tina's Guesthouse. The guesthouse are very basic accommodations with clean beds, hot water and some necessaries.
Tiger Leaping Gorge Travel Tips
1. Travel safe to Tiger Leaping Gorge, and you are suggested to a take group tour or a private tour operated by travel agency, and purchase travel insurance.
2. Due to the high altitude, it is suggested that visitors not walk too fast to avoid altitude sickness. Bring the quick-acting anti-altitude sickness product just in case.
3. For those plan to hike Tiger Leaping Gorge, the most dangerous section is the deep gully waterfall between the Walnut Garden (核桃园) and Halfway Guesthouse, where there may be rockfall.
More Attractions in Lijiang
Recommended China Tours Including Tiger Leaping Gorge Lijiang