Fenghuang means phoenix in Chinese. In Chinese culture, the male one is called Feng, and the female called Huang. According to the legend, some phoenixes flew over this small city and were so absorbed by its beauty, so they were reluctant to leave and stay here permanently, hence, the name - Phoenix Town or Fenghuang Town. Located in the west of Hunan province, Fenghuang consists of 9 towns, 22 counties and 344 administrative villages. The old city wall was first built around 1704 with east and north gates still erected. The peaceful Tuo River flows across the small town, you can see quite a number of wooden cabins were built half suspended over the river, people usually call them 'Diaojiaolou'.
Fenghuang is the home to minority ethnic groups, mainly Miao and Tujia nationalities. The batik and tie-dye are very popular among the minorities here. Miao and Tujia have their own ways to produce the cloth with unique folk patterns. Beside, they also make embroidery (Tujia), silverware (miao) and paper cut. The gingier candy is also a well-known specialty in Fenghuang.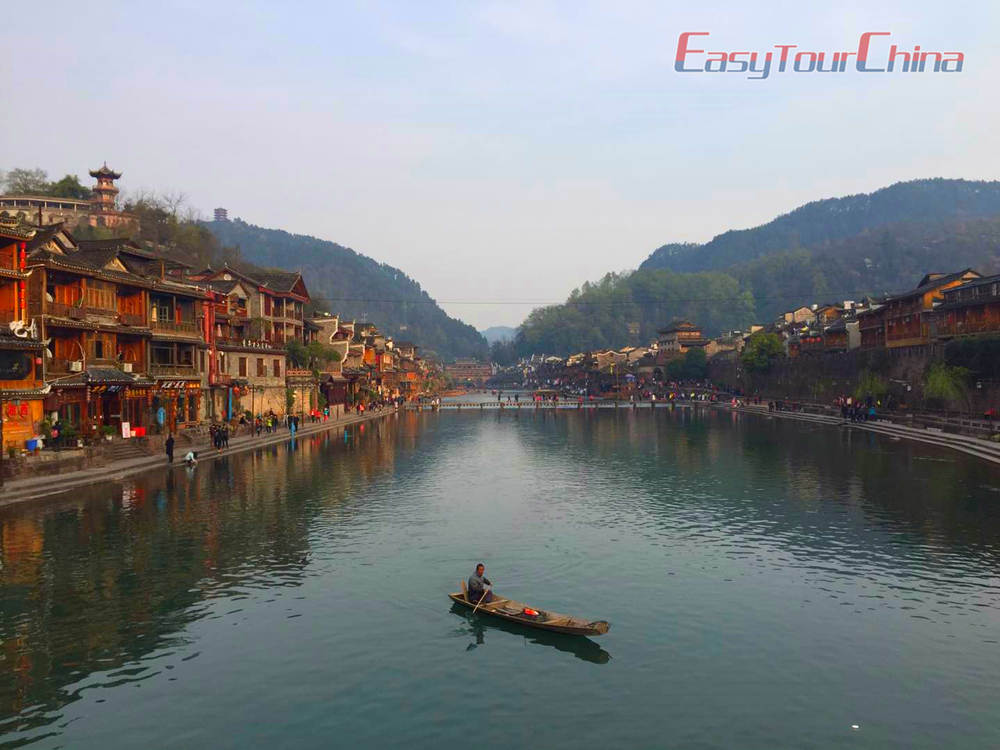 Fenghuang Ancient Town Facts
-Chinese name: 凤凰古城
-Location: Fenghuang County, Xiangxi Tujia-miao Autonomous Prefecture, Hunan, China
-Time needed: 1-2 days
-Entrance fee: Free
-Opening Hours: Whole day
Best Time to Visit Fenghuang Ancient Town
Fenghuang has distinct four seasons and mild temperature, with average annual temperature 15.9℃ and average annual rainfall 1308mm. The hottest July is around 24-27℃, and the coldest January is around 1.7-4.3℃ (average). In general, the four seasons of the year can be regarded as the best time for Fenghuang Old Town tour. If you are a photography enthusiast, the best time to visit Fenghuang Ancient Town are around March 1st, April 15th, Sep 10th and Nov 20th every year. The effects of taking picture of Fenghuang Ancient City are the best during this time, with beautiful scenery and good light.
What to See at Fenghuang Ancient Town
This small town was praised as the most beautiful town in China by the famous New Zealand writer Louis Ailey. Fenghuang Ancient Town is adjacent to Dehang Miao village in Jishou, Mengdong River in Yongshun and Fenjing Mountain in Guizhou, the traffic is very convenient. Fenghuang Ancient City has beautiful scenery, the major attractions in Fenghuang includes cruise at Tuo River, East Gate of Fenghuang, the Residence of Mr. Shen Cong-wen, Southern Great Wall built in Ming Dynasty and Qiliang Cave. Besides, the small town gives birth to several celebrities, such as, the famous writer - Sheng Cong-wen and the painter-Huang Yongyu.
Tuojiang River
Tuojiang River is the mother river of Fenghuang, it flows slowly according to the city wall and feeds the generations of the ancient town. Listening to boatman's song on Wupeng boat and admiring the stilted buildings (Diaojiao Lou) on both side of Tuojiang River, which has really special charms. The ancient city wall on the south bank of Tuojiang River is made of purple red sandstone, it looks elegant and majestic. There are two towers in the east and north of the city wall, which are still magnificent after many vicissitudes of life. The water of Tuojiang River is clear and the flow is gentle, you can see the water plants swaying with the waves in the river, which can support a long pole.
Tuojiang stilted building
Located in the southeast of the ancient city, with the ancient official road in front and the Tuojiang River in the back, the stilted building group is one of the ancient buildings with strong Miao architectural characteristics in Fenghuang ancient town. With a total length of 240 meters, it is a building of the Qing Dynasty and the early Republic of China, and there are more than ten families are living in it now. Stilted building is a unique architectural of Miao ethnic group, which has high aesthetic value and cultural relic research value.
Hong Bridge
Hong Bridge located on the Tuojiang River, it is one of the famous scenic spots in Fenghuang ancient city. Completed in 1670, the bridge is 112 meters long, 8 meters wide and 10.2 meters high, with a load capacity of 80 tons. The bridge was built by vermilion sand and stone, when it was completed, it was like a rainbow lying on the river, hence the name Hong Bridge (Hong means rainbow in Chinese). On both sides of the bridge road, there were 12 stilted wooden houses, restaurants and department stores, and a 2-meter-wide pedestrian corridor in the middle. There is a roof above the corridor to avoid wind and rain, so it is also called wind and rain building. The buildings on the bridge were destroyed during the Cultural Revolution, and were restored in 2000 according to the original design.
Former Residence of Shen Congwen
Shen Congwen is a famous Chinese writer and historian. His former residence was built in 1866, which is a courtyard wood structure building with a history of more than 100 years. This building is divided into front and back sections, with a small patio in the middle and wing rooms on the left and right, which are very exquisite and beautiful. In the exhibition room of his former residence, precious old pictures record Shen Congwen's hard journey of his life.
Longevity Palace (Wanshougong)
Longevity Palace is located in Shawan of Fenghuang ancient town, with Dongling in the north and Tuojiang River in the front. Wanshou Palace was built in 1755 by Jiangxi people who do business in Fenghuang, it is also called Jiangxi guild hall. In 1854, General Yangsi built Xiachang Pavilion on the west side, and in 1928, Yang Tower was built on the north side of the gate, forming a unique and exquisite architectural community.
Former Residence of Xiong Xiling
Xiong xiling's former residence is located in an alley of Beiwenxing Street in Fenghuang ancient city, covering a total area of 800 square meters. The former residence is a courtyard wooden tile structure, which is small but very delicate. It is a typical ancient architectural form of the Miao nationality, the four existing houses basically keep their original appearance. Xiong xiling was such rare talent, he was the fourth premier of the Beiyang government. He was a politician, educator, social activist, industrialist and philanthropist during the period of the Republic of China. Chairman Mao and other revolutionary leaders spoke highly of him.
How to Get to Fenghuang Ancient Town
By airplane: If you would like to travel by airplane, the best choice is taking airplane to Tongren Fenghuang Aiprort, which is the nearest one to Fenghuang. The driving time from Tongren Fenghuang airport to Fenghuang Ancient Town is around 2 hours. If there is no flight to Tongren Fenghuang Airport from your city, you could take flight to Changsha or Zhangjiajie airport, while it will takes long time on road.
By train: If you would like to take train for your Fenghuang trip, the best choice is taking high speed train to Huaihua South Station, which is the nearest high speed railway station to Fenghuang Ancient City. You can take high speed train to Huaihua from your city, and then take taxi or bus to Fenghuang Ancient Town, the driving time is about 1 hour. If there is no speed train to Huaihua from your city, you can also take train to Jishou or Zhangjiajie.
More Attractions in Zhangjiajie
Recommended China Tours Including Fenghuang Ancient Town Zhangjiajie