Longjing (Dragon Well) Green Tea
Longjing (Dragon Well) Green Tea
Southwest of West Lake in Hangzhou, China's Zhejiang province, Longjing (Dragon Well) Village has taken credit for having a premium Chinese green tea and Chinese tea culture, named Longjing tea or West Lake Dragon Well tea (Chinese: 西湖龙井; Chinese Pinyin: Xihu Longjin) for approximately 1200 years. This Chinese tea is produced mostly by hand and with a reputation as the first among the ten famous teas in China. Longjing Tea was the royal tea in Qing Dynasty and has long been hailed as the "Queen of Green Tea Chinese" for its four outstanding features: emerald green color, rich fragrance, sweet taste and beautiful shape.
The Plantation Areas of Longjing (Dragon Well) Green Tea
Longjing Village abounds with the best Chinese green tea by enjoying favorable geographical, climate and water conditions. With the West Lake to the east, Mt. Wuyunshan to the west, Qiantang River to the south and several high mountains to the north, the village is protected from the cold front from the north and ensured with a warm and humid climate in spring and summer.
Most of the Longjing green tea plantation fields distribute around Longjing mountain area including Lingyin, Hupao, Shifeng Peak, Longjing Village, and Meijiawu Village, where the fertile land is rich in both phosphorus and sub-acidic sand. Therefore they are considered as the best places for planting Longjing green tea.
Today, there are three types of green tea named "Longjing" in Zhejiang province including Xi Hu (West Lake) Longjing tea, Qian Tang Longjing tea, and Yuezhou Longjing tea. The West Lake Longjing tea produced from its 168-square-kilometer tea farms is the most famous and expensive one.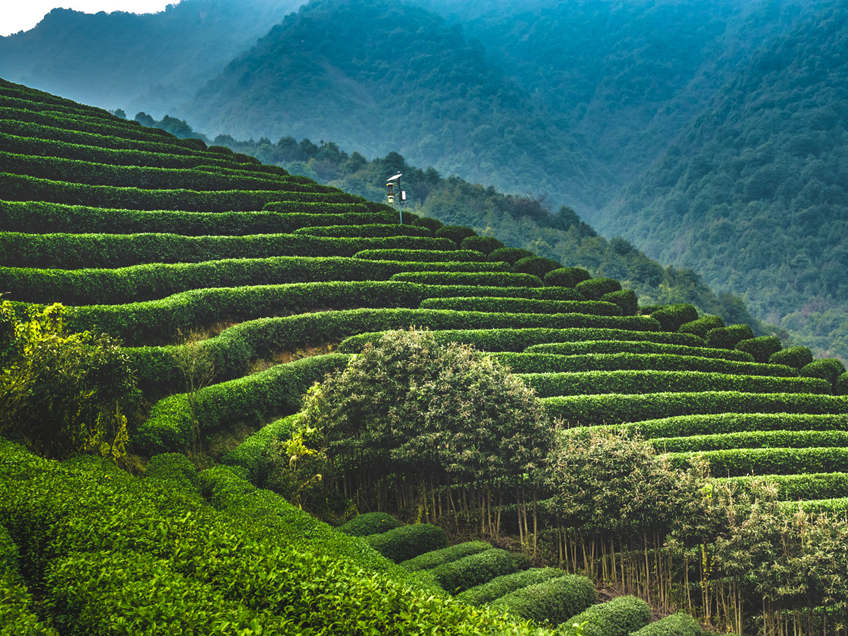 Longjing (Dragon Well) Green Tea Picking
A China tea tour to Longjing Village, joining the local tea farmers to pluck tea leaves will be a nice and pleasant activity. Longjing Tea has its harvest season with busy tea leaves picking from late March till the end of summer. This Chinese green tea picked about ten days before the Qingming Festival (falling on the 5th of April each year) are of the highest quality. Only the tender sprouts at the tip of the stalks are hand-picked by experienced farmers, then specially processed. Thus it is named Pre-Qingming Longjing, with richer aroma and sweeter taste, and also higher price than the "ordinary" Longjing tea.
Health Benefits Of Longjing (Dragon Well) Tea
The Dragon Well Green Tea stands out for containing more Chlorophyll, Vitamin C, amino acids, and catechins than many other teas. Drinking Dragon Well tea regularly could benefit a lot to one's health in many ways regardless of your age. It helps to eliminate fatigue, relieve stress, refresh the body, and raise working efficiency. Furthermore, the Dragon Well tea has excellent efficacy in anti-caries, cancer prevention, detoxification, controlling high blood pressure, lowering the blood sugar level, etc.
Simply put, it is a China slim tea, Chinese diet tea, and Chinese detox tea.
The Longjing (Dragon Well) green tea is favored by both domestic and international tea enthusiasts, because of its high nutritional value and extraordinary effect on people's health. The top grade Longjing was a royal tea preferred by many ancient emperors of China, and now this expensive Chinese tea is often offered as a distinguished Chinese gift to heads of states.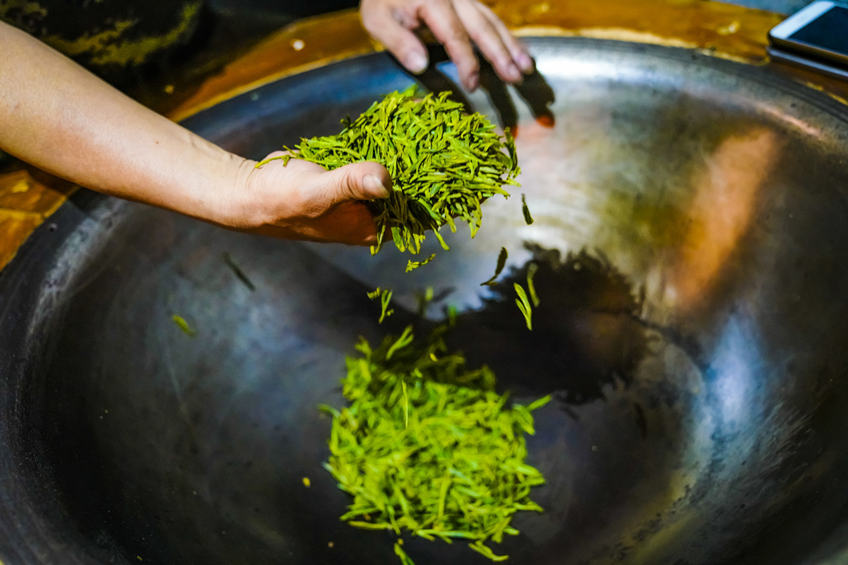 Longjing (Dragon Well) Green Tea Brewing Tips
1. Longjing green tea and Tiger Spring are known as two must-try specialties in Hangzhou. And the water from Tiger Spring can bring out the best quality of the Longjing.
2. The water temperature for brewing Longjing green tea Chinese should be around 75 to 85℃ (167-185℉), instead of the burning water of 100℃ (100℉), as it isn't fermented and very tender. If the water temperature is too hot, the tea will be bitter and released a bad taste.
3. When brewing the Longjing tea, it is not only for finally sipping the tea water, but also enjoying the graceful brewing process. When steeped, Longjing tea gives off a yellow-green color, a gentle, pure aroma with a hint of fruit and nut combined and a rich flavor. When drinking it, the tea fills your mouth with a refreshing sweetness.
Suggested China Tea Tours:
Keep reading:
Leave a Comment