Baggage Allowance of China Airlines
A China tour could be a trip of a lifetime. To ensure your upcoming China travel a smooth experience, you are strongly suggested to understand the regulations and restrictions on international flights (for entry and exit China) and domestic flights (during your travel within China). Besides, it's also necessary to understand China customs regulations before flying to China.
Luggage allowances vary by airline. Easy Tour China provides this article for you as general information on China airlines baggage allowance regulations. But you must check with your choose China airline of both carry-on and checked baggage allowances, be it Air China, China Eastern Airlines, China Southern Airlines, etc.
Carry-on Baggage Allowance
Domestic Flights
Carry-on baggage allowance for domestic flights in China varies by airline. You are suggested to check regulation details on the website of your chosen airline after booking flight tickets. In general, the total weight of your carry-on luggage shall not be over 5kg (11 pounds), and the sum of carry-on baggage dimensions of the length, width and height shall not be over 115cm (45 inches).
First class passengers are usually allowed to carry two pieces of carry-on baggage. All other passengers can carry only one piece of carry-on luggage (fit the overhead bin) as well as a personal item (fit under the seat in front of you).
International Flights
China airlines baggage allowance regulations for international flights also differ from airline to airline. However, the weight and size limitations for carry-on baggage are almost the same whether you take an international or domestic flight.
Each piece must not exceed the following dimensions:
Cabin Class

Maximum Number of Pieces

Maximum Weight per Piece

Dimensions per Piece

First Class
2
5 kg (11 lb.)
Business Class
1
Economy Class
1
Regulation for Liquids
All liquids, gels and aerosols must be stored in containers with capacity less than or equal to 100 ml (3.4 ounces). Any containers larger than 100ml are not allowed to carry on board, even if the container is not full.
All containers must be stored in a transparent resealable plastic bag with a maximum capacity of 1 liter. Each passenger can only bring one transparent plastic bag and shall put the exceeding part in checked luggage.
The plastic bag with liquids shall be removed from your baggage and be checked separately at the airport security checkpoint.
Baby formula or food (only for passengers traveling with infants) or liquid medicine for use during the flight must be declared when you go through the security checkpoint. Ask your doctor for a certificate to prove the necessity of any liquid medication items.
Liquids purchased beyond boarding pass checkpoints can be carried on board, and are allowed to exceed the limit of 100ml per container.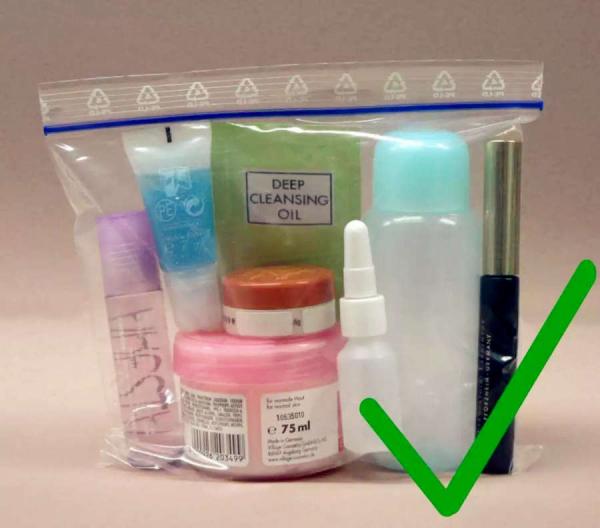 Regulation for Lithium Batteries
Power banks are considered as spare batteries.
Electric equipment can be placed in the checked baggage or carry-on baggage. However, spare batteries can only be placed in the carry-on bag.
Reasonable amount of electronic devices (e.g. smartphones, laptops, drones…) powered by lithium batteries and lithium batteries within an energy rating no greater than 100Wh (Watt Hours) are allowed to be carried on board.
You can bring 2 pieces of spare lithium batteries over 100Wh but lower than 160Wh only if approved by the airline before boarding.
Traveling with lithium battery devices and spare lithium batteries over 160Wh is prohibited.
Lithium batteries shall be packed independently and protected from damage by applying suitable packaging or casing with adequate cushioning.
Damaged, defective or recalled lithium batteries or devices are prohibited from being carried on.
Power banks must be powered off during the flight. You cannot charge a power bank on board or use any of its functions.
Checked Baggage Allowance
Free Checked Luggage
Domestic Flights
Checked baggage allowance for domestic flights within China also varies by airline. In general cases, each passenger is allowed one free checked baggage only if it meets the weight and size limits of the airline. You must read over the regulation details on the website of your chosen airline before your travel. A normal weight limitation is as follows:
Cabin Class

Maximum Weight

Dimensions per Piece

First Class

40 kg (88 lb.)




Business Class

30 kg (66 lb.)

Economy Class

20 kg (44 lb.)

Infant

10 kg (22 lb.)
International Flights
Limitations for checked luggage vary based on the travel class you choose and the country/region you are going when traveling through China internationally. Be sure to check specific restrictions with your airline before traveling. Normally, the maximum free baggage weight for economy class is from 23kg (50 lb.) to 32kg (70 lb.).
If the plane is flying to Americas, economy class passengers can carry 2 pieces of checked luggage, with each no larger than 23kg. For international/region flights, the total outside dimensions (length + width + height) of each piece of free checked baggage must be no larger than 158cm (62 inches).
Tips for Checked Baggage:
Baggage should be securely locked.
Each piece of checked baggage should be tagged with passenger's information, including names, phone number and detailed address.
Don't include cash, valuable items, fragile things as well as important documents in the checked luggage.
Excess Baggage
For domestic flights in China, overweight baggage fee is calculated at OW*Economy full fare*1.5% (OW is the number of kgs in excess of the allowance). For example, economy full fare Guilin/Xi'an is RMB 1090, and if you luggage is 5kg overweight, then you will have to pay 5*1090*1.5%=RMB 81.75.
For international flights, fees and regulations of overweight baggage vary by destination and airline in China. Remember to check with your airline for the charging and make sure your oversize baggage will fit the allowable maximum on the plane.
Prohibited Items
Prohibited to Transport
Dangerous articles, including explosive, flammable, corrosive, toxic or radioactive substances, compressed and liquefied gases.
Any guns, firearms, controlled knives, military weapons and other controlled implements.
Source of fire, such as lighters and matches.
Live animals, except as otherwise stipulated by Air China, including guide dog and hearing dog.
Articles with a strong odor, such as durian fruit.
Items Not Allowed in Carry-on Baggage
Knives of any kind.
Other sharps or blunts which are dangerous.
Self-heating hotpot, rice, or beverage.
Items Not Allowed in Checked Baggage
Electronic devices powered by lithium battery, spare batteries, and power banks.
Cremated remains.
Items Shouldn't Packed in Checked Baggage
Anything valuable, such as jewelry, precious metals, antiques, etc.
Money, credit cards, and coupons with monetary value.
Important documents, such as identity documents, travel documents, medical documents, and commercial documents.
Personal medication.
Fragile, delicate and perishable items.
Use the China Travel Guide section at Easy Tour China to get more information about traveling in China. To get you started, check What to Pack for China Travel.
Related informatoin on Baggage Allowance: China Train Baggage Allowance & Policy