When planning your China tours, you're suggested to check the electricity in China, the plugs and socket system as well.
Throughout China, including mainland China, Hong Kong, and Macau, 220 volt 50 AC are used, although most 4 & 5-star hotels are wired for use of 110-volt electrical appliances. But the electricity in Taiwan is 110 volts /60 Hertz.
Comparing the electricity voltage in some countries and regions:
| Country/Area | Voltage/Hertz | Country/Area | Voltage/Hertz |
| --- | --- | --- | --- |
| Australia | 240V/50Hz | Israel | 230v/50Hz |
| Argentina | 220V/50Hz | Italy | 127/220V, and 50Hz |
| Belgium | 230V/50Hz | Japan | 100V, and 50/60Hz |
| Brazil | 127/220 V, and 60 Hz | Korea | 220V/60Hz |
| Canada | 120V/60Hz | Myanmar | 230V/50Hz |
| ChinaMainland | 220V/50Hz | Netherlands | 230V/50Hz |
| China Hong Kong | 220V/50Hz | New Zealand | 230v/50Hz |
| China Macau | 220V/50Hz | Philippines | 110/220V,and 60Hz |
| China Taiwan | 110V/60Hz | Russia | 220V/50Hz |
| France | 230V/50Hz | South Africa | 230v/50Hz |
| Germany | 230V/50Hz | Spain | 127/220V, 50 Hz |
| Hungary | 230V/50Hz | United Kingdom | 230V/50Hz |
| India | 230V/50Hz | United States | 120V/60Hz |
Do I need socket adapters if traveling to China?
For foreigners traveling in mainland China, Hong Kong and Macau, electrical appliances will require an adapter that can change the shape of the plug prongs, as well as an electrical voltage converter that will allow a normal 110-volt appliance to take 220 Volt current. Most of tourist hotels have a hair-dryer in each room, or you can ask for one at the reception desk.
Chargers for most electronic devices, such as phones, tablets and cameras, will work well in the high voltage range of 110-240V.
In China most three stars hotels or above offer 110V and 220V socket in bathrooms, while bedrooms usually only have 220V power outlets.
What sockets are used in China Mainland?
There are two types of sockets widely used in mainland China: type A and type I. Type A can also be compatible with Type C or Type F plugs, which are common in most European countries.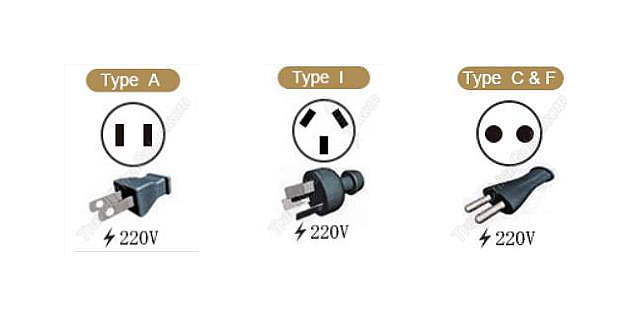 Among the sockets used in China, Type A sockets have two flat strip holes of the same shape and size. The plug that matches this socket is usually used in USA, Mexico, Canada, Japan, Philippines, Colombia, Thailand, Vietnam, Panama...But you should be aware that American Standard plugs have a double-edged plug with two ends larger than the other. You can't use it in China without an adapter.
In countries such as China, Australia, New Zealand, Argentina and Fiji, Type Iplug is most commonly used. Sometimes the grounding wire of the Type I plug will be "lost", but it can still be used safely in the Type I socket.
Type C and F plugs and sockets are mostly common in European countries, such as Russia, Germany, Denmark, Poland, Finland, France, Sweden, Spain and South Korea.
What sockets are used in Hong Kong, Macau and Taiwan?
Hong Kong, Macau and Taiwan are all Chinese territories, but they have different types of sockets from mainland China.

In Hong Kong, the British standard power plug socket, also known as the G type is used, suitable for: the United Kingdom, Ireland, India, Malaysia, Singapore, Maldives, Nigeria and Uganda and other countries. For travelers from these countries to travel to Hong Kong, there is no need to bring an adapter.
In Macau, Type C and Type F sockets are used, while in Taiwan, Type B sockets are used, which can be compatible with Type A plugs.