Traveling in China by train with a wheelchair sounds crazy and adventurous, but is not as impossible as it used to be. While there's a lot to be said for the dramatic changes the last few decades China has been seeing, the renovation and thriving of China high speed rail (HSR) makes train travel in China accessible for wheelchair users.
High speed train is a practical, convenient and economical way to travel, and offers a journey that give you an inside into Chinese culture to experience life as a local. Despite that, it is still a real struggle for wheelchair users to travel by train in the country. Therefore, we're here to explain what challenges you may encounter for train tours of China, and share some useful tips for wheelchair accessible train travel in China.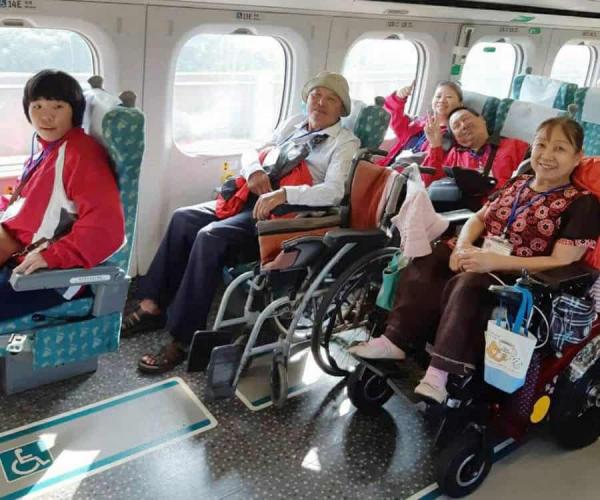 By August 2020, of the 141,400-kilometer-rail in China, the high speed trail extends for 36,000km, meaning, there is still a vast of slow-speed rail, regular trains and green-skin trains. High speed train is fast (usually 200-300km/h), punctual, efficient and comfortable, let alone there are wheelchair-friendly service and facilities. But, the regular trains (Z, T & K trains), running at 120-160km/h, are equipped with limited amenities for wheelchair users. So do research about China's rails, trains and stations, and choose the high speed bullet trains for your trip in China.
Plan ahead and get assistance
Whether you're traveling with people with disabilities, or you're a wheelchair user touring in China alone, it is suggested to plan ahead and consider using a travel agency for all necessary assistance, from researching about train/station facilities for handicapped, booking the special train ticket for the disabled, to pre-arranging for the disabled access. Call the travel expert of Easy Tour China, explain to us your requirements, and we'll try best to make all things set up for your journey.
Book bullet train ticket for the disabled
In order to facilitate disabled passengers to travel in China by train, a certain number of special tickets for disabled passengers are reserved for each high speed train. Handicapped passengers who meet the requirements can purchase the ticket from the pre-sale date to 24 hours before departure. The ticket is marked"○专".
The special ticket can only be bought at the railway station, and there is no discount for the tickets.
Reservations for key special passenger services (services for handicapped)
Call 12306 (China Rail, official website: www.12306.cn, English version: https://www.12306.cn/en/index.html), confirm whether the ticket is issued, and then you can book the key passenger service according to customer service guidance.
After receiving the reservation for key passenger services, 12306 will inform the train departure station of the relevant information. The train departure station will then confirm the specific information with the passenger by phone, including the train number, the specific physical condition and the services required (e.g. wheelchair, disabled access, etc.). After the passengers get on the train, the train station or the train staff will be informed of the passenger information, and pay attention to and provide services during the journey. At the same time, the destination station will be informed, and the destination station will be responsible for the passenger outbound service.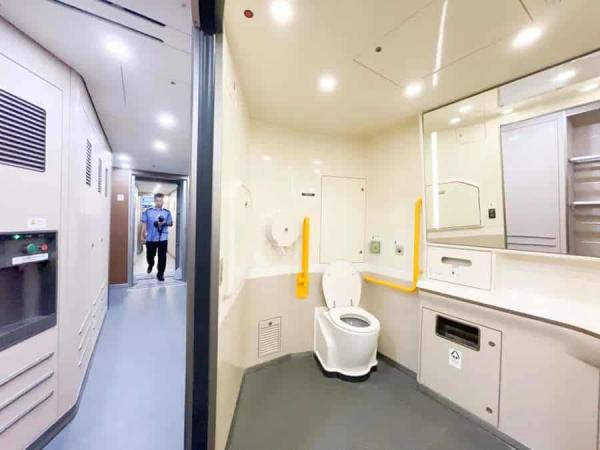 Facilities for the disabled on high speed train/regular train/rail stations in China
High speed train
There are accessibility facilities for wheelchair users and handicapped passengers on China high speed trains. For years, China railway department has attached great importance to the disabled passengers and taken a series of measures to facilitate the travel of the disabled. At present, the EMU trains and newly built trains are equipped with seats and wheelchair accessible restroom for the disabled.
Regular train
The improvement of disabled access for regular types of trains is also being actively promoted. There are seats for disabled passengers, accessible toilets, and special storage for wheelchairs on some trains running between big cities and most popular destinations, like Beijing and Shanghai, but the service cannot be guaranteed for each regular train.
Rail station
All high-speed railway stations, newly built and rebuilt stations have been equipped with accessible facilities, including waiting rooms for key passengers, ramps for the disabled, barrier-free elevators, accessible toilets, etc. Besides, the transformation of other old stations is also being gradually implemented.
How do I get a wheelchair assistance at a train station in China?
Service desks are set up at many rail stations to give priority to the elderly, the young, the patients, the disabled and the pregnant passengers for entering the station, boarding trains and carrying luggage, etc. Some stations can also provide wheelchair services for disabled passengers with limited mobility. We can help you to consult the stations of your destinations for details.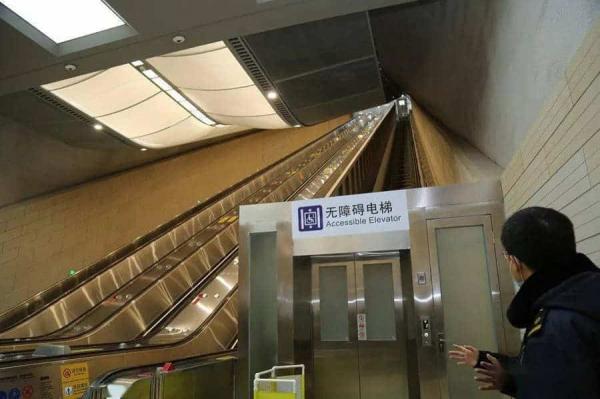 How do wheelchair users get on trains in China?
When a wheelchair-user passenger arrive at the railway station, if there are problems for security check, for instance, the entrance fence or the security check gate is too narrow for a wheelchair to pass through, the passenger or his/her family members can call the station customer service phone they contacted before, or they can go to the station service desk for assistance. The staff at the station will help and make sure the passenger get on train ahead of time. There will also be a special lift arranged for the passenger.
After getting on the bus, even though you haven't booked, you can change for a seat for passengers with disabilities, with the help of the staff.
How do wheelchair users get off a train station in China?
Upon arrival at the destination station, theoretically, the departure station and the train staff have already sent your information and needs to the destination station (provided you have booked and confirmed booking the key special passenger service). But don't worry if you don't find any staff that picks you up personally. Try to explain the staff on the platform your situation, and your request for special passenger service. The staff will inform the station, or directly guide you out of the station.
It is not recommended to exit the station with the crowded, in case of any disorder or danger.
How to make a train journey with wheelchair more comfortable?
Have an inflatable seat cushion to relieve pressure on your spine during a long train ride, or a low-back support pillow to prevent back pain from sitting too long. If you plan to sleep in your seat, bring a comfy microfiber blanket and travel pillow.
Further reading: