Given that China has one of the biggest and busiest high-speed railway networks in the world, and the bullet trains have linked almost all major cities and towns, touring by train in China is much easier than foreign travelers think and has actually become the most popular and convenient way to travel in China. The normal railway continues to spread and reach the remote and poor areas. Even Tibet, one of the most inaccessible regions in the world, can be reached via train with the Qinghai-Tibet Railway. Comparing with air travel, traveling by high speed train in China is less expensive, more punctual and time-saving with humanized security check and rare delay. As a result, nowadays China travel by train is preferred by both domestic and international travelers. Both normal trains and high speed trains offer a great way to roam around the vast country and see the colorful cultures of China in different areas.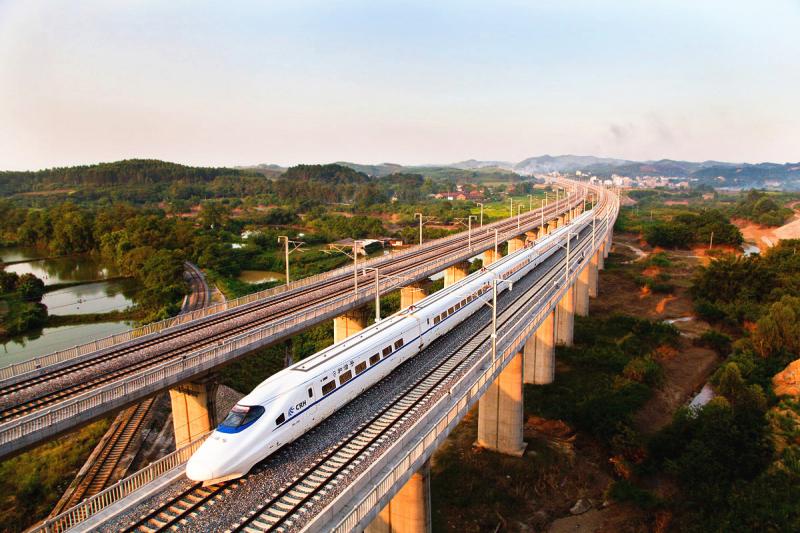 To help you understand what trains in China are like, this article will give you some general ideas not only about the classification of China's trains/seats/sleepers, the specific facilities of the trains, but also share useful travel tips of buying train tickets and boarding on train, etc. <Recommended China Train Tours>
Classification of Trains
China's domestic trains are classified in "classes" that vary by speed and service. The better the category of train, the faster and more comfortable the carriages can be. In addition, these trains represent the higher level of modern facilities, cleanness, and fewer stops along the way. Thus, these better trains charge higher fares. A letter (C, D, G, Z, T & K) preceding the numbers indicate the type of train.The "G" trains are the fastest (300km/h or faster) and normally only service two end-points with maybe a couple of intermediate stops. These fastest trains run on the high-speed rail. Besides, the 'D' trains are also fast and comfortable with modern coaches, either 200-250km/h daytime electric trains or top-quality 200km/h sleeper trains. Then the 'Z' trains refer to those non-stop fast trains at the speed of 150-160km/h. Comparatively, 'T' and 'K' trains are quite slow at an average speed of 120-140km/h with quite a number of stops on the way. The slowest trains are those with 4-digit numbers.
Following are the simple descriptions of different trains--
C, D, G trains (Inter-city Trains (Chengji) /Dongche/High Speed Trains): They are the fastest in China, some are high-speed 200-300km/h daytime electric trains, a few D-trains are high-quality 200km/h sleeper trains and they stop only at a few major stops along the way. "G" trains are the fastest and most advanced train in China and technically capable of going 430 km/h, they are currently limited to 300 km/h and less for energy conservation and safety reasons.Sleeping car service is not provided. The C-trains operate between the major cities of China, such as Beijing and Tianjin. Ultra-modern air-conditioned coaches, streamlined power-cars at each end, and relatively clean washrooms with closestool are their features.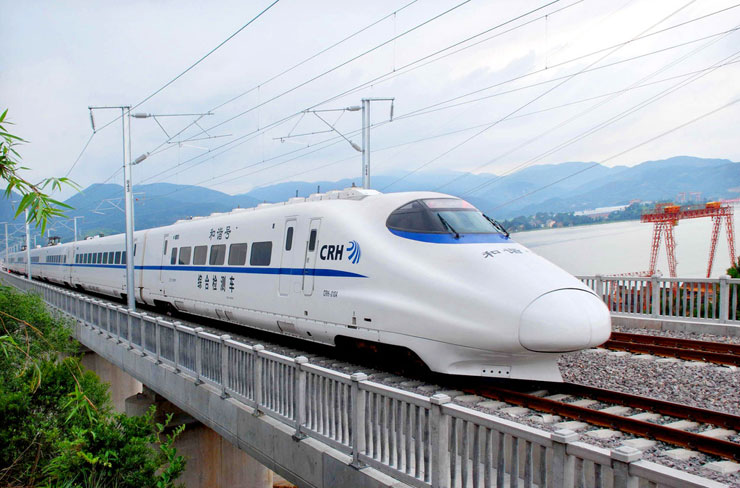 Z trains (Zhida/ Direct Express): These trains run up to 160 km/h or 99.4 miles/h. The coaches are modern and air-conditioned.They are usually overnight trains, so sleeper classes (hard/soft) are available, and mostly with soft-sleepers.The trains run between major cities, such as Beijing, Shanghai, Xi'an, Wuhan, Shenzhen, as well as Hangzhou and Ningbo.
T trains (Tekuai/Express Trains): running at 140 km/hr or 87 miles/hr, T trains have limited number of stops along the way at major cities or some junctions. Modern and air-conditioned coaches while both hard/soft seats and hard/soft sleepers are available on T trains.

K trains (Kuaisu/Fast Trains): K trains run at around 120 km/hr or 74.6 miles/hr, and stop at more stations than the T trains. They not only stop at cities but also at main counties. Both seats (hard/soft) and sleepers (hard/soft) are available. The coaches of K trains are not so modern and clean as those mentioned above, and the air-conditioners may or may not be turned on, but still acceptable for intrepid travelers.
Regular Trains: They are identified by four numbers and running at a maximum speed of about 120 km/h, the lowest train in China. They stop at the most stations, and offer the cheapest tickets. During the journeys, they need to wait for giving ways to higher classes trains. Therefore, they go with a longer time and sometimes annoying when stopping from time to time on the half way.
L-trains: they are conditional trains which operate during busy periods, such as the traditional Chinese spring festival and National Day. Most L-trains are equipped with air-conditioning.
Classification of seat & sleeper
In general, 4 different tickets are available for Chinese trains: hard or soft seats, hard or soft sleepers. International travelers are encouraged to book the tickets at hard or soft sleeper class if you are taking a long distance train journey in China or overnight travel. The hard seat and no-seat tickets are not recommended, unless you are sure that the trains are always empty. But usually there are always flocks of Chinese passengers in the over-crowded carriages elbowing their way to get on and off the train.
Detailed information about different levels of seats and sleepers are as below--
Deluxe soft sleeper: Not all trains offer the deluxe soft sleeper class, which offers two-bed compartments. This is perfect for a traveling couple as you don't have to share with others and you can enjoy the privacy you don't get with the Soft Sleeper compartment. Many "Z" trains do have it, but most "K" and "T" trains do not. These are 2-berth compartments with private toilet, closet and other modern facilities. Each enclosed compartment contains only two clean and comfortable bunks (upper/lower), a western washroom, and sometimes even has a shower cubicle. The ground is carpeted, and other facilities include sofa, LCD TV, table and wardrobe.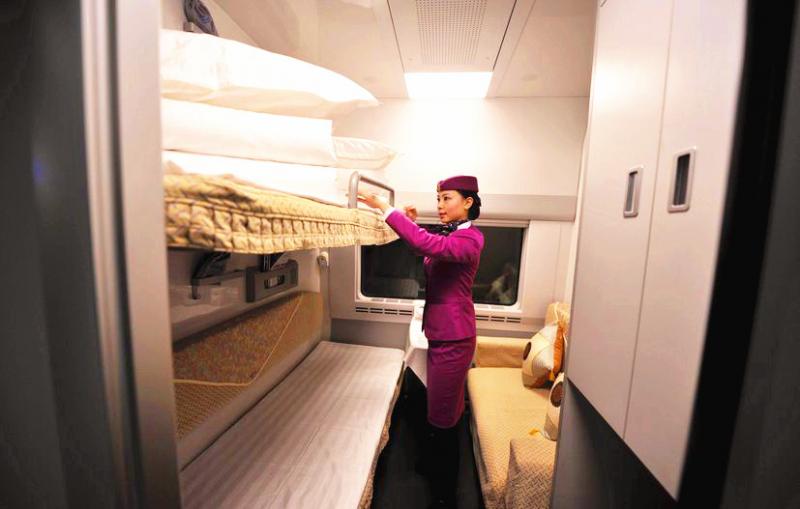 Soft sleeper: It is suggested to buy soft-sleeper tickets for overnight and long-distance travel in China as it is comfortable, safe and affordable way to travel around. Each compartment has 4 beds, a lower and an upper on each side. All necessary bedding is provided. The compartment door locks securely and there is a smartly-dressed attendant looks after each car. In addition, each soft sleeper car has a public washroom and a public toilet, but no shower. Toilets are at the end of the carriage and may be a western toilet. No toilet paper is provided in the bathrooms.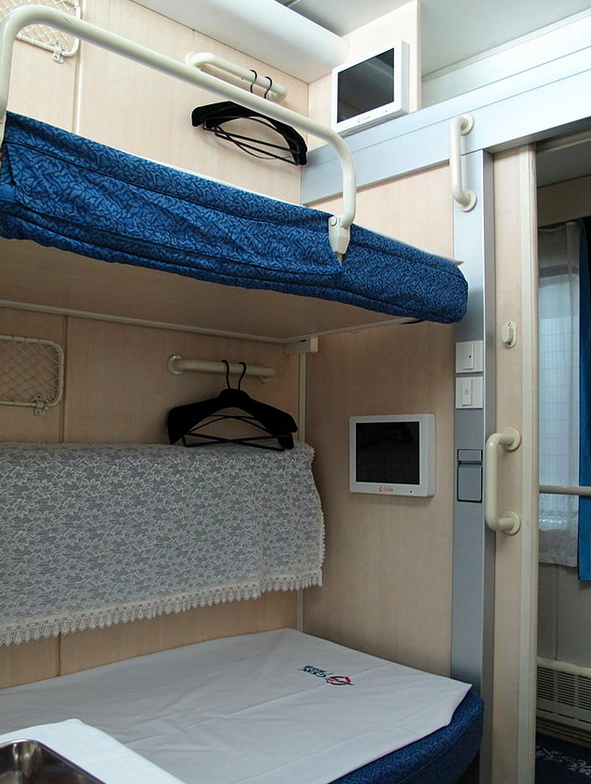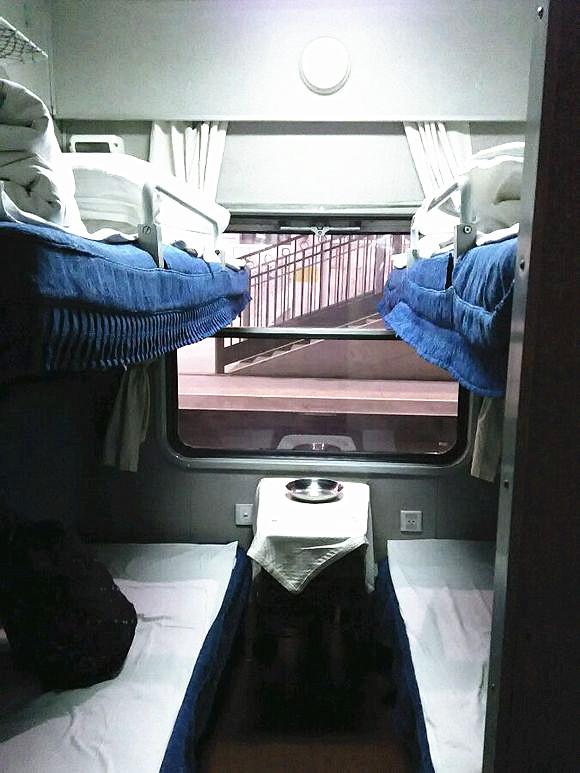 Hard sleeper: Many western backpackers choose to stay in a hard sleeper since they may travel on a tight budget. Hard sleeper consists of doorless carriages with a broad aisle on one side of the car, bays of 6 bunks (upper, middle, lower) on the other side. A blanket and pillow is supplied, while the mattress is a bit hard. Some hard sleeper cars are not that clean and noisy. On some trains, there is a small TV hanging in each compartment. Air conditioning is available, and the washroom is tolerably clean at the beginning of the journey, and squat-style.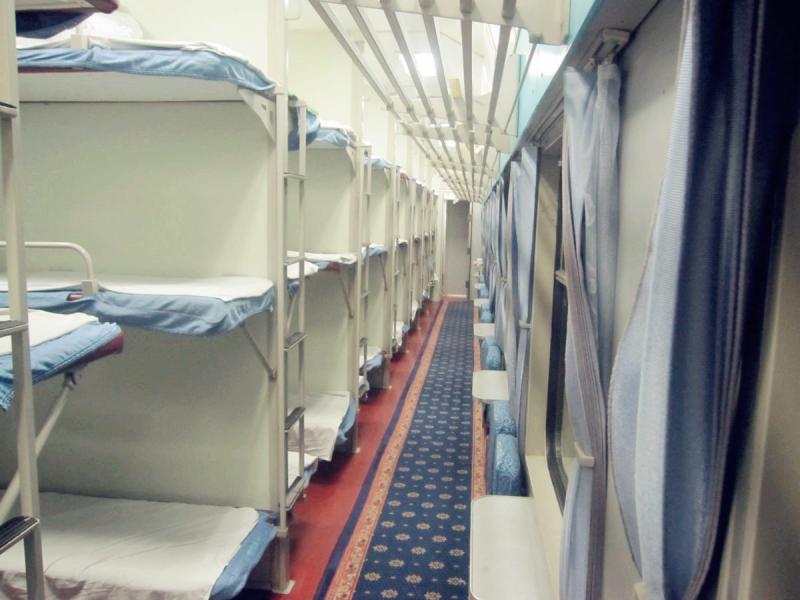 Soft seat: it is quite comfortable inexpensive method of travel for a short journey (less than 5 hours). With a slightly higher fare than hard seat, the soft seats are relatively cleaner and cozier. There will be no over-crowded passengers in soft-seat coaches.
Hard seat: it is widely selected by Chinese people as it is probably the cheapest way to travel in China. In these carriages, people have to sit upright, not comfortable at all after a couple of hours. It is usually crowded and often have more tickets sold than the actual seats available. For most of the time, the coaches are not clean, smelly and you won't be willing to use the toilet a couple of hours later after the train departs.
No Seat: in rush time, you may get "no-seat" ticket at the train station. In these coaches, the crowds of people jostle for standing and sitting space. Sometimes people may get very rude. Therefore, this is not a good option for international travelers.
The categories of the new high-speed C, D and G trains are featured as below
1st & 2nd class seats: the First Class is arranged 4 seats in a row and similar to soft seat, but wider, more modern and comfortable. Then the Second Class is arranged 5 seats in a row. It owns relatively smaller sitting area, but is still comfortable enough.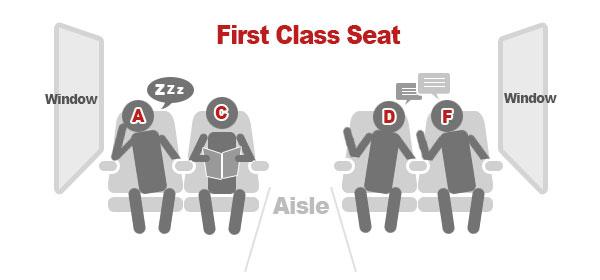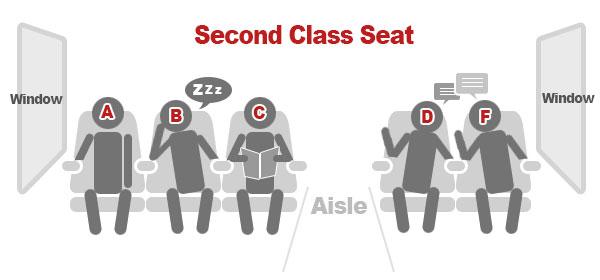 Business class: G-category high-speed trains have a premium first class called Business class. There are three individual reclining seats in a row — two on one side and one on the other side of the aisle, with specious footrests. A meal may be included in the fare, served at your seat.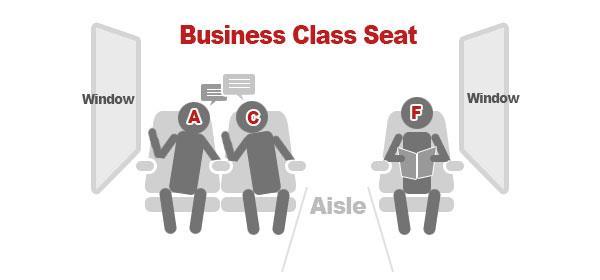 Second Class Seats

First Class Seats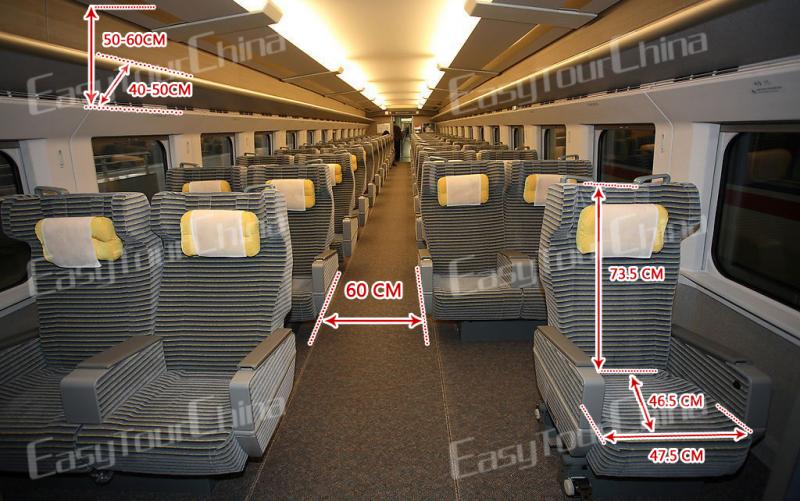 Business Class Seats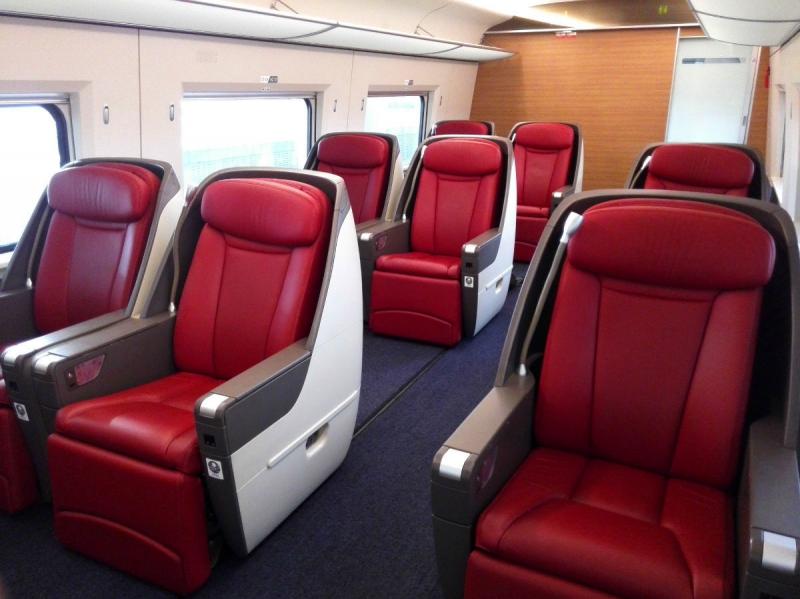 No matter which class the train is, China's trains always try to provide all-around train service to the passengers. Following are the basic facilities on the train and give you some knowledge for potential help.
Train Staff: there is generally as many as 6 to 8 uniformed staff on the train. English is generally not spoken by any of the staff on the trains or in the railway stations. If possible, prepare a phrase book for the emergency. You can easily find the staff at one end of the train.
Dining on the Train: most long-distance trains have a dining car (restaurant carriage), with waiter service of drinks, snacks and meals. Meals usually cost between 15 and 50 RMB. You can ask the train attendant and point you in the right direction to find it (usually Carriage 7 or 8). During the meal time, attendants will pass through the carriages about every 15 minutes with a cart offering pre-packaged meals, the box meal costs around 15-20 yuan. In fact, most Chinese people bring their own food onboard and eat in the compartment, and you can also prepare your own food in advance and eat on the train.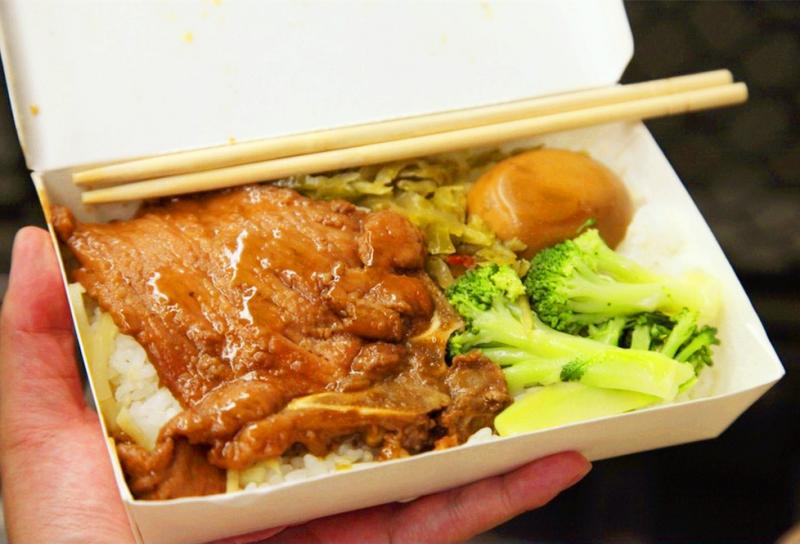 Toilets: they often locate at one end of the carriage or one at both ends. Most are the traditional hole-in-the-floor type of facility. Only the modern D, C, G and Z category trains, or some soft sleepers' carriages are equipped with western toilets. It's always a good idea to take your own supply of toilet paper. More and more G and D trains are equipped with the disabled toilet and mother-and-baby toilet with corresponding facilities, which are at bit larger than the normal toilet. One thing should be mentioned is that the restrooms are locked while trains stop in the stations, for 10-15 minutes before arrival and a similar time after departure.
Toilets on Chinese bullet trains (the first two photos) and on normal trains (the last photo)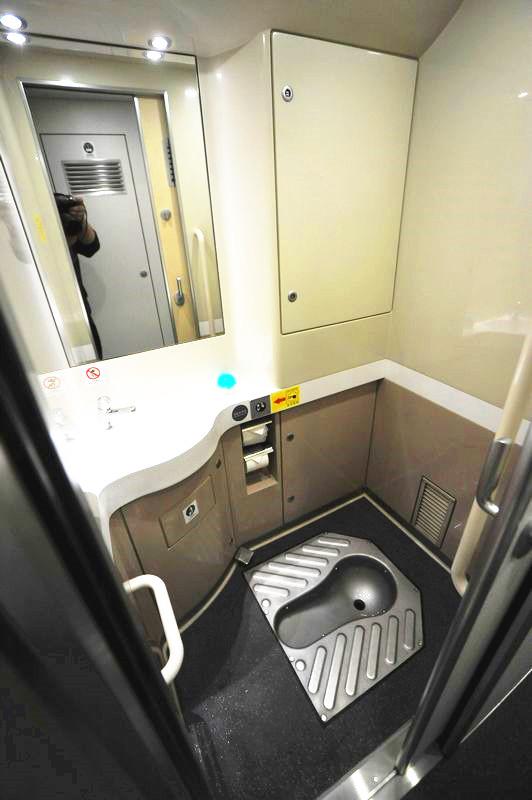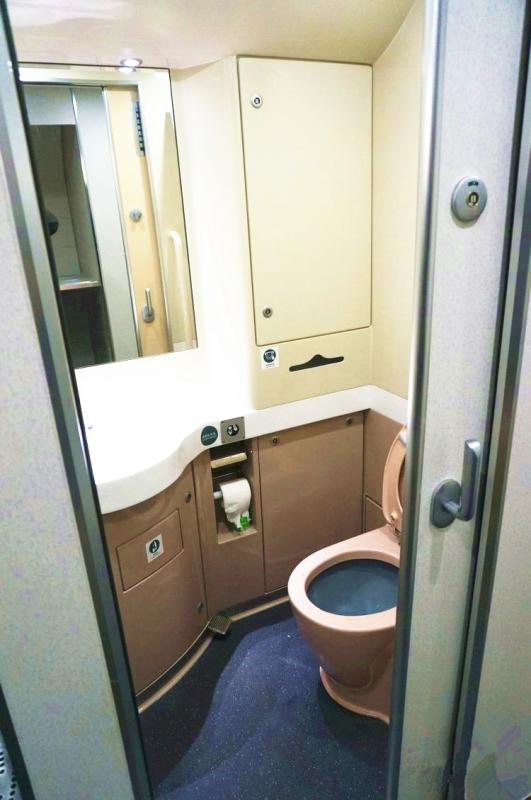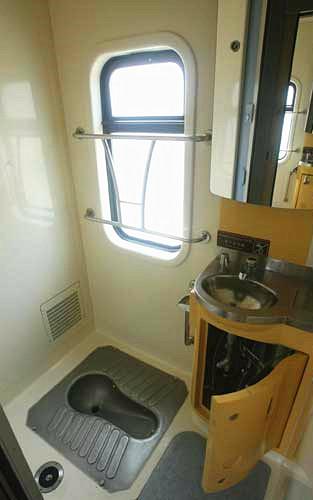 Mother-and-baby toilet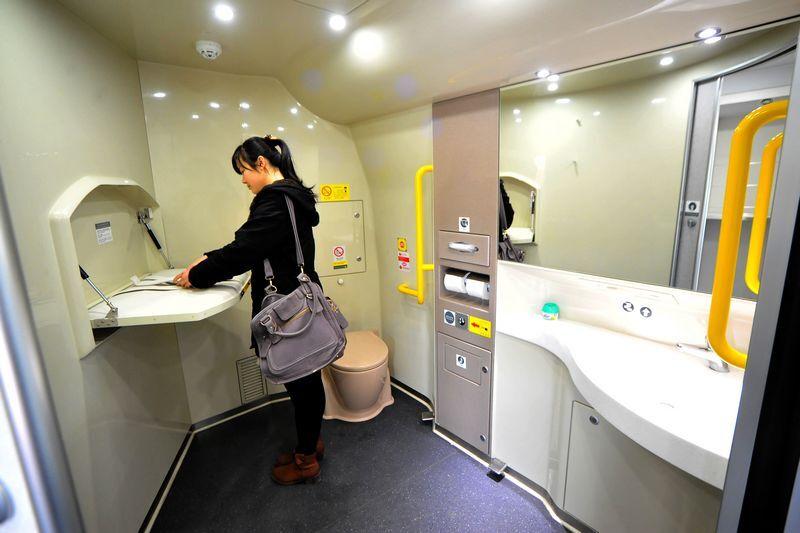 Smoking Area: smoking is not permitted in the carriages of any Chinese train, especially for the air-conditioned trains. If you smoke in a C, D, or G train, the alarm will ring and it may result in an delay of train services of 5 minutes. Smoking is only allowed in the vestibules between carriages of some slow train like 'T', K' and 4-digit regular trains.
Buying Train Tickets in China
Usually, tickets for most D, Z and G-category express trains are sold up to 60 days before departure, but reservations for some trains only available 5-10 days before departure. You cannot buy tickets before reservations open. We strongly advise you to avoid traveling by train during the high season of Chinese big festivals like the Spring Festival (usually late January and early February), the National Day holiday (October 1 -7), etc. Because you may encounter all kinds of hassles, such as 100-meter-long queues, a sea of people at the train station.
There are mainly 4 ways to buying train tickets in China conveniently --
1. Buying at Train Station: purchase train tickets by going to a railway ticket office may be an ideal option as it is direct and avoid extra problems. Rail stations at big cities such as Beijing, Shanghai and Guangzhou have a special English-speaking ticket counter for foreigners. In case the staff does not speak English, you'd better prepare a note in Chinese for your destination and departure time. You will be requested to provide your passport for issuing the tickets. This was put in place to eliminate scalpers. In some cities, there are train ticket branch offices on main streets for the convenience of the passengers.
2. Booking Online: China Railway Bureau has offered online ticket booking on the official website -- http://www.12306.cn/. As long as you can visit this website and read Chinese, you can book the train ticket online, but you need to use Chinese online banking system to get it paid. When tickets are bought online, you are given a confirmation number which you need to bring along with your passport at the train station to pick up the paper ticket before departure.
3. Booking by Telephone: telephone booking services has provided by dial to the official number -- 95105105. People will get an e-train ticket code after booking successfully and are required to the departure station or local train ticket offices to exchange the e-train ticket code into paper ticket within a particular time which varies to different railway stations. For foreigners, this is not possible if you can not speak adequate Chinese. If you have other questions, you can call the railway service number --12306, which you make need to add area code before the number.
4. Booking through Travel Agency/hotel: if you book tickets through a travel agency, you will be paying an extra service charge to get the tickets. This seems an ideal way for most of the international travelers. Alternatively, if some hotels offer ticket booking service, when you book the hotel, you can request the service for yourself.
--If sudden changes of your travel itinerary or missing the train happen, you can seek a refund from a ticket office. An unused ticket can be partly refunded (80% or more) before the train's departure. Or you can change your ticket for another suitable train for one time. Fore more information, you can consult your travel agent or the staff at the Inquiry Office or the ticket refund window of the train station.
Boarding on a Chinese Train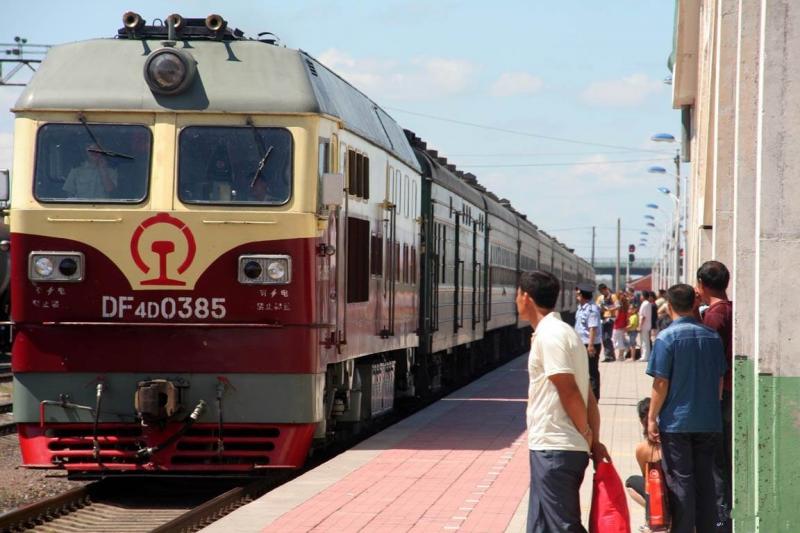 The steps of boarding on a Chinese train are listed below as travel tips for you
Step 1: Go to the Right Station
There are 2 or more train stations in some cities which are distant from each other. Please make sure to go to the right station. You are suggested to get to the train station at least 45 minutes before the departure as it is often relatively crowded, and sometimes passengers have to wait in a long queue to go through the security check. During peak season, 1 -1.5 hours ahead of time is better.
Step 2: Pass security control

After you arrive at the station, you first need to go through the security control at the entrance. The X-ray machine will detect your luggage in line and you can fetch them on the other side. Potential harmful objects like dangerous knives, flammable, toxic and explosive goods are forbidden on the train.
Step 3: Find the Right Waiting Room
On the electronic message board, you can see your train number and departure time and then find out the exact waiting room for the train. Or you can ask the staff for help. There will be ticket checking when you enter the waiting room and you still need to keep tickets for the later checks. If you take the soft sleeper class, there is a separate soft sleeper/VIP waiting lounge for all the passengers.
Step 4: Go to the Platform
Carefully listen to the check-in announcements or look at the message board. The service staff will direct passengers to the appropriate track to check in and go to the platform. Follow the crowd and have a second check before you get on the train whether it is the right one. Most trains have a placard on the center of the carriage showing the origin and final destination of the train.
Step 5: Board on the Train
Your carriage and seat numbers are clearly pointed out on the ticket. A train attendant waits at the door of each carriage and checks the tickets. After you board the train, find your seat or bunk, and put your luggage in place. Please keep an eye to your belongings and keep your valuables such as passport, visa, wallet, telephone securely close to you. If your take hard seat or some low level trains, you should be cautious at night because there are pick pockets in some parts.
If you stay at the soft or hard sleeper class carriages, you will be asked to change ticket to a plastic card for safety reason and registration. Then before you arrive at the destination, the ticket will be changed back. Moreover, in many cases, at your destination city, your ticket will be checked again. So do not throw away your ticket. You may be forced to pay for the ticket again if you don't have your ticket in hand.
All in all, if you plan to travel China by train, you need to collect as much information as possible, and well plan your routes. A reliable travel agent can save you a lot of time. If there is any question about your train travel in China, you are warmly welcome to consult our travel specialists of Easy Tour China. We'll try our best to find out ideal travel solutions for you efficiently.

Top 3 China Train Tours

1. 14 Days China Speed Train Tour with Yangtze Cruise
Destinations: Shanghai - Yangtze Cruise - Chongqing- Chengdu- Xi'an - Beijing
2. 9 Days Beijing Xian Shanghai Tour by Speed Train
Destinations: Beijing - Xian - Shanghai
3. 12 Days China Tibet Train Tour
Destinations: Beijing – Xian – Xining – Tibet – Chengdu