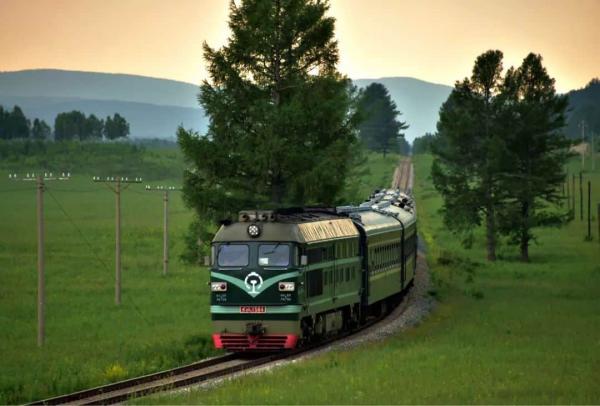 When China's high speed train lines reached 37,900 kilometers (about 23,500 miles) by the end of 2020 and with maximum speed of 350kph (217mph) on many lines, the green train is getting more and more attention instead of fading out from public views. Nostalgic people try to take photos for them or with them in order to keep the memory. At the same time, the idea of enjoying the life in a slow pace makes the green train traveling a fashion in China.
History of China's green train
Green Train Era - Before 1990s, olive green is the standard color of China's passenger train, the most original "green train". Typical train types are Type 22, Type 23 and Type 25B. Though, they are known for their distinctively slow pace and lack of air conditioning, as well as their belching black smoke, they're the main vehicle for long distance transportation. Getting on a train is always a challenge. In most of the time, you need to climb in from the window over the crowds.
The old types of green train in China were mostly pulled by diesel locomotives and some were still by steam locomotives. Max speed of the train was between 80 to 120kph, but the average speed is around 40kph only.

Green Train in Colorful Train Era - Starting from 1997, China spend 10 years to increase average speed of passenger trains from 43kph (highest 120kph) to 70kph (highest 250kph). During this period, train cars are largely replaced or updated. Most green-skinned trains were replaced by new type of cars, which are colored in red, blue and orange. They were classified to non-stop express train (Z train), express train (T train), fast train (K train) and ordinary train (4 digits train). Those remained unchanged green color trains were ordinary trains with train number made up of four digits. They have been updated with better facilities, but with the slowest type of train, they are the cheapest train and stop at almost every city along the rail route.

New Green Train Era - The year of 2007 saw China's entering high speed train era. High speed train, no matter D trains, G trains or C trains, are colored in white mainly. All other types of passenger trains, including Z trains, T trains and K trains, have been changed their colorful cars from red, blue to green, thus becoming China's new green train. New green-skinned train cars are mainly painted with olive green color with grey top and yellow sash. The number of yellow blocks on both ends of the sash shows the speed of the train. T train has 5 yellow blocks, K train has 3 or 2 blocks, and Z train is a fully yellow line.

Facilities of China's Green Train

The green train is basic and simple compared to high speed train. Electric fans on top of the car, bench with synthetic leather over, squat toilet are still the standard facilities. The windows can be open by lifting the heavy part, sometime need two persons to cooperate. Unlike new train with doors at same height as the platform floor, old green train's car floor is much higher than the platform. For people with walking difficulties or with heavy luggage, it is a challenge to get on the train. Hot water is supplied at the one end of the train car, and conductors sell bottled water, drinks, and snacks by wheeling the trolley down the corridor.

Where in China to take the green train?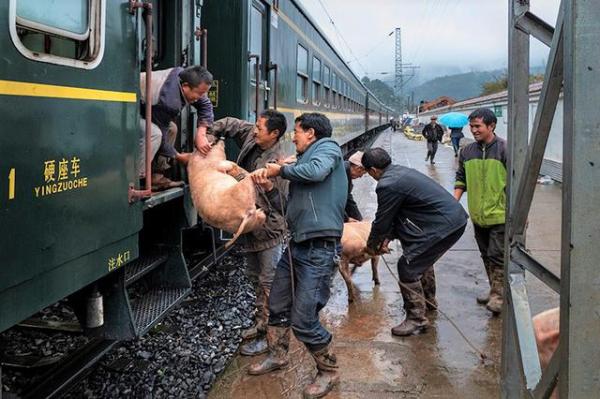 Are there still old style green trains operating in China? Yes, some 4 digits trains are still operating. If exclude those air-conditioning green trains, there are 82 green trains till the year of 2020, and most are running in northeast and southwest China. As the ticket price is very cheap, green trains still play an important role in some underdeveloped areas. Some train cars might become a small market when villagers take their local products onto the train.
If you want to experience the old style green train traveling, cities like Xian, Datong, Harbin, Chongqing, Dunhuang, Zhangjiajie and Lanzhou might be your options.
Green Train Travelling in China
Traveling China by Green Train is more than recalling the past era. The old and new green trains running on the rail net are providing vary traveling experiences. Here are 5 most scenic green train routes in China:
Explore Silk Road by Green Train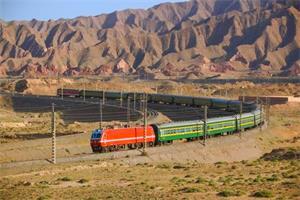 Main stops: Xian – Lanzhou – Zhangye – Jiayuguan – Turpan – Kuche - Kashigar
Train number: T269
Distance: 3796Km
Duration: 38.5hrs
Highlights: Terra-cotta Warriors, Rainbow Mountains, Gobi Desert, Jiaohe Ruins, Kuche Grand Canyon, Desert Oasis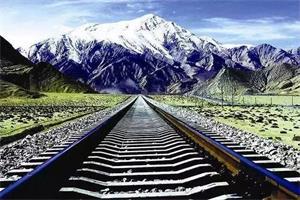 Main stops: Xining – Gormu - Lhasa
Train number: Z6801
Distance: 1956Km
Duration: 21.5hrs
Highlights: Qinghai Lake, Hoh Xil National Nature Reserve, Tanggula Mountain Pass, Namutso Lake, Budala Monastery
Main stops: Dali – Lijiang
Train number: K9621 / K9627
Distance: 159Km
Duration: 2.5hrs
Highlights: Erhai Lake, Jade Dragon Snow Mountain
Cross Northeast China by Green Train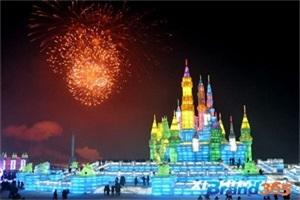 Main stops: Dalian – Shengyang – Changchun – Harbin
Train number: 2623
Distance: 946Km
Duration: 13hrs
Highlights: Jinshitan Beach, Shengyang Imperial Palace, Harbin Ice & Snow Festival
Explore Inner Mongolia by Green Train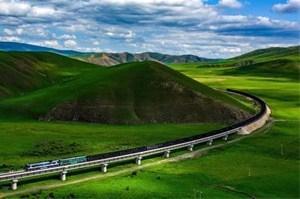 Main stops: Beijing – Zhangjiakou – Datong – Huhot – Yinchuan – Zhangye – Jiayuguan - Dunhuang
Train number:K41
Distance: 2482Km
Duration: 35.5hrs
Highlights: Great Wall, Zhangbei Steppe, Shapotou Desert, Zhangye Danxia Mountain, Mogao Grottos
Green Giant CR200J - new member of green train family
Green Giant Train, the nickname of Fuxing CR200J type, started to join in the green train club in 2019. It is an updated type from Type 25T with better facilities like larger space for leg, foldable desk, electricity plugs. The green giant train's highest speed is at 160kph and can run on all electrified railways under operating in China, thus maximize the use of existing resources. The train number starts with D and offers 1st class and 2nd class sleeper berth for overnight train. Compare to other green trains, the sleeper berth on Green Giant is more spacious. Currently, railway lines like Beijing-Hangzhou, Chengdu-Bazhong, Xian-Yulin have operated Green Giant train. More will be seen in China's railway net.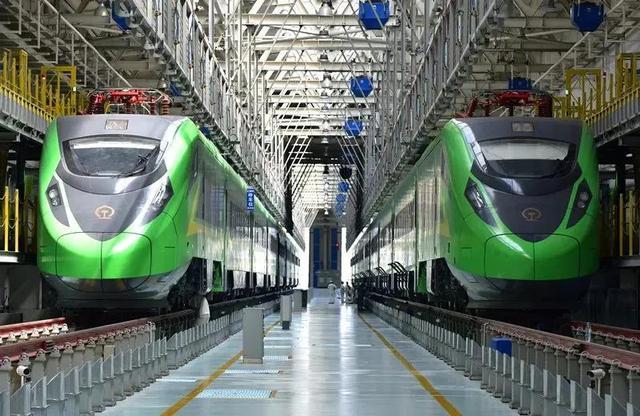 Further reading: