There are more than 1,300 wild giant pandas living in Sichuan, a beautiful land of plenty, which is known as the paradise of giant pandas. With the Kung Fu Panda film showed in 2008, pandas have become popular celebrities all over the world. Very different from simply watching pandas in the zoo, giant panda volunteer program at a panda sanctuary in Chengdu, Sichuan Province, where the giant pandas are half in captivity, and are free to wallow and play happily, allows a closer contact with panda, and ensures a unique panda keeper experience in China.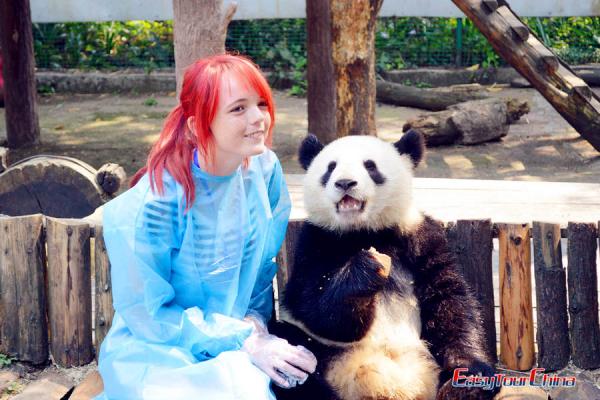 (A teenage panda keeper takes photo with a cute panda)
■ How to become a panda keeper?
Want to take a panda tour and work as a panda volunteer? Three conditions should be met: first you should be a giant panda lover; secondly you should support wildlife research and conservation; thirdly you are in good health. Easy Tour China is very glad to apply for the permits for our clients to work as a panda volunteer in Chengdu! All Chengdu Research Base of Giant Panda Breeding, Wolong panda Base, Bifengxia Giant Panda Base and Dujiangyan Panda Base in Sichuan province which are dedicated to preserving pandas and preventing the panda from going extinct are conducting giant panda volunteer programs..
■ What it's like to be a panda keeper?
If you choose to be a panda volunteer, you will be rewarded with experiences that last a lifetime. How could you forget about working as a giant panda keeper to get close contact with these rare animals, especially with a panda volunteering certificate! The panda volunteer program is flexible in length, can be as short as one day, or lasting for one month and even longer, and fares vary accordingly. Contact us for the detail info.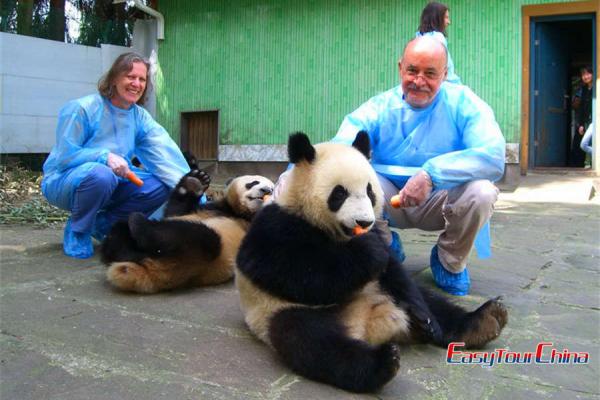 (Senior couple are feeding giant pandas)
Generally speaking, daily volunteer activities may include but not be limited to:
• Cleaning the panda's house/garden
• Cleaning general areas of the Panda Centers
• Prepare foods for panda
• Cleaning and weighting bamboo, Cleaning leaves
• Carrying bamboo foods and fruits
• Watching the pandas' activity and help the scientists to collect their behavior data
• Participating in research of the pandas and help in providing medical care for the pandas
Activities may be changed according to the seasons and the needs of center base. Then volunteers may also have rare opportunity to observe and participate pandas' physical examination, mating, farrowing and some other scientific activities.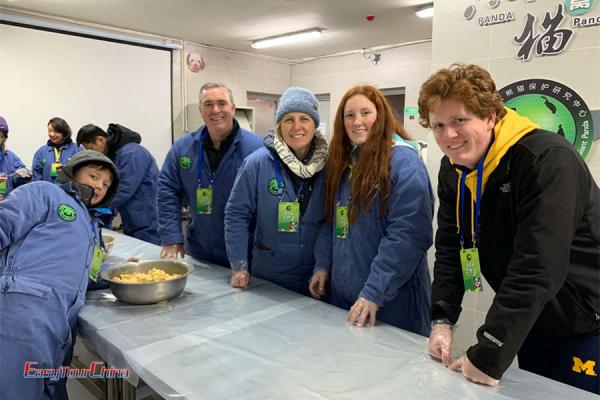 (Panda volunteers are making panda cakes)
Professional panda volunteer job
Professional panda volunteer program requires professional zoological or scientific knowledge background and relevant professional proof. The volunteering work is mainly about scientific research, such as the giant panda behavior observation, research and data analysis, field search, veterinary professional class biochemical analysis, panda wild training research and analysis work. Volunteers may also need to assist publishing articles at the panda web site, to help more people know panda and how to protect pandas!
■
Must-knows about giant panda grogram in China
What's the best time to join a panda volunteer program?

The program is available all year round, but it is suggested to avoid peak seasons, especially golden weeks like the Spring Festival and National Day Holiday. April, May, September - November are best time to take a China travel and join the panda volunteer program.
Who can join a volunteer program?
People from overseas or domestic aged between 12 and 65 can apply for a panda nanny at a panda base in/around Chengdu. If you are taking the program with teens, make sure your children will not touch panda directly, as this cute animal is actually carnivores and can cause danger.
What's the price for a child to join the panda volunteer program?
There are no discount for children, which means for teens of 12 years old or above, the cost is the same as that for adults.
What to wear?
Volunteers will need to work for real, for convenience, don't wear short pants or slipper footwear. Athletic shoes are a must. A panda keeper uniform will be prepared for you, and you are suggested to wear shirt underneath. Besides, please do not wear perfume or nail polish, which may catch panda's special attention.
Will the panda volunteer be trained at the base?
Yes. The programs conducted at the panda base in Sichuan like Wolong or Dujiangyan will have the volunteers trained by professional trainers or keepers, so that the participants can actually truly work at the base and help the pandas. This also ensure the safety of both the honorary panda keeper and the pandas.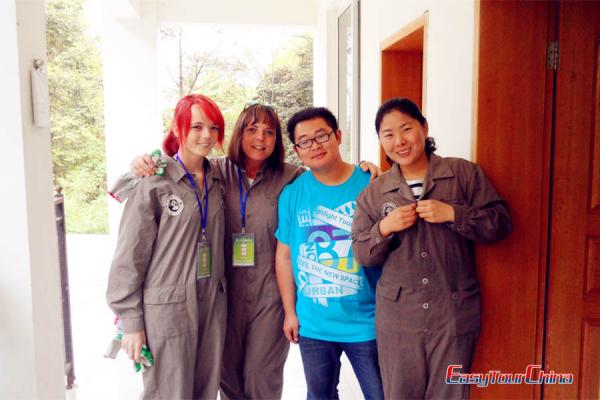 (Dressed in volunteer uniform and working with skilled panda keepers)
How many days needed for panda keeper program in Chengdu?
For most ordinary travelers, we recommend panda keeper for a day at Dujiangyan or Wolong, so that you can have a close encounter with pandas, take care of them, have fun with pandas, learn knowledge about panda, and help them to improve their living conditions.
Sometimes the panda bases may launch panda volunteer summer camp program for school students.
• Volunteers need to be mature, patient and cooperative.
• For safety reasons volunteers will be shadowed by a teacher at all times. Do as he/she tells you.
• Giant pandas are essentially wildlife and can be very dangerous. Be more alert when touching them and interacting with them.
• Always remember to follow the safety protocol.
• There will be an extra charge for taking photos of the panda or holding a panda.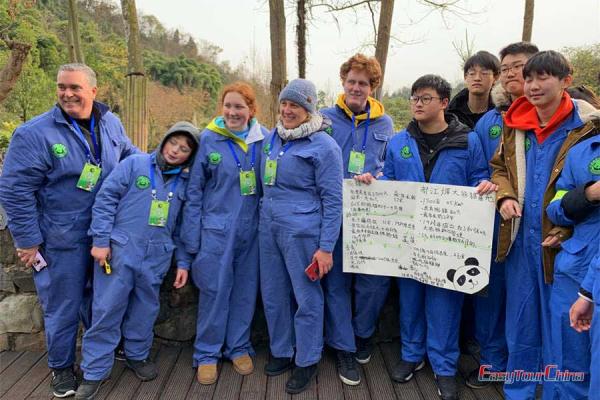 (Welcome to become a panda volunteer in China)

Best for: Couples, Family with teenagers, Seniors
Departure: Daily
Price: From US$200 per person (lunch included)
Duration: Around 8 hours
Travel Type: Private tour - Flexible & Free to customize
Itinerary:
7:00am: Pick up service from your hotel in Chengdu, and transfer with a private vehicle to Dujiangyan.
8:30am–16:00pm: Learn scientific knowledge about giant pandas, help to take care of panda, tidy up panda enclosures, make yummy food for panda.
Around 11:30am–2:00pm, you will have around 2.5 hours for lunch and rest.
After finishing the panda keeper program, you will be given a panda keeper certificate. Then transfer with a private vehicle back to your hotel in Chengdu.
Recommended China Tours including panda volunteer work: