Situated on the Axe Hill 10 kilometers north of Chengdu, this 600-acre research station and breeding ground has been in operation since in 1987, opened to the public in early in 1995. Except giant pandas, the base cares also for other rare and endangered species like lesser pandas and black-necked crane currently reside at the base in quarters. There is also a semi-wild breeding area where China's animal ambassadors will be eventually allowed to freely roam. A museum has detailed exhibits on panda evolution, habits, habitats and conservation efforts.
Chengdu Giant Panda Breeding Research Base is the most ideal ecological tourism place for visitors all around world to get to know the appearance of giant pandas and to get around the wild nature. It was awarded "Global 500" twice by the UN in the year of 1989 and 1999. It is a must-visit place in Chengdu, especially for those planning a panda tour to Sichuan China.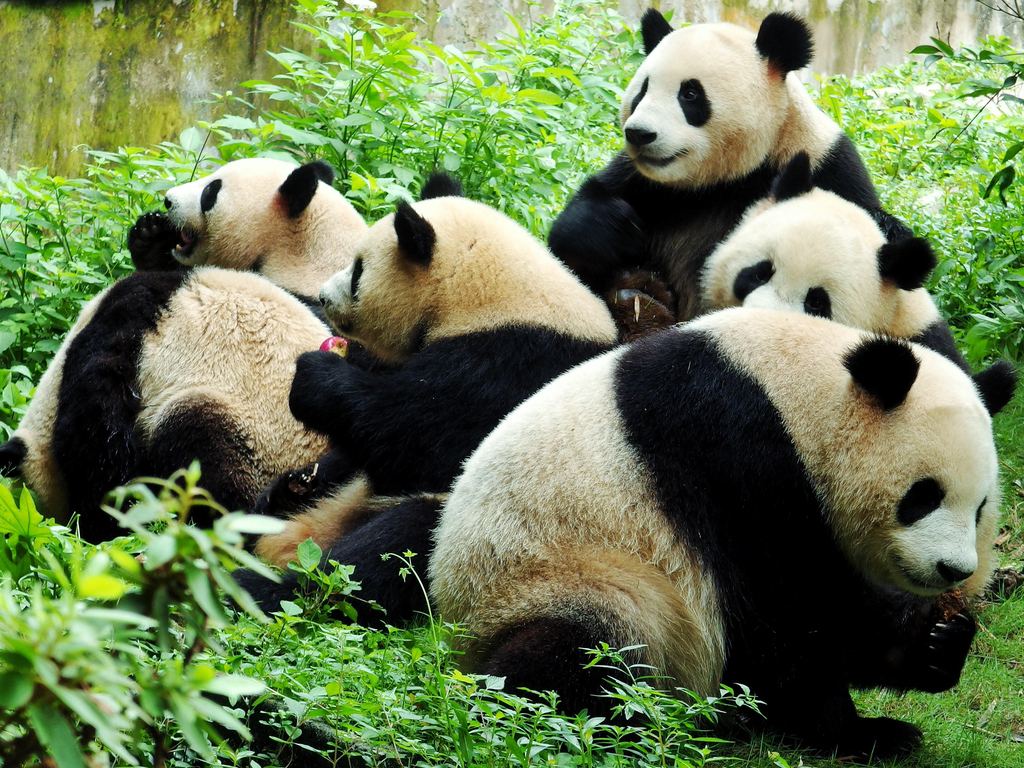 Facts
-Chinese name: 成都大熊猫繁育研究基地
-Location: No.1375 Panda Avenue, Northern Suburb, Chenghua District, Chengdu City
-Open Hours: 07:30 – 18:00
-Time needed: 2 to 3 hours
-Entrance fee: CNY58
Best Time to Visit Giant Panda Base
The Panda Based opens at 7:30am, and it is better to visit once the park opens. The giant panda will be lively in the morning, especially during their feeding time between 08:30 and 10:00. After that, pandas are likely to indulge in sleeping.
Giant panda likes cool weather, and they would like to play outside at cool time. In summer time, pandas are likely to stay indoors to avoid the summer heat if the weather is too hot. If you travel in Chengdu during hot summer time (especially in July and August), you may not see pandas in outdoors, and then you are suggested to go to the giant panda enclosures and delivery house to see giant pandas indoors.
What to see at Giant Panda Breeding Research Base
Giant Panda Breeding Research Base completely simulates the wild life environment of the giant panda. There are lakes, streams, bamboo forests, lawns, etc, and more than 100 giant pandas are living in the base. In addition to giant pandas, you can also see black necked cranes, peacocks, red pandas and other small animals. In the moon delivery room, you can see newborn panda or panda babies in August and September. There is a Giant Panda Post Office where you can send out postcards with panda marks, and also a Giant Panda Museum where you can learn a lot about this at-risk animal.
>> You may also be interestd in How to Become a Panda Volunteer in China
Tourist Map of Chengdu Giant Panda Breeding Research Base
Click map to see enlarged map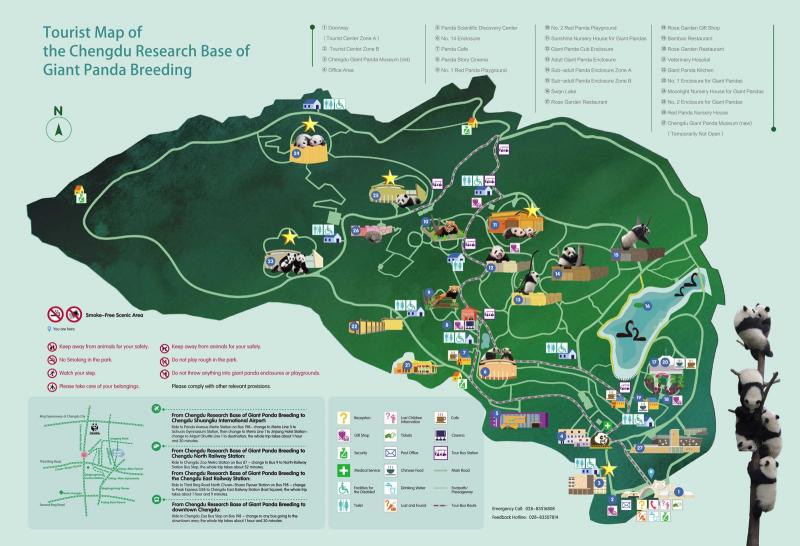 Major Attractions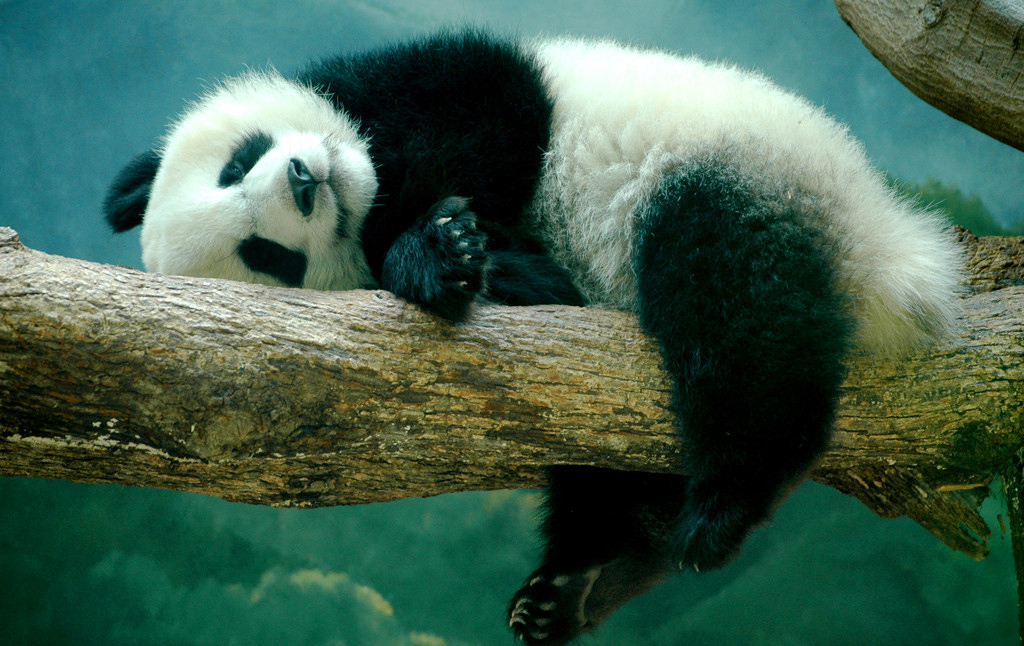 Sunshine Nursery House and Moonlight Nursery House
Both Nersury Houses for Giant Pandas are located in the core area of Giant Panda Base. It is the place where giant pandas give birth to little pandas and where baby pandas live. It known as the giant panda's kindergarten and also it's one of the most popular places in the whole base.
Giant Panda Museum
The Giant Panda Museum was built in 1992 to welcome the International Panda Festival which was held in 1993. The three main halls are Giant Panda Hall, the Butterfly Hall and the Vertebrate Hall, they are relatively independent and interrelated. With a total area of nearly 4000 square meters, forming a comprehensive museum that displaying human's understanding, research, protection and rescue on giant panda. The museum also exhibits books and scientific literature about giant panda that written by writers from all over the world.
Swan Lake
Swan Lake in Chengdu Panda Base is an ecological wetland integrating lake, grassland, woodland and shoal. Different kinds of bamboos have been planted around the lake to form a unique bamboo landscape. In addition, more than 810,000 square meters of ground have been planted with grass, forming a large lawn that both have ornamental value and also provide a leisure entertainment place for tourists.
How to Get to Panda Base
1. You can take a taxi directly for about 30-40minutes, and it cost about CNY50 or so.
2. You can take Metro Line 3 and get off at Panda Avenue Station and then take bus d025 to the base.
3. Take bus 1, 49, 53, 63, 64, 69, 71 and 83 to Qing Long Chang bus center, and then transfer to bus 198 or 87 to panda base.
Travel Tips
1. The panda base has become a must go place when people travel in Chengdu, so it always crowded. A private guide tour is the best way to get around the base and get the best experience.
2. Please do not use flash when taking photos, especially for baby pandas. Panda's eyes are very sensitive to light, the flashlight may hurt them.
3. Do not feed the giant panda with your own food and do not pick the bamboo at the base to feed them, because panda keepers provide a ration of food for them every day.
More Attractions in Chengdu
Recommended China Tours Including Giant Panda Breeding Research Base Chengdu