Approximately 55kilometers (34miles) away from Chengdu, the capital city of Sichuan province, Dujiangyan is home to Dujiangyan Irrigation Project - the world's oldest diversion project without a dam which is still in use today, and also a conservation and research center for the giant pandas. Dujiangyan Panda Base was constructed with the help of Hong Kong SAR Government and has been an important part of Wolong's reconstruction symbol projects.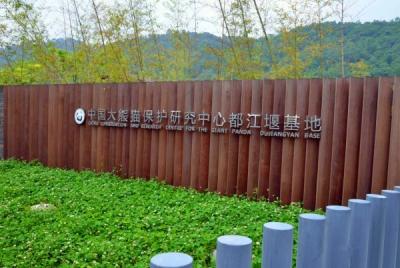 Located in Shiqiao (Stone Bridge) Village of Qingchengshan Town, Dujiangyan Panda Base covers an area of about 13 square kilometers, and enjoys a favorable climate and natural environment with vast bamboo forest coverage and lovely scenic surroundings. So it is considered a best place for the pandas rehabilitation, where they have plenty of food, comfortable villas, panda hospital, and can ramble about.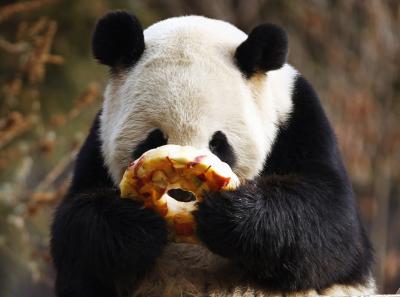 This perfect ecological zoo was designed into the West Sichuan style at the standard of three-star green construction by the China South-West Architecture Design Institute, and is composed of 6 areas: the panda rescue and quarantine area, the panda disease control, prevention and research area, the panda rehabilitation, training and feeding area, the public reception and education area, the natural vegetation area, and the office and logistics services area.
Different from the Chengdu and Ya'an Bifengxia panda bases, which are two main captive panda breeding bases, focusing on panda breeding research and rewilding training, Dujiangyan panda base gives its major support to the panda pension, the rescue of the wild giant pandas and the research of disease control. So far, it is the world's only giant panda disease control center, and has been the "nursing home" to 10 plus giant pandas. "And the number can be increased to 40. Pandas older than 25 and those rescued from the wild will reside here".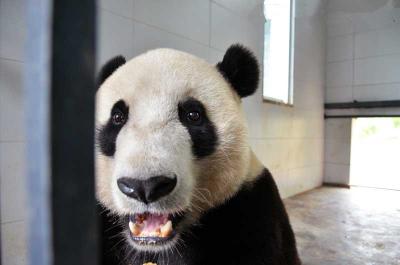 Dujiangyan base is another landmark of the giant panda research in Sichuan, China, and now has been opened to the public. So if you desire an intimate contact with the pandas and want to know more about this adorable creature, as well as the wild nature all around, come and join our China panda tours. Furthermore, you can join the panda volunteer program, with which you can feed the pandas, play with them and work with the scientists.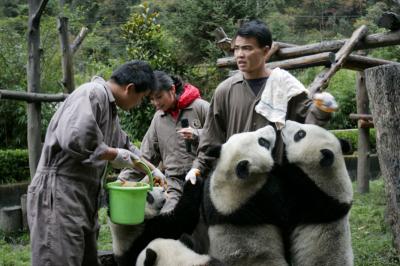 Panda volunteer program in Dujiangyan Base:
Duration: 08:30AM – 17:00PM
Program
Content
Duration
Who May Attend
Zoo Worker
1. Clean the panda's house/garden, and general areas of the Panda Centers.
2. Clean the bamboos.
3. Observe the pandas' living conditions.
2 hours
Aged from 12 to 65
Exploring the Panda World
Explore in the giant panda research and education center to get to know more knowledge about pandas.
30 minutes
Older than 6
Panda Feeder
1. Feed the pandas.
2. Watch the pandas' activity and help the scientists to collect their behavior data.
30 minutes
Aged from 12 to 65
Giant Panda's Movie
Watch the movie telling the stories between human and giant panda.
45 minutes
Older than 6
Panda Nutritionist
Preparethe food for pandas, by making wowotou (a kind of steamed corn bread).
45 minutes
Aged from 12 to 65
Panda Class
Giantpanda experts share the science knowledge with the volunteer.
45 minutes
Older than 12
Zoo Gardener
Plant bamboos, trees for the zoo.
30 minutes
Aged from 12 to 65
Panda Bet Game
After a day's work, play the bet game to answer all the questions about giant pandas
30 minutes
Older than 6
Recommended Dujianyan Panda Tours:
1-day Panda Volunteer tour to Dujiangyan Panda Base
More Attractions in Chengdu
Recommended China Tours Including China Panda Conservation and Research Center – Dujiangyan Base Chengdu