Approximately 55kilometers (34miles) away from Chengdu, Dujiangyan city is home to Dujiangyan Irrigation Project - the world's oldest diversion project without a dam which is still in use today, and also a conservation and research center for the giant pandas. Because of the earthquake in year 2008, the Wolong panda base was heavily damaged. With the help of Hong Kong SAR Government, State Forestry Administration decided to build a brand new base for giant pandas rescue and disease prevention and control. That was the Dujiangyan Panda Base, which was completed at the end of 2013. And now it's an important part of Wolong's reconstruction symbol projects, and a popular panda center for panda visit and panda keeper trips.
Located in Shiqiao (Stone Bridge) Village of Qingchengshan Town, Dujiangyan Panda Base covers an area of about 13 square kilometers, and enjoys a favorable climate and natural environment with vast bamboo forest coverage and lovely scenic surroundings. So it is considered a best place for the pandas' rehabilitation, where they have plenty of food, comfortable villas, panda hospital, and can ramble about.
This perfect ecological zoo was designed into the West Sichuan style at the standard of three-star green construction and is composed of 6 areas: the panda rescue and quarantine area, the panda disease control and prevention research area, the panda rehabilitation training area, the public reception and education area, the natural vegetation area, and the office area. Among them, three areas including the rehabilitation training area, the public reception and education area, the natural vegetation area are open to public.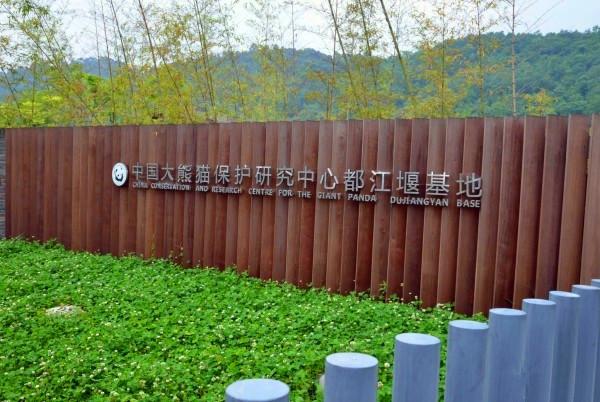 Different from the Dujiangyan Panda Valley and Ya'an Bifengxia Panda Bases, which are two main panda bases focusing on panda breeding research and rewilding training, Dujiangyan panda base gives its major support to the panda pension, the rescue of the wild giant pandas and the research of disease control. So far, Dujiangyan Base is the world's only giant panda disease control center, and has been the "nursing home" to 10 plus giant pandas. "And the number can be increased to 40. Pandas older than 25 and those rescued from the wild will reside here". It's easy to distinguish the pandas from the wild. Those who climb trees easily must be them. People here say that the Dujiangyan Panda base is a panda ark, and the another panda center in Dujiangyan – Panda Valley is the training center on their way back wildness with less pandas.
Dujiangyan Panda Base Facts
Chinese Name: 都江堰熊猫基地 (熊猫乐园)
Location: Huanzhong road, Shiqiao village, Qingchengshan county, Dujiangyan, Chengdu, Sichuan.都江堰市青城山镇石桥村怀中路.
How many pandas: about 20.
How far from Chengdu: 55km.
Ticket price: RMB58.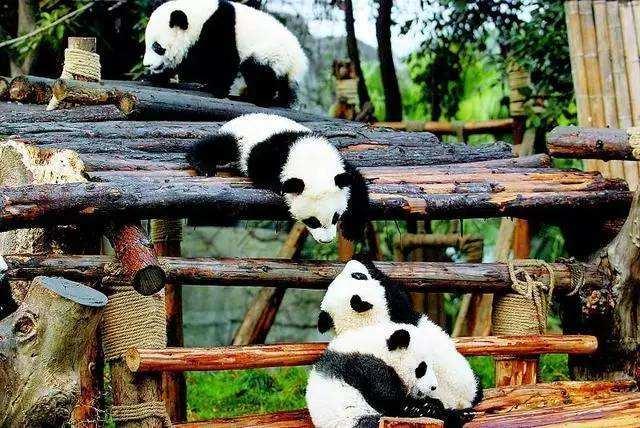 What tourists can do in Dujiangyan Panda Base?
1. Visit giant pandas and other animals in the Panda base.
The existing Dujiangyan base is shaded by green trees, verdant bamboos. Many kinds of birds and flowers can be found here. The entire base is designed with reference to the national green three-star standard. The architecture and the natural environment are cleverly integrated, creating a good living environment for the giant panda.
The viewing area of the Dujiangyan Panda Base consists of four parks: Panpan Park, Shuangnan Park, Linze Park and Diequan Park. Around 20 giant pandas can be visited here. Of them, the panda "Panpan" is a famous panda star at home and abroad. He once visited the United States for half a year on behalf of the China Wildlife Conservation Association. According to news at that time, local citizens had to queue for a long time and could only see her for 3 minutes. Another Panda "Taishan" is the only panda which was born and surviving at Washington National Zoo.
Besides giant pandas, other animals can be seen here, such as red pandas, black bears, several kinds of pheasants.
2. Holding pandas for precious photos
Believe that touching and holding adorable giant pandas is on most tourists' dream list. For safety reason, most panda bases don't go with the activity "Panda holding for photos" any more. In the Dujiangyan Panda Base, tourists have a possibility to hold or hug a panda for a minute while taking some photos. Sometimes holding a panda for photo is banned, especially when there's an epidemic happening. Besides, the high cost for holding panda makes the wish really a "dream".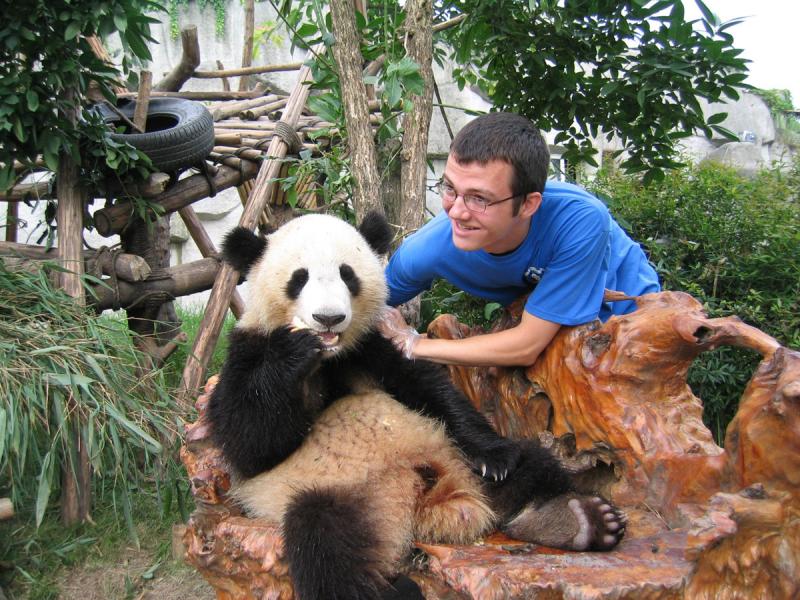 3. Being panda volunteer in the Panda Base
It's impossible to keep pandas privately. For panda lovers, who want to experience panda keepers, the best way must be being a panda volunteer. Dujiangyan Panda Base offers a very nice and valuable volunteer experience for panda lovers, family with kids (older than 10 years) and couples. Join a full day panda volunteer program, being an honorary panda keeper (08:30 am to 16:00 pm) to learn scientific knowledge about giant pandas, help to protect panda habitats, tidy up the houses they live in and make yummy food (e.g. bamboo cake, steamed corn bread) to view the feeding process. After the full day's panda volunteer experience, you'll get the panda volunteer certificate and souvenirs. One thing is for sure – it will be a fun and memorable experience.
Program
Content
Duration
Who May Attend
Zoo Worker
1. Clean the panda's house/garden, and general areas of the Panda Centers.
2. Clean the bamboos.
3. Observe the pandas' living conditions.
2 hours
Aged from 12 to 65
Exploring the Panda World
Explore in the giant panda research and education center to get to know more knowledge about pandas.
30 minutes
Older than 6
Panda Feeding
1. View how the keeper feed the pandas.
2. Watch the pandas' activity and help the scientists to collect their behavior data.
30 minutes
Aged from 12 to 65
Giant Panda's Movie
Watch the movie telling the stories between human and giant panda.
45 minutes
Older than 6
Panda Nutritionist
Preparethe food for pandas, by making wowotou (a kind of steamed corn bread).
45 minutes
Aged from 12 to 65
Panda Class
Giantpanda experts share the science knowledge with the volunteer.
45 minutes
Older than 12
Zoo Gardener
Plant bamboos, trees for the zoo.
30 minutes
Aged from 12 to 65
Panda Bet Game
After a day's work, play the bet game to answer all the questions about giant pandas
30 minutes
Older than 6


How to get to the Dujiangyan Panda Base from Chengdu?
By Metro Line & bus: take line No.4 and get off at Fengxihe station (凤溪河站) and out from exit D. Take bus No. W23 to Fuxingshequ stop(复兴社区站) and then transfer to Shiwugongzhuang stop(十五公桩站) for bus No. 758 to Daguanmeishijie stop(大观美食街站). After a walking of 1.5km, you will reach the Dujiangyan Panda Base.
By public bus: take direct bus to Dujiangyan bus station from any of Chengdu Chadianzi Bus Station, Xinduke Bus Station, Pidu Bus Station, Xinnanmen East Bus Station, and then take public bus No. 102 in Dujiangyan, get off at to Panda Park stop (熊猫乐园站). By a walk around 170m, you will reach the Dujiangyan Panda Base.
Travel Tips
1. For pandas, 41% of their time every day is sleeping and resting. In order to see the lively cute pandas, it is recommended not to visit pandas between 12:00-14:00. Their meal time such as 9:00-11:00 and 14:30-16:00 are proper to visit them. Morning time is especially good.
2. Dujiangyan Panda Base can accept up to 60 volunteers (aged between 10 and 70) in one day for Panda Keeper Program and you need to inquire and make the booking in advance.
3. The volunteer program may be adjusted a bit according to the base's daily schedule.
4. Dress requirements: Comfortable shoes (sports shoes), better no short pants, sandals, skirts.
5. Avoid using perfume or snail oil or any cream product with strong smell.
6. The base canteen serves guests typical Chinese food (chicken, pork, seasonal vegetables, plain rice etc.) This is a simple buffet.
7. You will view how panda keepers feed the panda instead of feeding the panda personally.
8. The volunteer program may change without any notice from the panda base or influenced by the government control, nature force majeure. We cannot guarantee you all the work listed above could be carried on efficiently. But we will try our best to make your dream to come into true.
9. Giant pandas look very adorable and innocent, but they are still fierce animal. Pay attention to safety during the work and don't do anything not allowed.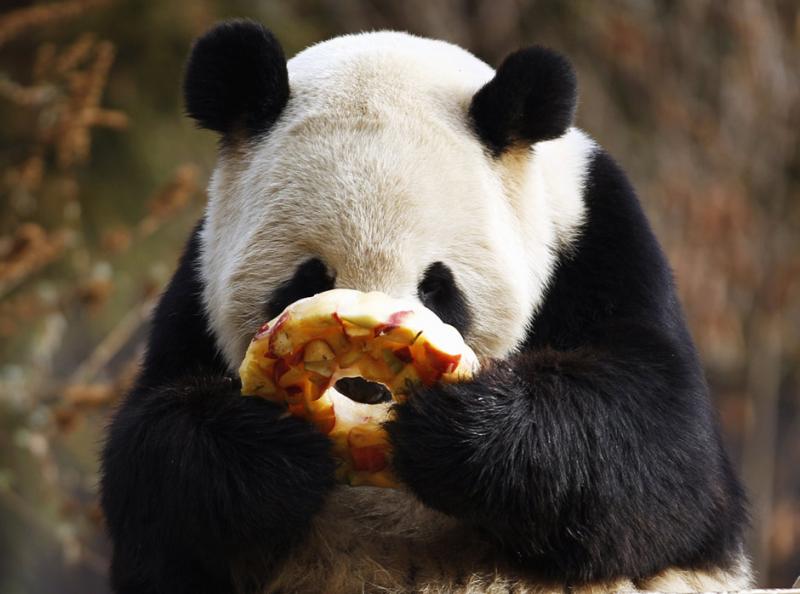 Recommended Dujianyan Panda Tours:
1-day Panda Volunteer tour to Dujiangyan Panda Base
More Attractions in Chengdu
Recommended China Tours Including Dujiangyan Panda Base - China Panda Conservation and Research Center Chengdu