The Vanishing Mountain Tribes in Guizhou
Guizhou, a rarely visited, landlocked province is an anthropological treasure trove. In this pristine land of Guizhou, reside many of China's ethnic minorities. From the Dong to the Miao to the Shui, each minority, with its own distinct lifestyle, culture and mythology embodies a unique and refreshing vision of the world.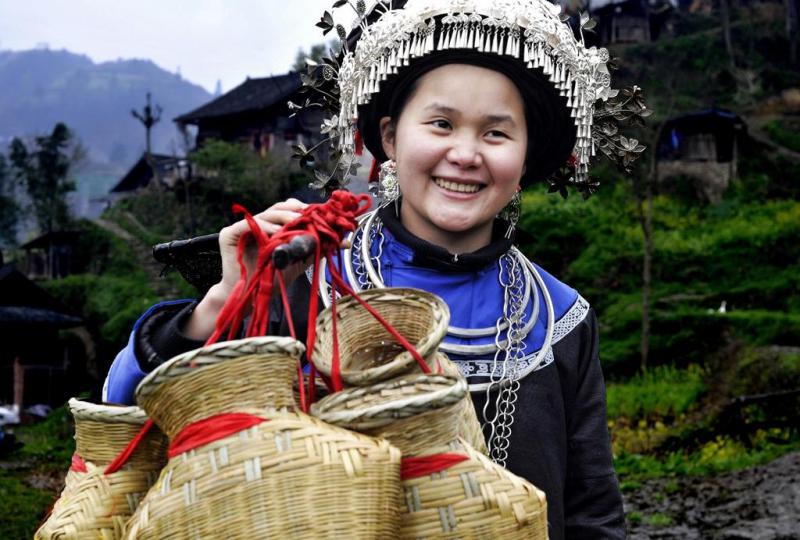 Except the diversified minorities culture, Guizhou also boasts its appealing picturesque landscape and cultural spots, such as the Huangguoshu Waterfalls, the Dragon Cave, Tunpu Culture of Ming Dynasty, Wind and Rain Bridge, Miao, Buyi and Dong people's villages, Grand Opera and so on.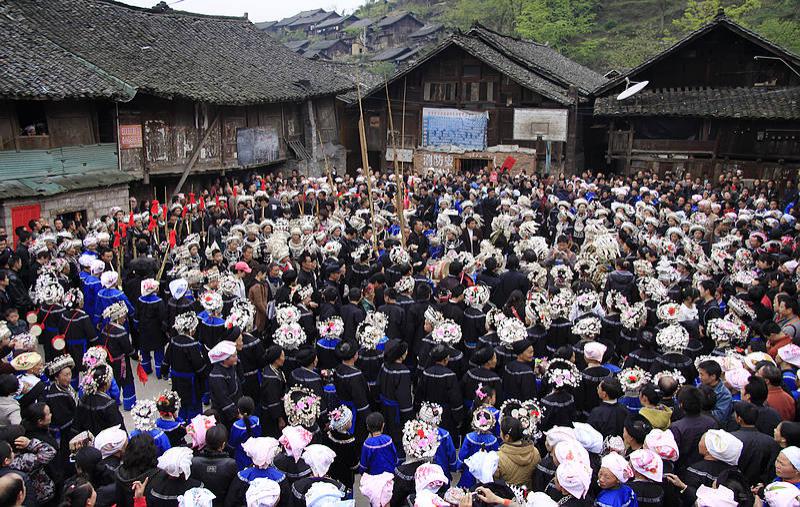 Visit the Guizhou areas in festival time and experience the unique Sister Meal's Festival in March 15-16th, or Lusheng Festival of Miao people and New Year of Miao in October, which are the most important and celebrated festival in Guizhou. Note that celebrations are held on Chinese Lunar Calendar.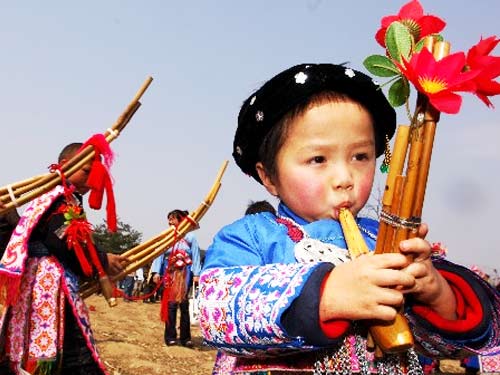 Why not leave yourself a chance to witness the slash and burn agricultural civilization vanishing in this ever-changing country? Why not go with Easy Tour China to see and record the fading history and culture in the transition period?
Major Festivals of Minority Ethnic Groups in Guizhou


Chinese Name

Festival

Minority

Date (Lunar Calendar)

Location

Activities

根今

Genjin Festival

Bouyei

Jan.4-15th

Zhenning County, Huangguoshu Town

Blow So-na, Ganbiao (Have Love Affairs)

跳场

Tiaochang Festival

Miao

Jan 9

Tongmuling Village, Huaxi District, Guiyang City

Lusheng Dance

芦笙会

Lusheng Festival

Miao

Jan 11-15th

Villages of Zhouxi Town, Kali City

Lusheng Dance, Bullfight, Horse Race

地戏节

Dixi Festival

Bouyei

Jan 15th

Villages of Huaxi District, Guiyang City

Sing Local Opera

芦笙会

Lusheng Festival

Miao

Jan 16-18th

Lushengtang, Zhouxi Town, Kali City

Lusheng Dance, Horse Race

翻鼓节

Fangu Festival

Miao

Feb

Qinglang Village, Qingman Town, Kali City

Beat Wooden Drum, Blow Lusheng

三月三

Sanyuesan

Dong

Mar 3rd

Baojing Town, Zhenyuan County

Antiphonal Singing, Lusheng Dance

姊妹饭节

Sister Meal's Festival

Miao

Mar 15-16th

Taijiang County

East Sister's Meal, Drum Dance, Blow Lusheng

芦笙节

Lusheng Festival

Miao

Mar 19-21

Panghai Town, Kali City

Lusheng Dance, Bullfight, Horse Race

四月八

Siyueba

Miao

Apr 8

Huangping County, Songtao County

Blow Lusheng, Antiphonal Singing, Dance

龙舟节

Dragon Boat Festival

Miao, Dong

May 5

Zhenyuan County

Dragon Boat Race

六月六

Liuyueliu

Bouyei

Jun 6

Huaxi District, Guiyang City

Singing Match

踩歌堂

Caigetang Festival

Miao

Jun 6

Jinbao Town, Zhenyuan County

Antiphonal Singing

跑马节

Paoma Festival

Miao

June

Guading Town, Kali City

Horse Race, Antiphonal Singing

吃新节

Chixin Festival

Miao

June

Villages of Panghai Town, Kali City

Eat New Rice, Celebrate Harvest

爬坡节

Pabo Festival

Miao

Jun 19

Xianlu Mountain of Kali City

Lusheng Dance, Antiphonal Singing

查白歌节

Chabaige Festival

Bouyei

Jun 21

Chabai Town of Xingyi City

Antiphonal Singing, Play Yu-kin, Dance

七月半

Qiyueban Festival

Miao

Jul 13

Outskirts of Kali City

Lusheng Dance, Horse Race, Bullfight

七月半(吃新

Chixin Festival

Miao

July

Zhouxi Town and Qingman Town of Kali City

Eat New Rice, Assemble

芦笙节

Lusheng Festival

Miao

Jul 21

Panghai Town of Kali City

Blow Lusheng, Horse Race, Antiphonal Singing

重阳节

Double Ninth Festival

Miao

Sep 9

Qingman Town of Kali City

Blow Lusheng, Bullfight, Horse Race

斗牛节

Bullfight Festival

Miao

Sep

Yongxi
(A Miao Village)

Bullfight, Horse Race, Antiphonal Singing, Dance

苗年

New Year of Miao

Miao

October

Zhouxi Town, Guading Town, Kali City

Blow Lusheng, Bullfight, Horse Race, Beat Drum

端节

Duan Festival

Shui

October

Sandu County, Dushan County, Dujun City

Ancestor Worship, Horse Race, Celebrate Harvest

侗年

New Year of Dong

Dong

End of Oct. to Beginning of Nov.

Rongjiang County

Lusheng Dance, Bullfight, Lantern Fair
Recommended China Guizhou tours for the ethnic minority villages:
More trip ideas in April