Overview
Explore Hangzhou with like-minded travelers on a non-shopping group tour. Our English-speaking local guide deliver fine service and painstaking attention to detail. Let's experience the millennium culture of Hangzhou, relax when taking a boat cruise on West Lake and siping tea at the serene tea plantation of Meijiawu Village, delight in the beautiful scenry of Golden Carp Pond Garden and admire the majestic Six Harmonies Pagoda with panoramic views of Qiantang River.
Departure days: Every Monday, Wednesday and Friday (unavailable in other days or Chinese public holidays)
Tour duration: 9:00 am - 17:00 pm
Tour route: Hotel pick up → Feilai Peak → Meijiawu Tea Plantation →Lunch on your own → West Lake Boat Cruise → Golden Carp Pond Garden → Six Harmonies Pagoda → Back hote
Our English-speaking tour guide will pick you up at your hotel around 9:00-9:30 am. Drive about 1hr to the first spot - Feilai Peak (Peak Flying From Afar), a limestone peak with a height of 168m. There are 470 Buddhist stone carvings dating back to the ancient China's Five Dynasties (907-960), Song Dynasty (960-1279), and Yuan Dynasty (1271 -1368). These elegant carvings are valuble buddhist cultual relics and of high artistic value. After 1hr visiting, you will transfer to visit next spot of the itinerary - Meijiawu Tea Plantation at around 11:30 am. Surrounded by green mountains and tea fragrance, Meijiawu Village is one of the largest and most famous production base of Longjing Tea (Dragon Well Green Tea) in Hangzhou. Today's lunch is on your own arrangement.
Continue the trip after lunch, and arrive at the West Lake around 14:00 pm. Bordered on three sides by hills, West Lake is beautiful and rich in culture, and was inscribed as a world heritage by UNESCO in 2011. Its banks and islands are blanketed with small gardens and old temples. Sit on the boat for a 45-minute leisure cruise at West Lake. Then see the shoal of fish, blooming flowers, verdant trees, and listen to birds chirping in the Golden Carp Pond garden, you'll find youself so close to nature even in this big modern city. Thereafter visit the last spot of today's trip - Six Harmony Pagoda around 16:00 pm. Built in the year of 970 A.D., Liuhe Pagoda stands majestically on the Yuelun Mountain overlooking the Qiantang River. A 60m, impressive octagonal structure of wood and brick, hung with 104 large iron bells on its flying eaves, the tower was originally built to ward off the spirit responsible for the heavy tides which caused so much flooding before the dykes were constructed.
Your tour will end around 17:00 pm. Then transfer back to your hotel. One-Day Picturesque Hangzhou group tour ends.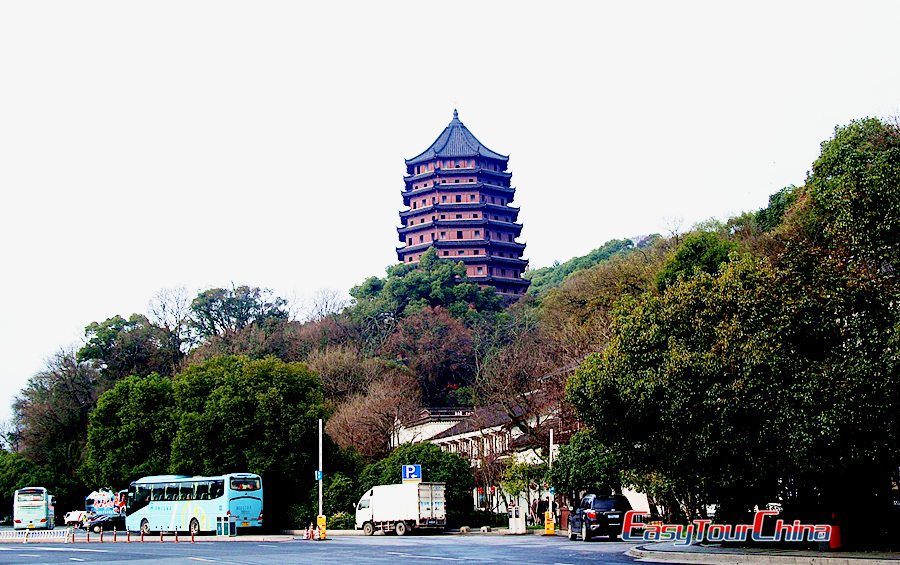 What's included
Guide

English-speaking tour guide.

Pick-up & Drop-off

Downtown hotel pick up and drop off service. If your hotels are not in downtown area, you will be charged extra pick up and drop off fee.

Vehicle

Air-conditioned tour van or bus.

Admission

Entrance tickets to the attractions as listed in the itinerary.

Meal

Lunch at Chinese restaurant.

Tips

Tips to the guide and driver.

Others

Other personal expense.