Hiking Tiger Leaping Gorge China
Tiger Leaping Gorge is no doubt a must-see site and wonderful hiking choice, no matter you visit Lijiang Ancient Town or Shangri-la, the Lost Horizon called by James Hilton. Jinsha River, the upper reach of Yangtze River, cuts spectacularly through Jade Dragon Snow Mountain and Haba Snow Mountain to form this deep and magnificent gorge.
The classic hiking trail of Tiger Leaping Gorge is between Hutiaoxia Town (also called Qiaotou town) and Tina's House via the upper trail. Total length of the trail is about 17.5km, and altitude between 1850 and 2622 meters above sea level.
Why Tiger Leaping Gorge becomes one of the best China hikes?
Firstly, the trail is well kept to its original situation; Secondly, the length and altitude is acceptable to most hikers from teenagers to fit seniors; thirdly, guesthouses along the trail can offer good supply and cozy accommodations; fourthly, amazing views of the deep gorge and Snow Mountains.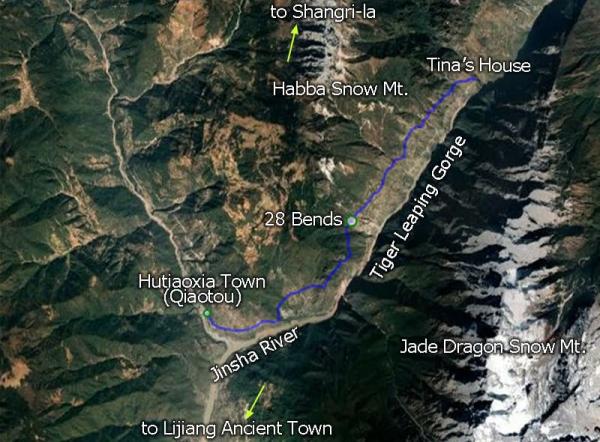 Rating: ❤❤❤❤❤
Route type:Loop Out & back Point to point
Difficulty:Easy Moderate Hard
Suitability: Unpaved Paved Partially Paved
Stroller friendly Wheelchair friendly Kid friendly
Trail traffic: Wild Light Moderate Heavy
Attractions: Village ▪ Snow Mountains ▪ Gorges ▪ Plants & Flowers ▪ Waterfall ▪ River
Entrance fee: RMB60
Get to Tiger Leaping Gorge trail
1. Bus from Lijiang to Hutiaoxia Town (Qiaotou): Go to Lijiang Bus Station to take bus to Hutiaoxia Town. You can also take the bus to Shangri-la and get off at Hutiaoxia Town – make sure the bus will pass Hutiaoxia town. The highway between Lijiang and Shangri-la has partially opened (till April 2021) and bus schedule might be change as more parts of the highway to be opened.
Bus time: 08:30 Drive time: around 1.5hrs Bus ticket price: around RMB40
Lijiang Bus Station Address: 25 Kangzhong Road, Gucheng District, Lijiang
Tel: 0888-5121106
2. Bus from Shangri-la to Hutiaoxia Town (Qiaotou): Got Shangri-la Bus Station to take bus to Lijiang and get off at Hutiaoxia Town. When the highway between Shangri-la and Lijiang fully is opened, the bus might not stop at Hutiaoxia Town and you need to make sure by asking the ticket staff.
Bus time: every 30-40 minutes from 07.10 to 17:40 Drive time: around 1.5hrs
Bus ticket price: around RMB30
Shangri-la Bus Station Address: 195 Gongren Xincun, Shangri-la, Diqing, Yunnan
Tel: 0887-8223501
3. Rent a car to Hutiaoxia Town (Qiaotou): It's more convenient to rent a car to get to the starting point of Tiger Leaping Gorge trail, especially if you start the trekking from middle of the trail or Tina's House instead of Qiaotou, as there is no but to these places. You're suggested to ask your hotel or go to a guesthouse in Lijiang or Shangri-la the day before your hiking day, thus you may have chance to find others to rent a car to share the cost.
Accommodations along the Tiger Leaping Gorge hiking trail:
Tea Horse Guesthouse: A guesthouse in Yongsheng Village at the middle of the trail with terrific views of the Jade Dragon Snow Mountain. The guesthouse has deluxe rooms, standard rooms and triple rooms with en suite bathroom, and quad room and twin room with public washroom. Breakfast and meals for lunch and dinner can be provided.
Tel: 13988707922
Halfway Guesthouse: Another noted guesthouse on Tiger Leaping Gorge trail, which featured in a must-stop place in the Lonely Planet guide. The platform, right oppose the Jade Dragon Snow Mountain, is the best place to take a rest after a long walking. The village it locates in named Bendiwan has a paved steep road to the road at the foot of the mountain. This makes it possible to do half of the Tiger Leaping Gorge trail if you have limited time or do not want to challenge the 28 Bends.
Tel: 13368844698
Tina's Guesthouse: Located at the meeting point of upper trail and main road of Tiger Leaping Gorge. It is usually the end of the hiking for lunch and taking a rest. If anyone wants to visit lower Tiger Leaping Gorge, this is the right place to stay. Tel: 13308871952
Hiking Map of Tiger Leaping Gorge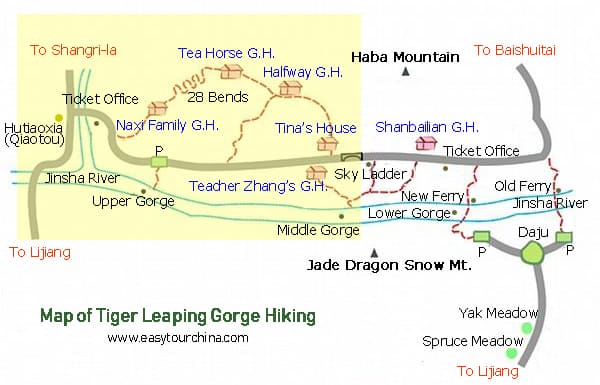 Itineraries of Tiger Leaping Gorge Hiking
1 day half Tiger Leaping Gorge trail hiking itinerary Difficulty: ★★☆
Best for visitors like walking or have limited time. Get to Tina's House (2035m) in the morning and walk 4.5km to Halfway Guesthouse (2322m). The most difficult part is the first 1500 meters with 300 meters ascending in altitude. Rest of the trail is almost at the same altitude. From Halfway Guesthouse, you can walk 3km along the paved road to the main road, or rent a local car to take you down to main road or directly to Qiaotou to take bus to Lijiang or Shangri-la (remember to get to Qiaotou before 5pm).
1 day full Tiger Leaping Gorge trail hiking itinerary Difficulty: ★★★★
No doubt, this is a challenge! You're suggested to rent a car to get to Qiaotou before 9am, as the hike today is around 8 hours. The challenge is the 28 Bends, with around 2km in length and 400 meters ascending to the highest point at 2622 meters above sea level. Local people provide horse to ride or carry luggage before 28 Bends for hikers in need. Rest of the trail is generally downhill and leaves you more time to enjoy the views of the gorge, flowers, waterfall and Snow Mountain. Finish the hiking at Tina's House.
2 day Tiger Leaping Gorge hiking itinerary Difficulty: ★★★☆
Highly recommended hiking itinerary for Tiger Leaping Gorge!
Day 01: Get to Qiaotou and start the walk at around 10am. After 2.5hrs walking, you will have lunch at Naxi Family Guesthouse and get ready for the 28 Bends. Arrive at Tea Horse Guesthouse at around 4pm, best time to enjoy sunset at Jade Dragon Snow Mountain after a refreshing.
Day 02: Today's walking is rather easy and take your time to enjoy the views along the trail, as highlight of the views are on this part – waterfall, steep cliff above the gorge, flowers and pine forest, etc. The last 1km downhill path is rather slippery with gravel and float dust. Arrive at Tina's House for lunch. You can also visit the Tiger Leaping Stone in Jinsha River on the way back to Lijiang or Shangri-la.
Attractions on Tiger Leaping Gorge Upper Trekking Route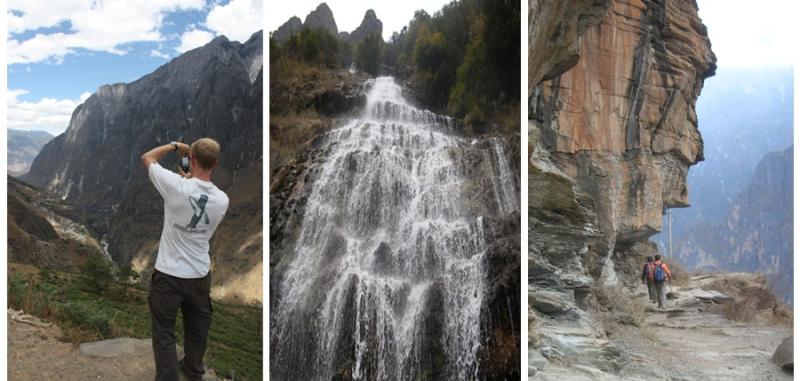 What to take for Tiger Leaping Gorge hiking/trekking
1. Sunscreen, hat and sunglasses - in plateau area, it's important to prevent sun damage.
2. Good walking shoes and walking stick
3. Snickers to keep physical energy
4. 1 or 2 bottles of water. You can buy extra along the trail.
5. An extra jacket to keep you warm at night.
6. First aid kit
Tiger Leaping Gorge hiking tips
1. Find the best pace to fit your physical condition. The altitude of the hiking trail is mostly over 2000 meters above sea level, which is generally not a problem for most people, but some need time to acclimatize to it. It is important to increase your walking speed gradually.
2. Don't hike after continuous rainy days or a heavy rain. Falling stone in this area happens frequently in rain season, especially near the waterfall. Check the weather forecast and consult local people in advance is important.
3. Never hike lower route along the river in rain season, which is dangerous.
4. Some section is narrow at the edge of cliff. Walk the inner side of the path.
5. Use walking stick, especially down a slope with gravels and/or float dusts.
6. Great differences in temperature during day and night, keep warm at night.
Best time to hike Tiger Leaping Gorge
As weather of Yunnan is moderate, Tiger Leaping Gorge can be trekked all year round. But in the rain season of July and August, it is not suggested to take the hiking after continuous rains or heavy rains. Please check with above guesthouses or contact us for latest information. Apart from this, the best time to hike upper trail of Tiger Leaping Gorge is from March to May and from September to November.

■ Recommended China Tiger Leaping Gorge hiking tours:
5-day Lijiang Adventure Tour with Tiger Leaping Gorge Hiking
9-day Tiger Leaping & Yubeng Village Trek Tour
17-day China Hiking Adventure with Tiger Leaping Gorge

■ More China trip ideas in May
Hiking at Longji to see rice terraces and minority culture