Hiking at Longji to see rice terraces and minority culture
Longji Rice Terrace is one of the hottest hiking destinations in China, enjoys the same popularity as Tiger Leaping Gorge and the Great Wall. Hiking trails in rice terraces fields from easy to moderate challenging are also a combination of walking, sightseeing and minority vulture exploring.

Located around 80km north to
Guilin
city, Longji Scenic Area is a group of large-scaled rice fields built into the hillside. It includes two main scenic spots - Ping'An Zhuang Village and Dazhai Red Yao Village. Rice terraces here have a history of over 800 years and are still planted by local Zhuang and Yao People. Some of the terraces look like great chains, other look like ribbons as they extend from the foot to the top of the hills. Among the rice fields are great trails for walking.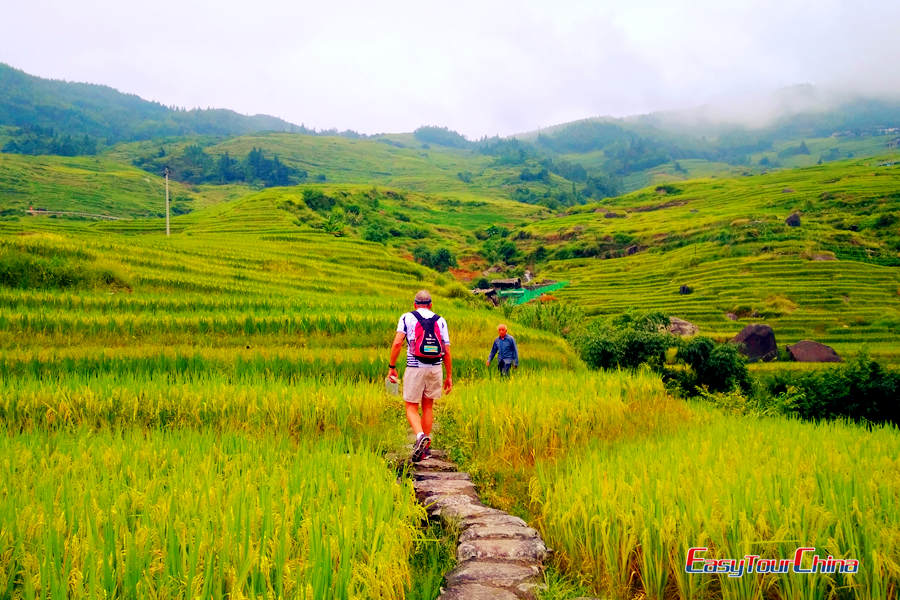 There are mainly 3 hiking trails at Longji to see rice terraces and villages. You can either based in Ping'An Village or Dazhai Village to choose one according to your hiking style.


Trail 1: Leisure Walking Tour From Ping'An Village to Ancient Zhuang Village
Rating: ❤❤❤
Distance: 6.5km Altitude range: 694– 896 meters Difficulty: Easy
Route type: Out & Back Trail type: partially paved

Details: As this walking option is the easiest one, which takes around 2-3hrs, it's a good warming up walking before Ping'An to Dazhai walking. You can take it in the early morning or a couple of hours before sunset.
Starting from your hotel in Ping'An Village, you can walk up to the No. 2 Rice Terrace Viewing Point (Seven Stars around the Moon 七星伴月) to take a bird view of the rice terraces. Down a little bit and walk along the trail in the terraces and through woods. There are some up and downs, but no problem for most people, including senior travellers who are in good physical condition. Along the way, enjoy the rice terraces from different angles and you can see different plants and flowers.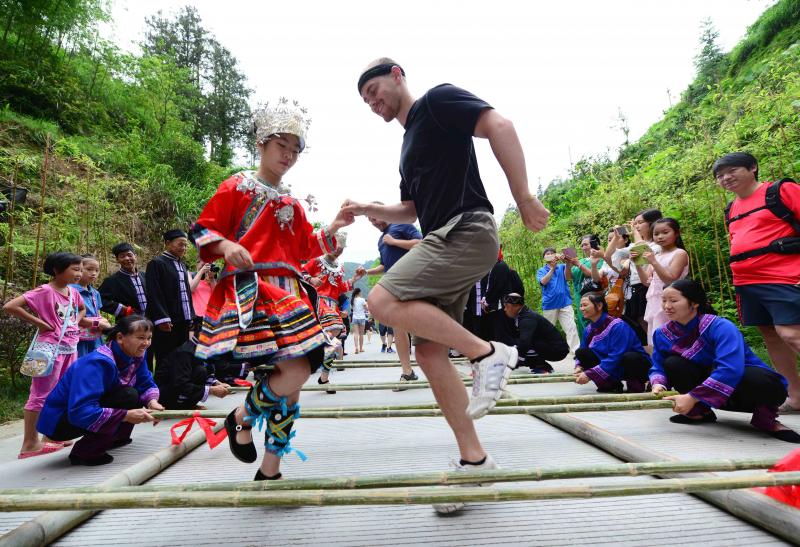 Ancient Zhuang Village is a 400-year-old village famous for wooden houses and stone culture. Walking along the flagstone paths, you will see different stone carvings, stone bridges, stone walls, etc. You will also have chance to visit old house with more than 100 years history. Walk back to Ping'An Village after the visit.

Attractions: Rice Terraces ▪ Village Life ▪ Old Wooden Houses ▪ Stone Culture of Zhuang People
Trail 2: Hike From Ping'An Village to Dazhai Yao Village
Rating: ❤❤❤❤❤
Distance: 11.5km Altitude range: 810– 1150 meters Difficulty: Moderate
Route type: Point to point Trail type: Unpaved

Details: This hiking trail from Ping'an village to Dazhai village is one of the most popular one in Longji. There is a flagstone path shared by local farmers and buffalo. The path will lead you through local Zhuang and Yao village, rice fields and other charming scenery. See the local villagers in minority clothes and accessory, taste local snacks and enjoy an overnight stay at the wooden house...
Starting from hotel, you will walk across the village and climb up to the No.1 Viewing Platform (Nine Dragons and Five Tigers 九龙五虎) for a panoramic view of the rice terraces and village. Heading to Dazhai afterwards, follow the paved road to the small reservoir, which is around 1km.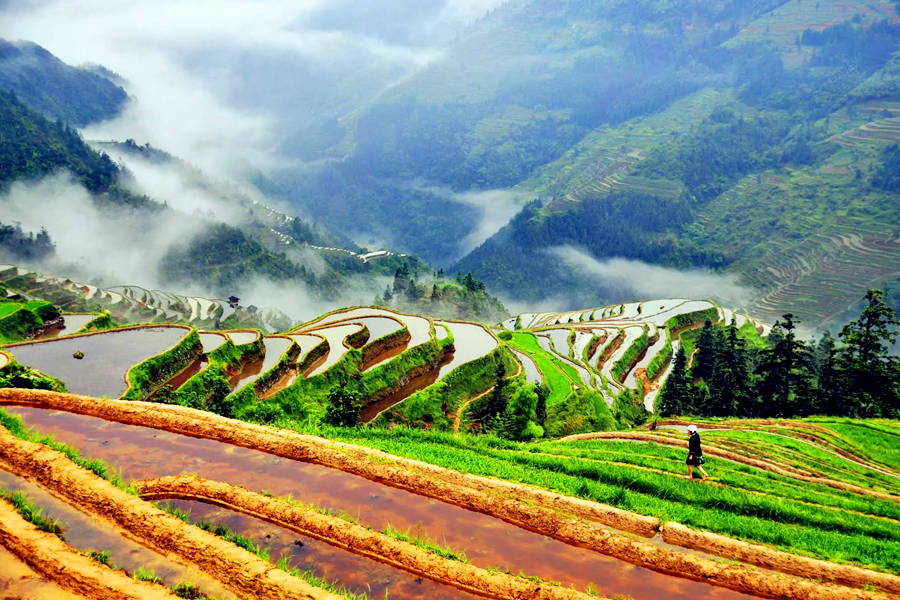 Rest of the walking will be on the trails in the mountain, up and down, partially with flagstone steps, till you arrive at Zhongliu Village. This is a village lived with Red Yao people. Yao ladies dress bright red color clothes and they're proud of having long hairs. Located at the middle of the whole walking, Zhongliu Village is good for refreshing, or you can enjoy the most authentic local foods in a farmer's family.
There 2nd half of the walking is over 1000 meters above sea level. A climbing up of 150 meters altitude increasing is a small challenge, especially on a hot summer afternoon. Walk at your pace and gradually you will see more rice terraces again, which means Dazhai Village is close.
Dazhai Village is also called Jinkeng, meaning Golden Basin. There are 16 small villages in the area and Tiantou Village has many guesthouses and was the one visitors usually stay in. Stay overnight at Tiantou Village or walk another 40min to meet your car at the foot of the mountain to finish today's walking.

Attractions: Rice Terraces ▪ Village Life ▪ Reservoir ▪ Red Yao People ▪ Plant & Flowers

Trail 3: Loop Walking at Dazhai Jinkeng Rice Terraces Scenic Area
Rating: ❤❤❤❤
Distance: 9.5km Altitude range: 800– 1120 meters Difficulty: Moderate
Route type: Loop Trail type: Unpaved & Steps

Details: There are 3 viewing points in Jinkeng Rice Terrace Scenic Area, which are West Hill Music (Xishan Shaoyue 西山韶乐), Large-Scale Thousand-Layer Terraces (Dajie Qianceng Titian大界千层梯田)and Golden Buddha Peak (Jinfo Ding 金佛顶)。Tiantou Village is roughly at the middle of three points. But due to few people walking, the trail between West Hill Music and Golden Buddha Peak is not accessible any more. The walk to West Hill Music will be a go & back walking.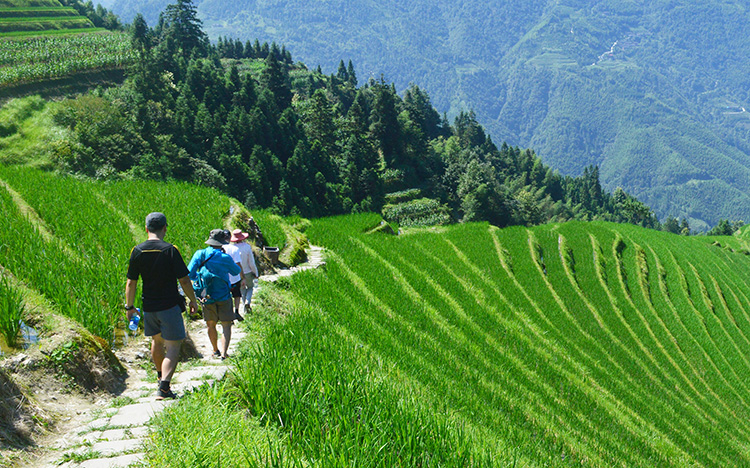 Starting from hotel in Tiantou Village, you will walk to Thousan-Llayer Terraces. Most of the walking is on the trail in the rice fields. And then, descend to the village near the foot of the mountain (800m) and climb up to Golden Buddha Peak (1000m). It's a challenging climbing on steps, but you will be rewarded by amazing view from the highest point of the mountain. Some visitors taking day tours can also take cable car at the car park to Golden Buddha Peak.

Descend from Golden Buddha Peak after the visit and have lunch in local restaurant in the village. Climb up to Tiantou Village afterwards and you can choose to finish the walking or continue to the 3rd viewing point, West Hill Music. It's around 1.5km single way. 200 meters further from the viewing point, there is a hotel named Panorama House Hotel. For visitors want to stay 2 or 3 nights in Jinkeng, this is a good choice.

Attractions: Villages ▪ Rice Terraces ▪ Sightseeing

Transportation for Longji Rice Terraces Hiking
1. Public Bus from Guilin to Longji – There is no direct public bus to Longji Scenic Area. Firstly, go to Guilin Qintan Bus Station and take express bus to Longsheng Bus Station. Take bus at Longsheng Bus Station to Heping Village (available around every 15 minutes) where the entrance of the Longji Rice Terraces Scenic Area located.

Bus time: Every 40min from 07:00 to 19:00 Drive time: 1 hour 40 minutes
Bus ticket price: around RMB29

Guilin Qintan Bus Station Address: 31 Cuizhu Road, Xiangshan District, Guilin

2. Shuttle Bus from Guilin to Longji Dazhai – Go to Guilin South Railway Station to take the bus, which will take you to Longji Dazhai directly. If you want to go to Ping'an Village, you need to change sightseeing bus of the Scenic Area at entrance.

Bus time: 08:00, 08:30, 09:30, 13:00, 15:00 Drive time: 2.5 hours
Bus ticket price: RMB50

Guilin South Railway Station Address: 39 Zhongshan Nan Road, Xiangshan District, Guilin

Notes: 1. Bus time is subject to change.
2. Need to pre-book via travel agency or hotel to guarantee seat.
What to take for Hiking at Longji Rice Terraces
1. Sunscreen, hat and sunglasses
2. Good walking shoes and walking stick
3. Raincoat, especially in spring and summer
4. Snickers to keep physical energy
5. 1 or 2 bottles of water
6. Mosquito repellent (May – October)
7. Camera or smartphone with good camera

Tips for Longji Rice Terraces Hiking
1. When walking on steps, it might be slippery in rainy days. It's important to wear anti-slip footwear.
2. When local people show their willing to help you with your luggage, leading the way or taking photo with them, it is usually Not Free. Make sure the price before taking the service.
3. To avoid snake attack, you're suggested to walk on the trail and not to walk into bushes. Hit the bushes with your walk stick before step in if you have to.
4. There is no toilet between villages when walk from Ping'an to Dazhai.

Best time to walk at Longji Rice terraces
The Best time to hike at Longji is from March to mid-May and from September to October.

In fact, Longji hiking can be taken in four seasons of the year with different views. Fields are filled with water from March to May, which is the best time to show the lines of the terraces and view colorful lights in the water. June is time of rice transplanting, in which you can see local people working in the fields. September and October is the harvest season with golden color everywhere. Winter is the time local people gathering to celebrate harvest, to share family happiness and to prepare things for Lunar New Year. It's the best time to learn local minority cultures.

Recommended tour packages including Longji Rice Terraces Hiking in Guilin
8-day Guilin Hiking Tour of Li River and Longji Rice Terraces
6-day Guilin & Yangshuo Hiking Getaway
16-day China Walking Adventure Tour
16-day China Walking Holiday
14-day China Hiking & Biking Tour Combo

More trip ideas in May
Panda intimate touch - working as a volunteer at Panda base