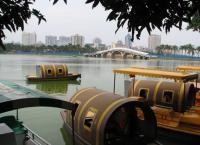 Nanhu Lake Park in the southeast of Nanning City covers an area of 1.3 square kilometers (about 0.5 square miles), and features aquatic sceneries and subtropical gardening landscapes. It is a peaceful retreat and ideal place to relax. A quarter of the park is covered by Nanhu Lake.
Originally a brook, Nanhu Lake was connected to a river. A major flood occurred and submerged the surrounding houses and fields during the Tang Dynasty (618-907 D.C.), that was how the now Nanhu Lake was formed.
This above-water paradise is an ideal place to entertain and relax with bridges, entertainment facilities and cruise ships. Surrounding the Nanhu Lake are typical subtropical plants like pinangs, palm trees and punkas. The lakeside park area has music fountains, colorful lamps scene and water screen films. There is a garden with various precious bamboos and flowers, also with more than 200 Chinese herbs as well as orchids and bonsais.
One more sight worth visiting in the park is the Baise Uprising Museum built in 1984. It is to commemorate the Baise and Longzhou Uprising in 1927 led by Dengxiaoping, one of the most distinguished leaders of Chinese Communist Party.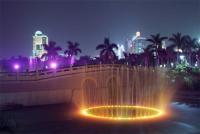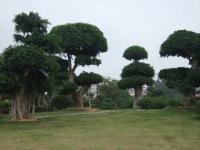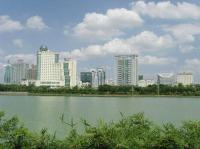 More Attractions in Nanning
Recommended China Tours Including Nanhu Lake Park Nanning