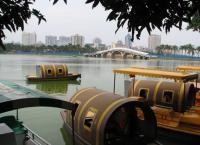 Nanning is endowed with evergreen trees and fragrant flowers all year round, hence the name "Green City". There is an old saying that "grass never withers, even in winter; flowers always bloom, even not in spring." So any time of the year is a good time to visit Nanning. Some travel tips below serve the guidance for your Nanning tour.
Best Time to Nanning
The optimum time to visit Nanning is from April to October. However, try to avoid the two national holidays, namely May Day (1 May to 3 May) and National Day (1 October to 7 October), when all the people in China seem to move around.
Body Health & Safety
1. Summer is the rainy season, especially in May and June. Always remember to bring an umbrella with you. It would be wise to bring sun block with you,
2. Take some medicine to prevent heatstroke and insect repellant. Local herbal tea also helps travelers to become accustomed to the local weather and water.
3., Chinese cities, generally speaking, are very safe and Nanning is no exception. But petty robberies are quite common. On buses, be extra-careful about your mobile phones and wallets.
Shopping & Recreation
1. Nanning has a full variety of tourist souvenirs and special local product, like Zhuang Jin, Embroidered balls, paper umbrellas, hand-painted folding screens and knit ware, etc. Its urban area is praised as a shopping paradise for every visitor, with a great many commercial centers and shopping centers.
3. Nanning is a bright city with colorful nightlife. You can go the Nanhu Lake for a walk or just go to the cinema to see a movie. Zhongshan Road is the very place where you can enjoy the most genuine local snacks at reasonable prices.