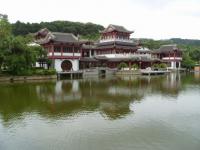 Nanning is the capital city of Guangxi Zhuang Autonomous Region in southern China. It is known as the "Green City" because of its abundance of lush tropical foliage. It is 160 km from the border with Vietnam. It is in a hilly basin with elevations between 70 and 500 meters above sea-level. Qingxiu Mountain dominates the southern part of town.
As of 2006, the total population of Nanning was 6.48 million. Nanning is a city where Zhuang ethnic group live in compact communities, and also the only city in all the autonomous regions in China features a southern flavor, together with open coastal areas. Thirty-five ethnic groups live in compact communities in Nanning, including people of Zhuang, Han, Yao, Hui, Miao, Dong, and Manchu minorities, among these groups the Zhuang people make up 56.3% of the total population. All the ethnic groups live in harmony. Their peculiar ethnic flavors and colorful ethnic cultures make a deep impression on the visitor.
Nanning's tropical climate gives it an amazing amount of biodiversity. There are many species of animals and more than 3,000 species of plants. There are many species of animals and more than 3,000 species of plants. Its city flower is the Jaba flower, an evergreen shrub, and its city tree is almond tree which is regarded as the backbone tree used for greening and landscaping throughout the city. Numerous attractions Nanning has to offer include: Mt. Qingxiu, Nanhu Lake Park, Huashan Mural and De Tian Waterfall, etc.
Recommended Nanning Tours