Located 163km northwest of Chongqing, Dazu Grottoes include more than 50,000 Buddhist, Taoist and Confucian rock carvings and 100,000 characters of inscriptions dotted around Dazu, which are mainly found on North Hill (Beishan Hill) and Baoding Hill. They date from Tang Dynasty (9th century) to Song Dynasty (13th century).
Just about a 30 minute hike from Dazu town, North Hill sculptures include over 10,000 figures of Buddhas and Bodhisattvas in various poses; they are famous for their elegance and exquisiteness. The development of Chinese grotto art is obvious as one compares figures from earlier and later periods. The figures carved during the Tang Dynasty are decorous, full and round in appearance, and simple and honest in temperament. The sculptures carved during the period of the Five Dynasties are ingenious, subtle, and dainty, with natural and unrestrained looks. The images from the time of the Song Dynasty are graceful in posture and well-proportioned in physical build; their garments are gorgeous beyond description. Human beings and deities are ingeniously and skillfully merged in the sculptures.
About 15km northeast of Dazu town, the sculptures at Baoding Hill comprise the best of Dazu's art. The founding work is attributed to Zhao Zhifeng (1179-1245), a monk from the Esoteric Sect of Tantric Buddhism. The masterpiece is a 31m-long, 5m-high reclining Buddha, depicted in the state of entering nirvana. Statues around the rest of the 125m horseshoe vary considerably: Buddhist sages and preachers, historical figures, realistic scenes and delicate sculptures a few centimeters in height. The sculptures demonstrate a skillful combination of scientific principles and artistic models, reflecting the rich social context and very flavor of life of ancient Chinese people.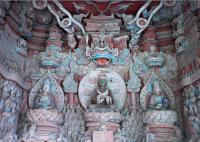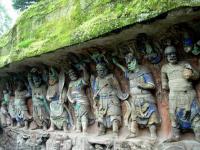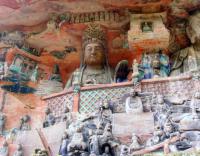 More Attractions in Chongqing
Recommended China Tours Including Dazu Grottoes Chongqing