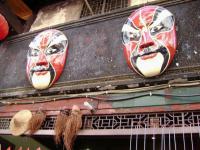 Chongqing, nicknamed "Mountain City", "Frog City" and "River Town", is proud of its beautiful natural scenery and 3,000 years rich cultural relics. Besides, sail through the spectacular Yangtze River down to Yichang, Wuhan and Shanghai. Chongqing travel tips below serve the guidancefor your Chongqing tour.
Best time to Chongqing
1. As one of the "Three Furnaces" (the other two are Wuhan and Nanjing), summer is hot and the highest temperature up to 39 to 40 degrees Celsius. Fortunately, temperatures are more moderate the rest of the year.
2. In late autumn and winter, there usually will be thick fog covering the whole city. For the absence of bicycles is not noticeable, it's dangerous to ride on the roads.
3. Chongqing's weather is changeable for surrounding by many mountains and rivers. Bring an umbrella with you, for heavy rain can fall at any time of the year.
Body health & Safety
1. In Summer, avoid prolonged exposure to direct sunlight during the hours of 11:00 and 15:00; wear a sunscreen with an SPF that suits your skin type on any uncovered body parts at any time of the day.
2. All visitors are advised to use their judgment before deciding where to eat, and are wise to avoid anywhere that appears obviously unsanitary.
3. Chongqing is relatively sage, but be alert for pickpockets, especially children (supervised by nearby adults) around the bus and train stations, the docks and other crowded areas.
4. Certainly violence towards tourists is extremely rare. It's safe for members of both sexes to go anywhere in daytime. At night, female visitors are not advised to travel alone.
Shopping & Recreation
1. Chongqing famed for various local products and handicrafts. Shu Embroidery, Three Gorges Ink-slab, Rongchang paper fan, beef jerky and tea are best gifts for friends and relatives. Department stores and other shops are clustered around the Liberation Monvment.
2. Chongqing nightlife revolves around flashy karaoke (KTV) bars and strove-lit discos. For nightlife, Hot pot, Chongqing's signature dish, is a must for visitors to experience a real Chongqing flavor.
Recommended Chongqing Tours