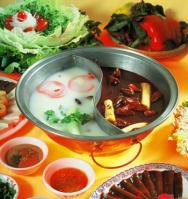 As one branch of Sichuan cuisine, Chongqing food is spicy as well. But many local people believe that the food there is even spicier and stronger than other Sichuan food. Walking in the downtown streets, you can see so many big or small restaurants. However, the Chongqing cooks feel great pressure to copy with the critical local customers as the locals always like to try something new. If you don't make progress, then you will lose clients. Chongqing people are born gourmets, even a bit too fussy.
Chongqing Hotpot
Pungent and delicious hotpot can feature Chognqing's dining. It enjoys reputation not only in China but also in the world. Visitors can find countless hotpot restaurants along all the streets, hence its nickname - Hotpot City. There are various styles and tastes, such as, duck, seafood, beef and chicken. Apart from that, the western-style hotpot, it is prepared specially for foreigners.
Restaurant
Visitors will be amazed by so many hotpot restaurants in the city. There are several popular ones of the local people. Tao Ran Ju, Cai Gen Xiang, Xiao Tian E and Shun Feng 123 are all great local restaurants. Visitors can enjoy local hotpot and other delicious Sichuan dishes here.
Recommended Chongqing Tours