Yangmei Ancient Town is a traditional town located on the Yong River in Nanning. Boasting a great deal of architecture from China's dynastic past, it is a popular tourist destination where you can grasp the spirit of China's long history.
With a history of more than one thousand years, Yangmei Ancient Town was founded during the Song Dynasty and burgeoned during the Ming Dynasty. It reached its heyday during the Qing Dynasty. Even now, Yangmei Ancient Town is a well-preserved historical and cultural heritage with complete human landscapes which reveals the great changes during the history. The well-preserved architectures of Ming and Qing dynasties such as the ancient street, lane, temple, shrine, house, tree, port, Wenwu pagoda, and beacon tower, all of them are standing there quietly and attractively.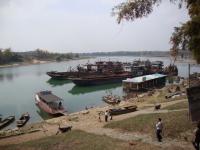 Walking along the black flagstone road, old houses of Ming and Qing dynasties are presented one by one, as well as other historical relics. There are the ancient buildings which can be traced back to the Ming and Qing dynasties. Kuixing Lou, Seven-pillar House, Juren House, Jinyue Tablet, Muyi Gate, and the Huang's Garden are delicate and graceful. In addition, there are 8 scenic spots which are still addressable in Yangmei, namely the Sunset Reflected on the Dragon Pool, Green Trees on Thunder Peak, Sword in the Spring, Pavilion Facing the River, Moon Night on the Beach, Medication on the Slope, Rosy Clouds Watching in the Pavilion and the Sound of Beach and Pine Forest. Walking along the beach, Yangmei wonder stones appraised by the traveler Xu Xiake in Ming dynasty can be found here or there, like steeple stone, penguin stone, golden frog stone, sea lion looking back stone, horse stone, dolphin kissing stone, all of them with their fantasies and stories.
Furthermore, you will feel the lifestyle of local people when you`re walking in the town. Women are often seen making shoes or doing embroidery by the gates of their houses, evincing a peaceful and undisturbed countenance. The local people love the arts, especially the Yue Opera, which is as old as the town itself. You can wander through the ancient alleys of the town, accompanied by the enchanting sound of people singing and playing instruments. The feelings of long-past times will re-discover your inner peace.
More Attractions in Nanning
Recommended China Tours Including Yangmei Ancient Town Nanning