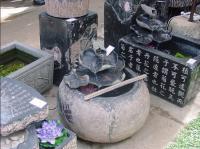 Located on Yuanhu Road, and to the east side of Nanning People's Park, Nanning Bird and Flower Market is the biggest market selling flowers, bonsai, pets and other small toys in Nanning. It has been the biggest flea market for decades, making it a crowded place every day.
In Nanning Bird and Flower Market, you can find many shop are selling handicrafts, small toys, souvenirs even special rocks, and on weekends you can find some people are selling some old stuff belong to couple of centuries ago. The market is worth visiting for anyone interested in gardens and pets.
The market is a mass of color, mostly fresh flowers, some made up in presentation bouquets, some flowers individually wrapped. Some of the flower types were familiar to many of us, many others were unknown, but they all were presented in a very attractive manner. Some stalls displays very large stones having very distinctive and colorful grain, more suitable for indoor display than the ravages of the weather. When you came across a stall that is displaying a number of bonsai trees, you can see some of the bonsai trees were in individual bonsai pots or trays, other bonsai trees were planted as part of a landscape or mountain scene. The mountain scenes are very popular, and on them can be seen small plants, miniature models of people, and temples.
There are plenty of cage birds on display. Budgies in a variety of colors seemed to attract a lot of people. Most of these containers are open topped, but none of the animals appeared to make any attempt at escaping to other parts of the market. Many different types of puppy dogs are for sale, and these would most likely be bought and kept as pets, and not for the dinner table.
More Attractions in Nanning
Recommended China Tours Including Nanning Bird and Flower Market Nanning