Shuanglin Temple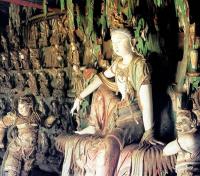 Shuanglin temple is situated in the countryside about 7 kilometers southwest of the ancient city. It was originally founded in the 6th century during the Northern Wei period, although the present buildings date to the Ming and Qing dynasties. Reputed to be the "ancient painted sculptures museum", Shuanglin Temple houses more than 2,000 colorful sculptures reflecting the exquisite skills of the artisans of the Song, Yuan, Ming and Qing Dynasties.
In Chinese, Shuang means two or double, and Lin means forest. The temple got its name from a Buddhist story. On December 3, 1997, Pingyao Ancient City was added to the World Cultural Heritage List following a resolution reached at the 21st Assembly of the World Heritage Committee of UNESCO.
The whole structure of the Shuanglin Temple is very strict and imposing with a total area of 15 thousand square meters. Built on a three-meter-high earth base, the temple is surround by tempered-earth, high walls on four sides. It is divided into two parts: the east is the living rooms for monks and houses the collection of sutras, and the west is the three parallel courtyards, which consists of 10 majestic and distinctive halls.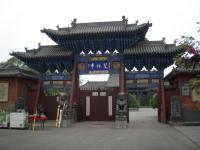 All cultural relics inside the temple are considered invaluable. Standing in front of the Heavenly Kings' Hall, you will see the sculptures of the four Heavenly Kings below the eaves of the veranda, which look mighty and magnificent. In the Heavenly Kings' Hall, the sculpture of Maitreya is worshiped with two Bodhisattvas attending on his left and right. There are also four Heavenly Kings and eight Bodhisattvas. All the sculptures in the hall are vivid and lifelike. There is the sculpture of Kwan-yin with eighteen arhats standing to the left and right in the middle of the Arhats' Hall. The facial expressions of these arhats differ from each other. They all exemplify the ancient artisans' excellent skills. In the One-thousand Buddha Hall is enshrined Kwan-yin sitting on the pedestal with her right leg bent and left one stepping on a lotus leaf. The Veda in the hall is reputed to be the best in China and well worth exploring. Besides, the Sakyamuni Hall and the Bodhisattva Hall are also two must-sees of the Shuanglin Temple
More Attractions in Pingyao
Recommended China Tours Including Shuanglin Temple Pingyao
Staring from Taiyuan this tour takes you to many historical Buddhist site in Shanxi. You will visit the famous Yungang ...

Travel the most grandeur of the Middle Kingdom by taking this trip! The 27 -day tour is carefully designed for young a ...

This 13-day Buddhist Pilgrimage takes travelers on a discovery journey in China, to visit the Buddhism sites scattered ...
Google Search
Find something useful to you at Easy Tour China website.