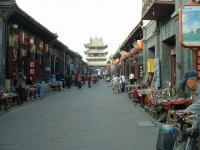 Pingyao, built 2,000 years ago, is a best-preserved ancient walled city in the whole of the country. It boasts a rich collection of government offices, residences and temples. Without colorful nightlife, people live a quite original life style. Hence, Pingyao offers tourists a rare opportunity to witness old China in action. Here is a list of travel tips for your Pingyao Tour.
Best Time to Pingyao
Pingyao is good for traveling all the year rounds, but the best time to visit Pingyao is autumn and winter. In autumn, make a trip to Pingyao not only for its bright sunny sky, but for the China Pingyao International Photography Festival during mid September. As for winter, snow-covered Pingyao Old City would show you a new impression of Chinese Spring Festival in grand Shehuo Festival.
Body Health & Safety
1. Pingyao has a higher difference in temperature between daytime and nighttime, so travelers should prepare enough clothes to defense cold. Meanwhile, they also need keep the sun glasses and hat in case of the strong wind and sand in spring. As for the strong solar ultraviolet, the sun block, sunglasses, umbrella and lip salve are recommended.
2. Please keep properly your entrance ticket of Pingyao old city, as most of the historical sites within the city need ticket checking again. Besides, with the ticket, tourists could watch the performances freely at the Pingyao Theater during the daytime.
Shopping
1. It is available to bargain the price for the accommodation, eating, shopping and transportation at Pingyao.
2. Pingyao boasts a rich variety of handcrafts and special local products, like Polished Lacquer ware, handmade cloth shoes, paper-cuttings, Liu He Tai Health Pillow Shop and Opera Makeup, etc. Along the Ming Qing Street inside the ancient town run lots of diverse stores and restaurants. Souvenirs, handicrafts, and local foods can be found here.
Recommended Pingyao Tours