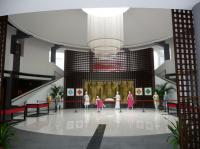 Suzhou has been the famous silk city in the Chinese history since the Tang and Song dynasties when it was the undisputed silk center. Especially in the Ming and Qing dynasties, Suzhou embroidery reached its culmination. The imperial high-quality silk was in the main produced by Suzhou's weavers and Suzhou was called the "market of embroidery" famous both at home and abroad.
With the intention of preserving Suzhou's silk culture and heritage, Suzhou Silk Museum was built on September 20th, 1991. It is the first professional silk museum in China. The museum locates in the north of the people's road and near the Beisi tower, occupying an area of 8320.7 square meters.
Designed by the master builder Qi Kang, the style of Suzhou Silk Museum is dignified and elegant - yet unconventional - combining a sense of ancient civilization with modern style. It is famous for its culture trait and artistic quality. The exhibition hall is divided into seven parts, the introductory hall, ancient hall, sericultural room, mulberry garden & farm house, weaving room, a street in Ming & Qing Dynasty and the central hall. There are also retail stores for purchasing silk in the museum. Exhibitions include grosgrain, brocade, ghatpot, thin silk, velvet, gauze and so no. The silk fabrics contain dragon robe, embroidered robe, skirt, cheong-sam, kesi and embroidery. In the Silkworm-Rearing Room can get a relaxing time by seeing thousands of silkworms eating their favorite food, mulberry leaves. Silk celebrities and silk products that have won international prizes also displayed here.
More Attractions in Suzhou
Recommended China Tours Including Suzhou Silk Museum Suzhou