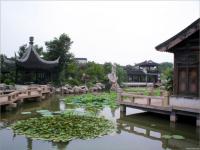 Lying 10 kilometers southwest of Suzhou, by the side of Taihu Lake, at the foot of Linyan Hill, Mudu Ancient Town is a famous historical and cultural town. Owing to its geographical position, Mudu earned the fame of "land of fish and rice" with the nearby Taihu Lake and the Grand Canal, which contribute to its mild climate and fertile soil.
Mudu is as old as Suzhou city with a history of more than 2500 years,. The name of the Mudu derives from the late Spring and Autumn Period. Fuchai, the king of Wu, obliged workers to build a Guanwa Palace so as to please his queen Xishi, one of the four beauties in Chinese history. There are so many wood carried here that the river was blocked. Mudu, which means the accumulated wood blocks the river, became the name of the town.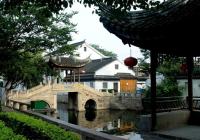 Surrounded by quiet, delicate landscape and connected to the Taihu Lake through lots of waterways, Mudu is renowned for superb grace and elegance. Two clear and charming rivers, Xiangxi River and Xujiang River, twist and turn flowing through the peaceful and beautiful town.
Mudu is the only ancient town worth the reputation of Chinese garden town with more than 30 private gardens during the Ming and Qing dynasties, including the Yans' Garden, Hongyin Villa, and Bangyan Mansion, which are the most outstanding ones among all the gardens in Mudu. Yans' Garden, which used to be the residence of the former Taiwan Politician Mr. YanJiagan,is now one of the most famous gardens in China. Its Four Seasons Garden is small but delicate, with some parts exquisite and tasteful, deep and tranquil, graceful and restrained, representing the constructor's unique art. Hongyin Villa is once the temporary dwelling for Emperor Qianlong in Qing Dynasty, treasuring up to 20 original imperial edicts of Qing Dynasty, which are especially rare.
More Attractions in Suzhou
Recommended China Tours Including Mudu Ancient Town Suzhou