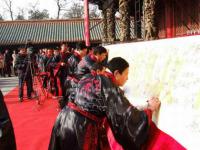 Best Travel time to Qufu & Mt. Tai
The birthplace of Confucius as well as the UNESCO World Heritage Sites (since 1994), Qufu is located in the southwest of Shandong province, enjoying a monsoonal & continental climate. The hottest month comes in July, with weather hot and rainy. The best time to visit Qufu is at autumn.
Mountain Tai has lower temperature compared to Qufu. Even in summer, it is so cool on the top of mountain. Autumn is the best time to visit with beautiful sunset and sunrise to enjoy.
Eating in Qufu & Taishan Mountain
Confucius Mansion cuisine is one of the 3 major sources for the Shangdong cuisine; each dish served has unique cultural background. Famous food in Mount Tai is Taishan Tofu Banquet and Wild Vegetable Banquet.
See detailed information about Qufu and Taishan Food