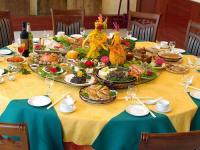 Qufu and Mount Tai boast a long history of culinary culture, which is deeply connected with the Confucianism. Confucius Mansion cuisine has become one of the 3 major sources for the Shangdong cuisine - the 4 most famous ones in China (other three: Sichuan, Guangdong and Huaiyang). At the Confucius Mansion banquet, every dish has its own story and related cultural background.
Confucius Mansion banquet
can be classified into 5 types due to different purposes: for the birth date celebration of the senior people; wedding ceremony; happy events like royal award, title and new born boy; welcoming guest feast including for the emperors or other high-profile officials; family feast for relatives and close friends. Besides, the cakes from the family bakery are also quite well known.
Famous food in Mount Tai is
Taishan Tofu Banquet
and
Wild Vegetable Banquet
. In history, the emperors who came to pay their pilgrimage visit to Mount Tai had to take vegetarian food during the period. "Buk Choy (Chinese cabbage), Tofu and water" are the three delicacies of Mount Tai. Only for Tofu banquet, there will be 150 courses!
The nearby town - Tai'an has other delicious snacks like Tai'an pancake, Fried Red Scale Fish, Sauce Eggplant, etc.