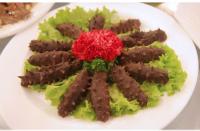 The residents of Dalian are mainly the descendants of the immigrants from Shandong Province in history. Therefore, the local cuisine is featured with the style of Shandong (Lu) Cuisine. It is famous for the freshness of its seafood. Seafood is the main content of Dalian dishes.
There are plenty of small restaurants on the roads leading off Zhangshan Square and Friendship Square. The New-Mart Shopping Mall has a huge food court on the 5th floor. There is a night market on Tianjin Jie, where you can sit outside and enjoy the barbecue seafood and other local specialties with cold beers. For good and modestly priced seafood, try Tian Tian Yu Gang at Yan'an Road.
The locals always recommend the seafood fans not to come in July and August as during the period, the local authority imposes a two-month fishing moratorium to conserve the fisheries resources.