Overview
Hangzhou cuisine with its sweet fragrance and subtle flavor influences the whole China cuisine. Come with us on a foodie tour of Hangzhou, visiting the interesting Hangzhou
Cuisine Museum
, through the traditional food markets, tasting
Hangzhou style dim sum
and learning from professional chef to cook Chinese dishes at a
cooking class
. Apart from the culinary experiences, you'll also explore the city's highlight attractions and the cultural streets.
Customize Your Tour:
☑ Travel Dates ☑ Your Interests ☑ Your Travel Style

Make your way to Hangzhou by flight or high speed rail in the morning. Be met and greeted by your Easy Tour China guide, then transfer with a private vehicle to your hotel to check in. In the afternoon, transfer to visit the West Lake, the large freshwater lake, bordered on three sides by hills. Its banks and islands are blanketed with small gardens and ancient temples. Enjoy yourself a short boat cruise at West Lake.
Then transfer to visit the Chinese Hangzhou Cuisine Museum, located right in the south of West Lake and east of Jiangyang Fan Eco-Park. It is probably the most interesting and participatory food museum in China. You will witness a series of cooking techniques, featuring elaborate preparation and techniques of cooking, such as sautéing, stewing, stir frying and deep frying. After that, let's go to a local market, where you will buy food ingredients for your cooking class, which is also a good place to witness local people's life and see what a traditional Chinese market is like. Then start your cooking class, with the guidance of our professional chef. Learn how to cook an iconic dish of Hangzhou Cuisine – Shrimp Cooked with Longjing Green Tea (Dragon Well Tea). With fresh, plump shrimp are shelled, stir-fried and then coated in a light, translucent sauce highlighted by the leaves of local green tea that makes the whole dish smell fragrant. Then you will have dinner at local restaurant to taste more Hangzhou foods.
Meal: L, D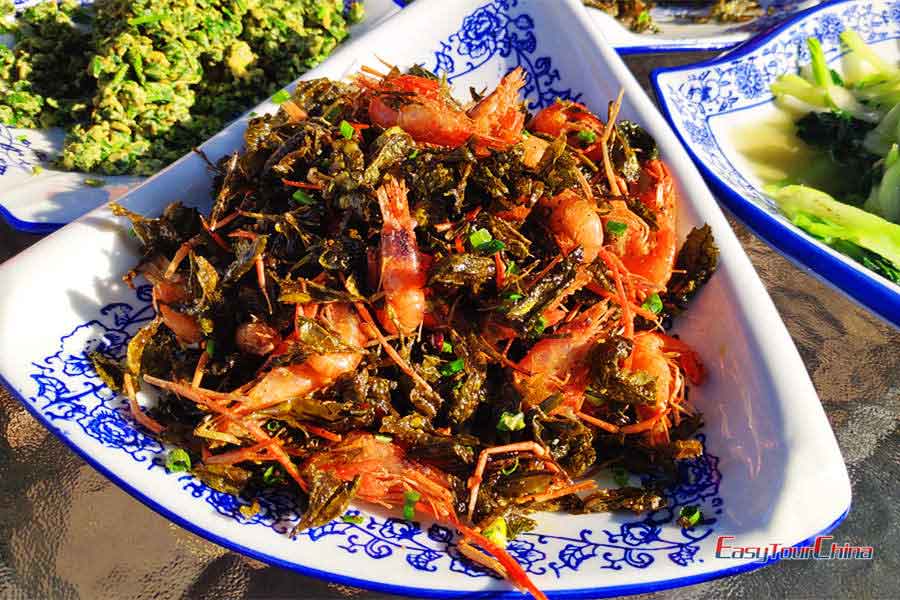 After breakfast, transfer to visit the Former Residence of Hu Xueyan, built in 19th Century during the Qing dynasty (1644–1911). The construction project of the house was launched during the heyday of the career of Hu Xueyan, who was a "red top official merchant" and the most famous Huizhou merchant. It was Hu Xueyan who founded Hu Qing Yu Tang Pharmacy, which is now the Museum of Traditional Chinese Medicine.
Thereafter idle about Hefang Culture Street at the foot of Wu Hill, also called Qinghefang Ancient Street. One of the oldest streets and the only well-persevered antique historic street in Hangzhou, it is now a tourist-oriented shopping and dining street, yet remain its unique cultural ambience. Many famous century-old shops can be found in this street, such as Wang Xing Ji Fan Store, Zhang Xiao Quan Scissors and etc.
Drive up Wu Hill and get to Chenghuang Pavilion, one of the most iconic images of Hangzhou skyline. Obtain a bird's-eye view over the city and West Lake. Enjoy a unique dim sum banquet for lunch, including a cup of flower tea, lotus powder, Hangzhou cat's ear noodle, crisp cakes and some other local snacks, while watching a traditional Chinese music instrumental performance. After that, transfer back to your hotel or railway station/airport for departure. Your Hangzhou food tour ends.
Meal: B, L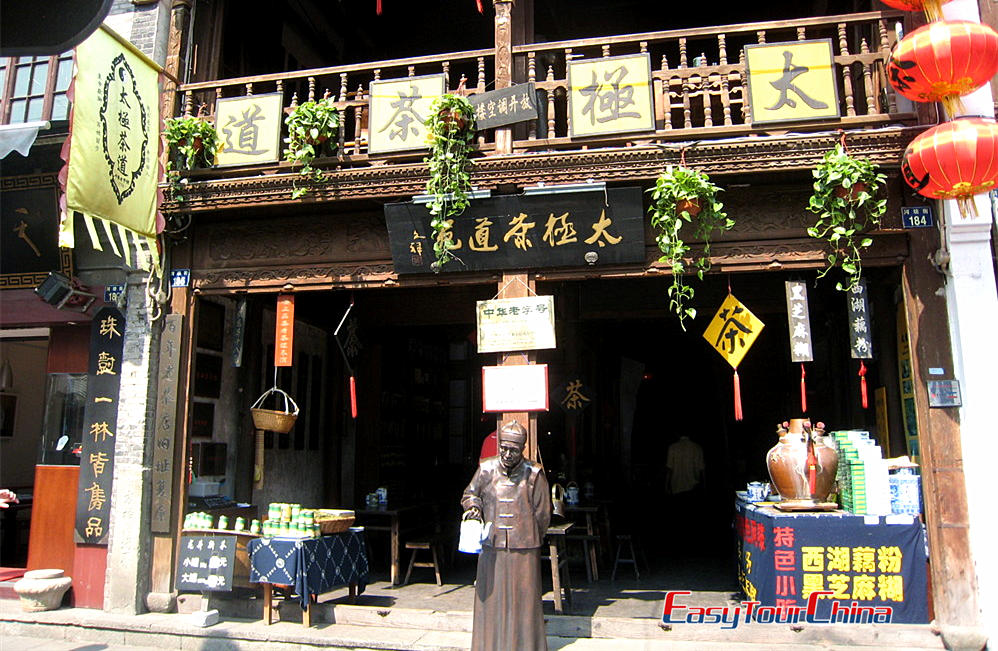 Extend the Tour
Beijing: the dynasty capital of China, with numerous historical sites and ancient marvels. Extend your Hangzhou food tour to Beijing for local foods and world heritages: the Great Wall, Forbidden City, Temple of Heaven.
Chengdu: the lovely hometown of giant panda, the city is also famous for its cuisine, tea and history. Extend your foodie tour to Chengdu for spicy food tasting, local food street, panda base, Jiuzhaigou.
Xi'an: the heart of ancient China, served as the capital of 13 ruling dynasties. Add 2-3 days to discover the highlights of Xi'an: Terracotta Army, Ancient City Wall, Small Wild Goose Pagoda.and Muslim Food Street.
What's included
1-on-1 Travel Consultant

Your China based expert listens to your wishes carefully, provides professional advice, ensures unlimited itinerary revisions before done and 24/7 helpline service while traveling.

Private Local Guide and Driver

Your guides are friendly, helpful and knowledgeable, and your drivers are professional, polite and patient. They are very flexible to accommodate your personal needs and happy to show you the local attractions, history, culture, foods and real life.
Private transfers from hotel to attractions, airport or train station are also included.

Accommodation to Suite Your Preference

We hand pick hotels ranging from luxury 5 star, superior 4 star to comfortable 3 star. Luxury or cozy boutique hotels and budget guesthouses are also among your choices. You could decide where to stay to meet your taste and budget.

Gourmet Meals

Most of the hotels we select offer both Western and Chinese buffet breakfast. Lunch and dinner included are arranged in selected restaurants to taste authentic Chinese cuisine and local specialties. Thus you may also have a unique food tour.
Meals specified in itinerary as B=breakfast, L=lunch, D=dinner.

Attractions and Activities Listed on the Itinerary

Our city tour packages have included the (first/main) entry to all attractions and the expenses of activities on the itinerary (except the optional activities).