West Lake is large freshwater lake, bordered on three sides by hills. Its banks and islands are blanketed with small gardens and temples. It made Hangzhou City a very beautiful place to live in China. As an old Chinese saying declares, "in heaven there is paradise, on earth Suzhou and Hangzhou". The famous western traveler Marco Polo considered it as the most enchanting city in the world at his time.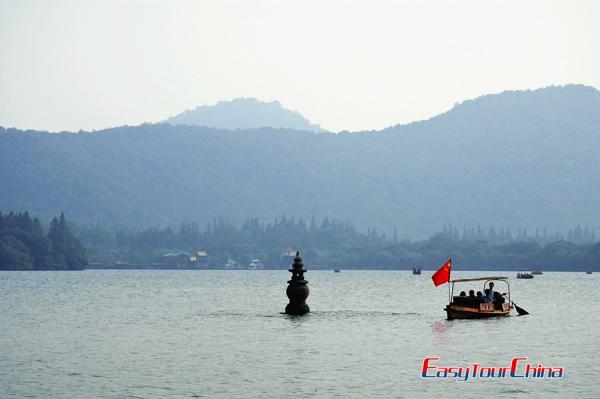 West Lake is the symbol of Hangzhou, which is like a shining pearl inlaid on the vast territory of China. It was originally a lagoon adjoining the Qiantang River. As early as Tang Dynasty (618 - 907 A. D.), work was taking place to control waters of the lake with dykes and locks. The two causeways, the Baidi and the Sudi, split the lake into sections.
Xiaoyingzhou, an islet at the lakes center, is a wonderful spot to savor its scenic expanse. Amidst this island's intricately designed gardens, ponds and pavilions are the famed "Three Towers Mirroring the Moon". Erected some seven hundred years ago, a string of three small towers are placed in the water at a slight distance from the island. Rumored to control the evil spirits lurking in the water's depths, in mid-autumn they contain within their hollow structures a reflection of the full moon.
The islets and temples, pavilions and gardens, causeways and arched bridges of this jade-like lake have constituted the supreme example of lakeside beauty in China ever since Hangzhou served as China's capital during the Southern Song Dynasty (1127-1279 A. D.), which have inspired numerous poets and painters for centuries.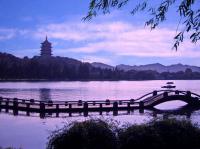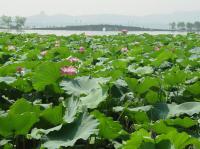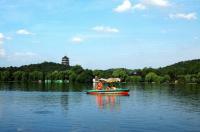 More Attractions in Hangzhou
Recommended China Tours Including West Lake Hangzhou