The golden-roofed Jokhang is 1300 years old and one of Tibet's holiest shrines. It was built to commemorate the marriage of the Tang princess Wen Cheng to King Songtsen Gampo of Tubo Kingdom (former Tibet), and house a pure gold statue of the Buddha Skyamuni brought to Tibet by the princess in the year of 700 A.D.
In 822, the Tang imperial court and the Tubo Kingdom formed an alliance aimed at keeping friendship forever. This event was recorded and engraved in the Han and Tibetan languages on a stone tablet, which still stands in front of the Jokhang Temple of Lhasa.
Located in the center of old Lhasa, the temple was built by craftsmen from Tibet, inland China, and Nepal and thus features different architectural styles. The temple is also the spiritual center of Tibet and the holiest destination for all Tibetan Buddhist pilgrims.
UNESCO added the Jokhang Temple in Lhasa to the list of World Heritage as an extension of the Potala Palace in December 2000.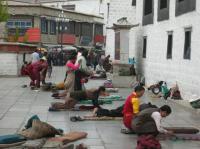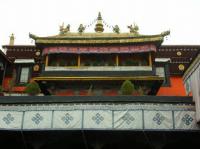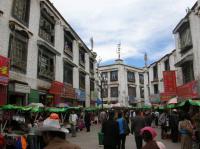 More Attractions in Lhasa
Recommended China Tours Including Jokhang Temple Lhasa