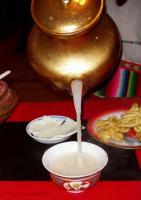 In recent years the food supply in Lhasa, and the whole Tibet has grown up greatly. People can find Tibetan, Sichuan, and Western, even Nepalese and Indian cuisines here in the streets. Traditionally Tibetan people love meat and milk food. With the improvement of living standards, the people in Lhasa eat more vegetables in the daily life. Around Lhasa City were built many greenhouses. Even in the winter fresh vegetables are still available.
Here below is some traditional food of Tibetans:
Tsampa
: The staple food of the Tibetan people, kind of dough made by mixing roasted barley flour or bean powder and yak cheese with butter tea with hands. Right here chopsticks, fork and spoon are of no use. Tibetan people do enjoy the special flavor controlled by their hands. It is widely available in local restaurants, and shops throughout the city.
Chang:
Chang is a Tibetan alcoholic drink made from barley. This brew has a light fruit-like flavor, but it is actually very strong. Most Tibetan people, young or old, enjoy Chang, especially on festive occasions when the host and hostess propose a toast to the health of the guests.
Dried Yak and Lamb:
Dried yak and lamb cutlets are typical Tibetan specialties. At the end of each year when temperatures drop below freezing, the Tibetan people cut yak and lamb meat into small pieces and hang them in the open air. After hanging in the cold for a several weeks, the dried pieces are fried in oil.
Restaurants in Lhasa:
Snow Land Restaurant
Add: 4 Tibetan Hospital Road (Zang Yi Yuan Lu), Lhasa
Tel: 0891-6323687
Kyi Chu Hotel restaurant
Add: 149 Beijing East Road, Lhasa
Tel: 0891-6331541
Lhasa Kitchen Restaurant
Add: Tibetan Hospital Road, Lhasa (opposite to Snow Land Hotel)
Tel: 6348855
New Mandala Restaurant
Add: the Bakhor Area, Lhasa
Tel: 6342235
Yak Restauant
Add: 101 Beijing East Road, Lhasa
Tel: 0891-6336845